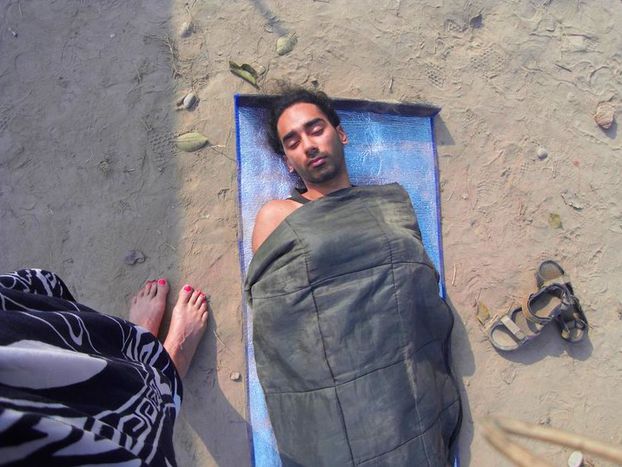 Puneet Sahani: an Indian hitchhiker who will publish his love
Published on
I've been glued to the clear voice coming out of a skype conversation for over an hour. The 26-year-old Indian from the Punjab is now based in Berlin, where I met him. I need to record his weird accent, mangled by the various places he's been living in and to appear in his upcoming book
'Flowing' is the keyword. Puneet Sahani flows, and that's what he talks about in his book My world through areolas, due for release by the end of 2011. He didn't look for a publisher in case his work would be copied and pasted. Anick-Marie Bouchard is editing the book. As for Puneet, his story starts in 2009 when Sahani quit his job, reached the nearest petrol station and outstretched his arm and thumb: his life as a hitch hiker had just begun.
Hitchhiking 21 countries in Europe
That is, the only love relationship he holds as lifelong, his relationship to the road, the best teacher of life. It's an experiment on the self, to free it from all the external conditioning, to strip one's desires and then passionately chase after them. Sahani has hitchhiked through twenty-one countries in Europe, never once looking at a map or holding a board with a direction written on it. He has no direction, because he describes travelling as being all about random meetings. There's where the title of his book comes from. The piece doesn't linger on the places but describes them through the women he meets on the road, the people who shared moments, hours and whole days with him. He doesn't conceal his sound love for women, not even that for provocation. 'Only by wrong-footing people, you can make them think, shake them to reveal their true personality,' he says.
Every city is linked to a face or a sunset watched while sipping some cheap wine. Sahani doesn't travel to go sight-seeing or hunt down tourist tracks. He tries to live intensively with anyone who fancies, 'sharing moments of just being' with people who are gutsy enough to bear his jokes. 'How long do I stay with someone? It depends on how beautiful she is and how many condoms I have with me,' he laughs hysterically. He has bettered his art of bad jokes whilst living on the road. It's all about energy synchrony. Sahani stays as long as it feels nice and free, but flows away before the bond becomes boring or burdening. 'As light as a feather..'
European stereotypes
Sahani keeps a journal after his laptop abandoned him in Gothenburg. He relies on his 'elephant memory' to write a book which could mirror his feelings. It has been conceived as a thank to anyone who spontaneously gave him love and lived a bit with him. He makes use of flashbacks and digressions - after all 'women are much more complex and abstract than men'. Although the style can appeal to a 'wasted fifteen-year-old' who can read between the lines, it can also trace the deepness of a mysticism's lover. Sahani is so sure of himself that he is able to say he 'loves himself' and others from there.
Puneet likes having a curious mind allergic to dogmas, just like the westerners, and a vibrant empathy coming from his beloved east. He doesn't believe in nationality and prefers individuals. During his hitchhiking years he lived frugally: just enough for a toast with friends or to charge his shisha, original from Indian, his longest companion along the road. He often wants to be alone, but he's never lonely: 'love and friendship are not to be searched or worked at. They happen.'
He tells me about the heavy stone from Naviglio Grande in Lombardy which he got from a girl with pebbled nipples and carried to India as a friendship souvenir. He updates facebook about where he's headed for his next journey and happily joins anyone who's willing to share some experiences with him. 'Only without having expectations and plans one can truly enjoy what happens,' he says. He has also had his share of troubles: he's the only coloured person to have hitchhiked for so long. In the Czech Republic people wouldn't even reply to his polite requests, calling him a Roma; in the Italian countryside his unshaved beard and big back pack made him a terrorist suspect, and once he had to hold onto a pole in order not to be crashed in with a car. German border police never stopped body-searching him, bewildered that he was not carrying drugs. Sometimes truck drivers tried to force him to sex. 'I've always got away cracking a joke,' he laughs.
'In India people neglect art, love, chasing wanderlust and doing what they want'
'It's not so true that Europeans master English,' he adds. Often his conversations were reduced to essential gestures and vital local words (toilet, excuse, could you give me a lift, you are beautiful). Puneet likes national stereotypes, and being politically incorrect. For example he'd never ask Italians for directions when he's in a hurry because he knows they speak too much and pointlessly. When he makes a toast he always wishes the others not to have German sex, frigid as they are. As for the Sahani family, they got used to his nomadic lifestyle. Since he was a child he was a 'poet and a radical romantic', as he puts it, and and he hopes he'll be the  same in ten years time. His intention is to go back to India and contribute to politics. 'I want to corrupt our educational system and develop the rebellion potential of our youth.' In his country people compete to have a place in the best scientific faculties, 'neglecting art, love, chasing wanderlust and doing what they want.' He skips my question about his best and worst memories, because he simply tries to live life at his fullest. If you sit down to describe the beauty of a sunset whilst being holed up in your room, you miss it. I go out and enjoy it.' Even if he's just a flowing voice coming from my screen, he makes me want to hit the road.
Translated from "Il mio mondo visto attraverso i capezzoli": la vita di un autostoppista mistico