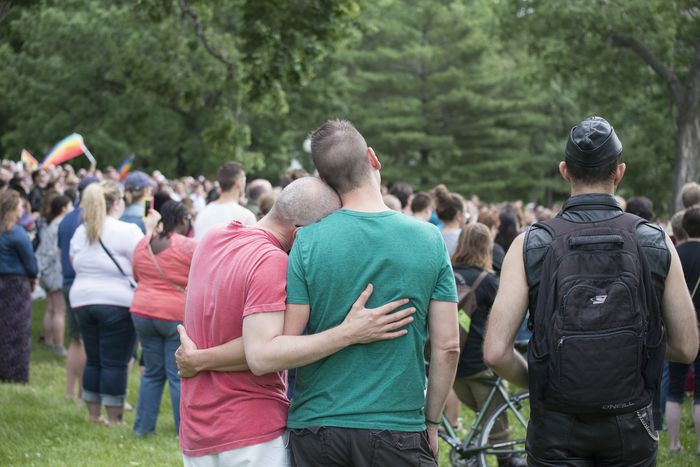 Pulse, Orlando: Terrorism, yes, but undoubtedly an LGBT hate crime
Published on
On the evening of Saturday 11th of June, Omar Mateen opened fire inside the LGBT nightclub Pulse in Orlando, Florida, killing 50 people and wounding 53. But media reporting on the biggest mass shooting in US history is failing to highlight another horrifying statistic – it's also the largest single targeted LGBT hate killing in a western country since the Holocaust. Opinion Piece.
During a Sky News broadcast about the shooting that went out yesterday evening, Guardian journalist Owen Jones walked out of the studio after other speakers refused to acknowledge that events in Orlando had been, above all, a specific attack on the LGBT community.
All over the political spectrum, politicians have been rushing to claim the attack supports whichever policy currently taking centre stage in their manifesto. After congratulating himself in a horrendously insensitive display of self-righteousness, Donald Trump blamed Islam. Voices on the American left used the attack as evidence that gun control was becoming increasingly necessary. 
In Europe, the hot takes kept coming. After Daesh's uncertain claim that it was responsible for the attacks, the tragedy slotted into the wider narrative of global Islamist terror targeting young people who like to dance. The Sun ran with the headline "America's Bataclan". The Telegraph went with "ISIL wages war on gays in West". The fact that Pulse was an LGBT nightclub seems almost an afterthought to the threat of global Islamist terror. 
Therein lies a second tragedy, piling insult onto injuries that already constitute the worst mass shooting in an American history that has included 133 such shootings this year alone. As Owen Jones himself pointed out on Sky News, the Pulse shooting is also the largest targeted massacre of LGBT individuals since the holocaust. On the same day, a heavily armed man was arrested in Los Angeles heading in the direction of a Pride parade. The disgustingly homophobic nature of events in Orlando is forcibly evident, and giving precedent to other narratives so soon after the event robs the LGBT community of their grief.
It may turn out to be true that Omar Mateen was working in Daesh's name, but until we know more, allowing the terrorist organisation to so easily claim responsibility for these attacks only furthers a climate of fear that justifies ever increasing violence. Whether it be by those people who may yet be radicalised by what they see as an ever-increasing division between Islam and the "West", or by those people who allow themselves to externalise blame for homophobia ignoring their own cultural culpability for fuelling hate crimes within their borders.
In 2016 we have a US Presidential candidate who, in responding to America's largest ever LGBT hate crime, released a statement that didn't even mention which community was targeted. On the contrary, London's first Muslim Mayor specifically responded with a pro-LGBT rights hashtag. Trans individuals in North Carolina aren't even allowed to go to the bathroom without having their bodies scrutinised and legislated against. And on Sky News, the only LGBT voice invited to the discussion was belittled and shouted down for daring to try and claim "ownership" of a tragedy specifically targeted at a community he is a part of.
There are important discussions to have about global terrorism, and urgent action needed to reform American gun control legislation. But at least for the next few days, this isn't about Islam. This isn't about guns either. This is about the fact that in 2016, people are still being killed over those that they love.