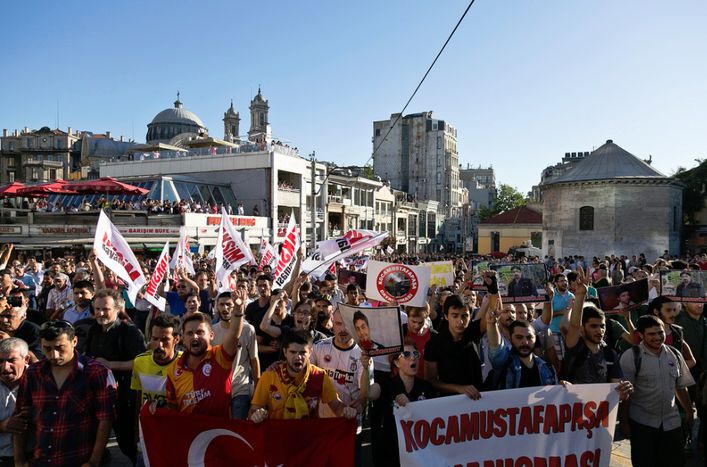 Protests challenge Turkish economy while Spain rubs its hands
Published on
Demonstrations in Turkey are threatening not only Prime Minister Erdogan's 10 years-reign, they are also scaring away tourists and therefore challenging the Turkish economy.
The Foreign Office, for example, has advised British tourists to avoid anti-government demonstrations in Istanbul and in other cities across the country, like Ankara and Izmir. "Demonstrations have also taken place in areas frequented by British tourists, including Fehtiye, Marmaris, Bodrum and Mersin, though these have so far been mostly peaceful", states the Foreign Office's website.
Over 2.5 million British nationals visit Turkey every year. Most of them go to seaside resorts like the town of Marmaris. Hotels of this quiet fishing village are one of Brits` favourite tourist destinations in Turkey. Russian (more than 3.5 million) and Arab tourists prefer resorts on the Mediterranean coast of southern Turkey while Germans (4.8 million) mainly visit Istanbul and historical sites.
According to the Ministry of Culture and Tourism, Turkey attracted more than 31.7 million visitors in 2012, up 1.04% from the previous year. Bookings in Turkey for this summer season are foreseen to drop, especially if protests in cities and coastal regions continue. Meanwhile, Spain rubs its hands hoping to attract tourists who want to change their flight to a "safer" destination.
Turkey is the 6th most popular travel destination in the world. More than 31 million tourists visited the country in 2011.
Demonstrations are particularly affecting the tourism industry, but it's also threatening the entire Turkish economy. "Even a small bump [in the tourism industry] can be magnified in a country where much of the economy hinges on the service sector", alerts the BBC. About 63% of the country's GDP comes from the service sector.
The economic challenge comes just when the Turkish economy was beginning to grow at slower pace. In the last ten years Turkey benefited from an exceptional economic growth (inflation has come down from 30% to 6.6% and exports quadrupled. The GDP per capita is up from $3,492 to more than $10,000. Now the stock market has seen its biggest drop in a decade and the Lira fell to an all-time low against the dollar. Turkey also fears that the US Federal Reserve could end its bond-buying programme early, an important supply of cash flow.
Turkey's economy depends on foreign investment and money. If investors become reluctant to spend in a politically unstable country, then, as Al Jazeera puts it, "Turkey's economic future will not be in its own hands". Completely irrefutable is, nevertheless, that the political future of
Turkey relies on its people...and they seem to have a lot to say.
Babel Sevilla