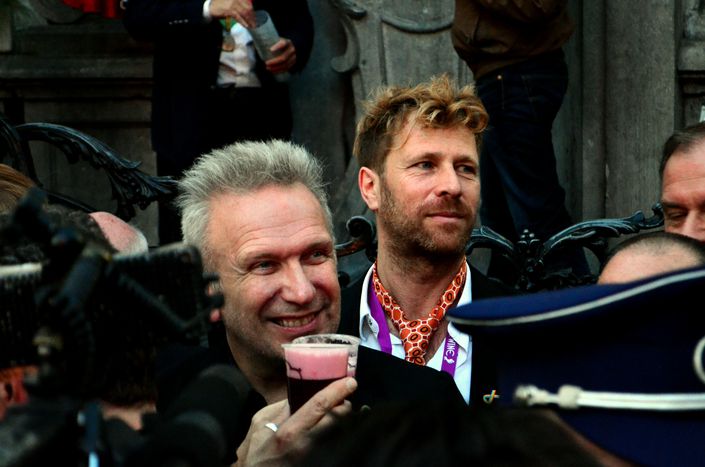 "Pride is not just a parade, it's the LGBT community's largest demonstration"
Published on
Belgian Pride has celebrated its 20th anniversary in style! Over the past two two weeks, from 1-17th May, more than 100 activities took place, culminating in the Pride Parade last Saturday. We spoke with Alan De Bruyne, one of the organisers, to find out what's behind this big event.
Belgium is in second place in Europe in terms of collective LGBT human rights and full equality, according to ILGA-EUROPE's annual report. There are still many countries far behind, with rights to be claimed and many others to defend.
Just last week, the EU Justice Tribunal affirmed that member states can prohibit homosexuals from donating blood. There is still a long way to go, but this month, Brussels was painted all the colours of the rainbow! We spoke to Alan De Bruyne, organiser of Belgian Pride, about all the work behind the parade, the main problems it encountered and some of the principal demands of this year's movement.
Cafebabel: Two weeks full of events, including workshops, film screenings, murals, conferences, theatre, concerts and the Pride Parade. How many of you are working in the organization and how are you managing to put on such a big programme?
Alan De Bruyne: There are three of us on the team and we spent an entire year working, but preparing for Pride is principally based on connecting: trying to connect groups, people, organisations. We have more than a hundred activities on the programme but the majority are put on by other organizations. We try to connect them and thereby create a big platform. If one were to count up all the associations and organisations we work with, we'd easily reach 200. More towards the end, we also work with Visit Brussels, who are responsible for security and logistical issues. Furthermore, if we count the volunteers who collaborate with us on the day of the Parade, who are certainly very important, as well as the people we contract with, we would get to 200 people.
CB: All this work is ultimately rewarded by a huge attendance. Last year you had 100,000 people on the day of the Pride Parade. Do you expect the same number? What effect does the Parade have on people?
ADB: I couldn't believe it last year. We only had 20,000 five years ago. It's incredible how much we have grown since then! The weather helped for sure, it was almost a spring day, people wanted to be outside. In a funny way, I say, "God must be gay," because we always have a sunny day for the Parade! We hope to repeat the same number of participants this year. I think the reason we grew so fast is that those people who used to be prejudiced, who need a reason to come or a nudge from a friend, end up taking part and changing their way of thinking. Because it's fun, it's a pleasant and welcoming atmosphere. Of course, if it rains, that won't be the case....
CB: What is the greatest problem you all confront? 
ADB: Though it's not what you would expect, the greatest difficulty in organizing the event is that it takes place in the heart of the city. You have to think on so many levels! The  LGBT community is as diverse as the rest of society. We also work with the full spectrum of society.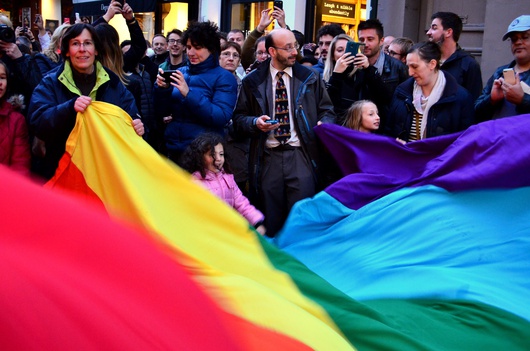 From parents and families, the LGBT community, politicians, neighbours, business people,  collaborating organizations...  It's hard to satisfy everyone, as each one sees it as  "their" Pride, which is how it should be, but sometimes this causes problems. For example, sometimes the gay community  can create obstacles and doesn't want to identify itself with the transvestites, but they too are part of our community, and were among the first to come out to the streets to demand our rights.
CB: What do you think of the media coverage and how they represent the LGBT community?
ADB: I think it's gotten a lot better. Years ago, you would only see images of Pride as a crazy party, still mired in clichés. Of course there's the party aspect but it is also the LGBT community's biggest demonstration and moment to claim its rights. Over the last few years I have seen interviews with parents, children and participants, covering different activities and not just the party. In this way, at least a child can be at home in front of the television and see coverage of the Pride Parade and take advantage of the opportunity to talk to their parents or express their concerns.
CB: Do you believe that in Belgium, and in Europe, society is aware of the differences between sexual orientation, gender identity and gender expression and their realities? [See here for clarification of these concepts]
ADB: We have come a long way. Gays and lesbians are widely accepted, but only when they act like a woman and a man according to"classical" standards. But there is still a lot of work on awareness and acceptance on issues related to gender identity. Because of this, we have dedicated an entire day to "Gender Pride." Because these prejudices can be found even within the LGBT community itself! As for Europe, look what happened in France with the demonstrations against same sex marriages and their ability to adopt.
I have a friend who is the son of two mothers and he was in tears about what was happening. Demonstrations, people screaming against homosexual couples and against their right to adopt children. They were shouting slogans against his mothers!
CB: How can one help change these conceptions of what is or isn't normal for a woman or a man?
ADB: We need people to serve as role models. For example, in the world of football it is still very difficult to publically admit  to being homosexual. I know certain gay football players and only a few of them publically admit once their professional career has ended. This in no way transmits a positive message to other players who are still active. We need courageous people to inspire the rest.
CB: In your manifesto you ask the government to renew the interfederal plan against homophobia, lesbophobia and transphobia that ended in 2014 and, to quote directly, "that the necessary investments be made to carry out the promised actions." Is the problem budgetary or one of implementation?
ADB: I would say both. It is important to keep in mind that the plan that ended was enacted by the previous government. But obviously, if you don't have enough money to effectively implement it, it just stays on paper, nothing more than good intentions. For example, we are demanding a change in Belgian law about transexuality. To be able to change identity records, you have still have to undergo a psychological evaluation  and medical procedures.
CB: Another of the manifesto's main points talks disparagingly about verbal and physical assaults. According to a study carried out in 2014 by the University of Antwerp, 90% of persons in the LGBT community have been a victim of them at some point. In Belgium the perpetrators are only punished by fines between 50 and 250 euros if they are directly charged. What can be done to improve this situation?
ADB: All forms of aggression are to be condemned. Unfortunately I don't have the answer to this question. If I knew the answer, I'd win the Nobel Peace Prize! I myself was assaulted last year after the Pride Parade when I was with my partner in the street. The police were on patrol nearby and that's how the assailants were caught, but to this day, one year later, nothing has happened to them. Justice is too slow and sends the wrong message to this type of people; they think they can get away with it without punishment. The Interfederal Plan is the exact tool to rectify this situation.
Translated from Gay Parade en Bélgica: No sólo fiesta