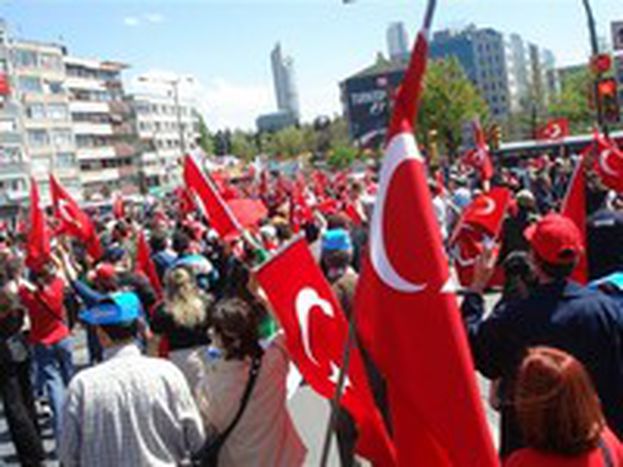 Political deadlock in Turkey
Published on
361 out of 367 lawmakers – two-thirds of the National Assembly – voted in the first round of presidentials on April 28, narrowly annuling the ruling party's sole candidature. Early elections will take place on 22 July to resolve the crisis
The latest unprecedented political unrest kicked off during the official nomination period during 16-25 April. After the Turks cried We do not want an Imam as president! during initial protests in Ankara on 14 April, current Prime Minister Recep Tayyip Erdoan - of the governing Justice and Development party, with its Islamic roots – heeded the message not to stand for the seven-year presidential elections. But the 53-year-old incumbent's 'surprise candidate', loyal partisan and current Foreign Minister Abdullah Gül, 56, was voted out on April 28 with 357 out of 361 votes. There are 550 lawmakers in total.
The tense and increasingly polarised climate is due to structural reasons. Firstly, the election system – where the president is voted in by parliament - is too enigmatic. With its current almost two-thirds AKP majority, the electoral body itself – the Turkish Grand National Assembly – is not necessarily that representative of the Turkish people, who rallied the streets in their thousands to protest Gül's candidature on April 29 and May 1 in Istanbul and Ankara.
Secondly, tension boomerangs back to Mustafa Kemal Atatürk, secular Turkey's founder. From a Kemalist point of view, a President Gül doesn't fit in exactly with a role generally regarded as one of the central guarantees for the integrity and secularity of the Turkish Republic, despite its many representative functions.
Demystifying the electoral system
Secular Turkish president Ahmet Necdet Sezer leaves office on May 16 after completing a seven year term. The National Assembly was due to elect one of the candidates in a maximum of four rounds by secret ballot. The lack of transparency that this enforces adds to the absence of an open, broad and continuous process to generate a widely recognised consensus within different political camps. In the first and second round, a two-thirds majority is needed to succeed, whereas the third round only necessitates an absolute majority. This will still go ahead on May 3, but is likely to not produce any result for Gül. Now, early general elections have been set for 22 July, having been originally marked for November.
Problems of transparency and legitimacy were due to the tight electoral schedule. It provided an atmosphere for a classical game of 'political poker'. Talk was of tactical nominations and strategic timing rather than about the issue itself. The Turkish system can best be compared to Italian parliamentary proceedings, like the last minute nomination and election of former Communist and current president Giorgio Napolitano, 83, in May 2006.
In most other western European countries, the process is more open, however. For example, in France, the final decision is taken by universal suffrage, whereas in Germany the Federal Assembly (Bundesversammlung), comprised of parliament and everyman state delegates, exists specifically as an electing body. On May 2, Erdogan called for a change in the law. The people and not parliament should vote for the next president, who should run with two five-year terms, not seven.
Gül - the man the Turks didn't want as president
Gül is considered a moderate with Islamist roots with a colourful political past. Pre-AKP, he was elected into parliament for former PM (1996-7) Necmettin Erbakan's Welfare Party (generally considered Islamist) in 1991 and 1995, and then in 1999 for the Virtue Party. After the latter was banned in 2001 for being unconstitutional, Gül and Erdoan then founded the AKP. Secular critics also point to the symbolism of both men's headscarf-wearing wives.
The main opposition Republican People's Party (CHP) clearly feared the prospect of an 'Islamic' or non-secular president. Ahead of official nominations on 13 April, CHP leader Deniz Baykal, 59, was one of the first to boycott Gül's candidacy. They didn't present their own candidate because of the AKP's overwhelming majority in the National Assembly. Even incumbent Sezer articulated his concern in a speech at the Turkish War Academy, saying the foundation of Turkey's political regime had 'never been under this much threat.'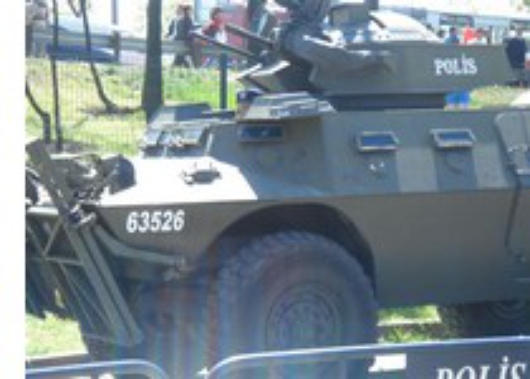 The powerful military, considered as the other institutional guarantee for Turkey's Kemalist heritage, had voiced similar concerns. In a press conference on 12 April, Mehmet Yaar Büyükant, Chief of the Turkish General Staff, made a rather opaque statement to journalists that the next president should be 'someone who truly respects the principles of the republic, not someone who pretends to do so.'
Sezer became president seven years ago because of his compromise quality - no party had a clear majority. But in the end Gül couldn't count on the support of different political groupings, nor the vote of the people, and won't be taking a new role as the guardian of secular Turkey.
(In-text photo: Cengiz Zorlu)