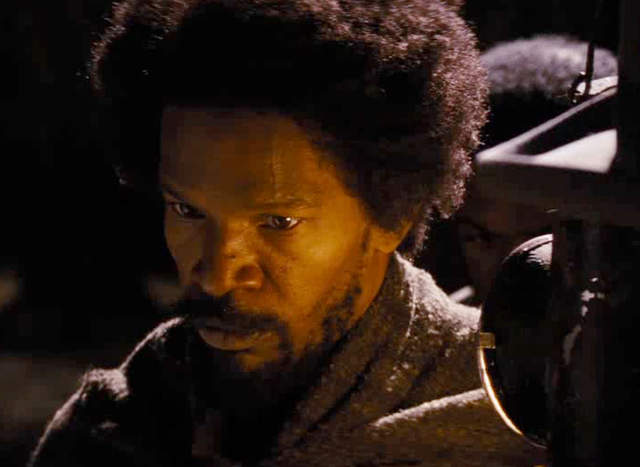 Political correctness: 'Negro', 'nigger' or 'nègre' in Europe
Published on
Does the insistent use of the 'n-word' in the film Django Unchained make a racist out of its American director Quentin Tarantino? In Europe the issue has been tackled in the world of football and children's blogs
Often, when choosing to analyse one of history's saddest episodes, one single word has the capacity to provoke a disaster. The most intense linguistic debate currently stirring the world of cinema was ignited by the reiteration of the word 'nigger' in Quentin Tarantino's latest movie about slavery and pre-civil war America, Django Unchained. Spike Lee, the black American film director, argued on twitter that the term has 'infatuated' Tarantino, who uses it excessively in order to flavour the dialogue of his feature films. The word is present 16 times in Pulp Fiction, over 30 times in Jackie Brown and over 100 times in Django Unchained. Mildly irritated by the controversy, Tarantino answered that this has got 'nothing to do with Spike Lee' and emphasised that, in order to give an acurate description of a certain period, one has to use its codes (indeed the middle of XIX-th century records a widespread usage of the word in the south of the United States).
German sensitivities
Miles away from the world of cinema, a similar debate seized Germany. In mid-January the Thienemann publishing house announced that they intended to eliminate discriminatory expressions included in classical pieces of children's literature, including the term Neger (meaning 'negro' and 'nigger') from a book called Die Kleine Hexe ('The Little Witch') by the German writer Otfried Preussler. In response Ishema Kant, a nine-year-old half-German and half-Senegalese girl, stated in a reader's letter published on the Mädchenmannschaft blog that: 'It's truly unproductive that this word is mentioned in these books. Nobody can imagine what impact it has to be exposed to reading or hearing this word'. In the US and England, there were similar reactions ended up in the ban on books such as Joseph Conrad's The Nigger of the Narcissus (1897), or The Adventures of Huckleberry Finn (1884).
In Germany the word was used out of exoticism; it was a country which had not experienced black immigration
It's not an uncommon cultural debate in the land of the Deutsch: for example these sweets which are called 'chocolate kisses' today were once known as 'nigger's kiss' (Negerkuss). When the author Sarah Kuttner recently mentioned a 'nigger puppet' - an affectionate memory of a childhood doll, rather like the similarly-offensive golliwogs - she was blasted for the scandalous 'shit storm' she had created. Our German editor puts the misunderstandings via the early use of the terms down to explaining an 'exoticism in a country which had not experienced black immigration'.

The German government advises journalists to avoid the term 'of colour' (Farbiger), which has been seen as racist since the fifties, as it is simply better to denote a person as white (weiss) or black (schwarz). It's a similar story in Spain, and especially in Latin America; the word negro is even less offensive than calling someone a 'person of colour' (eres de color).
French ghostwriters and sporty racial abuse
Throughout Europe, the word 'nigger' purports different meanings from one country to the other. In France, if you call a black man on the street by the n-word, you could either get yourself arrested or have your nose broken. The term, nevertheless, has different meanings: a nègre is also another term for ghostwriter. So if you are saying 'That person is one of Michel Houellebecqs niggers' in French, you needn't necessarily worry for your freedom nor your nose. 
Read about the Anti-semitic expressions that are still present in European languages on cafebabel.com
You could see the intensity of reaction provoked by its usage in the wrong context, in an altercation between two football players in Britain. At the end of 2011, in a football match between Liverpool and Manchester United, the Reds' Uruguayan striker, Luis Suarez, called Patrice Evra, Man U's French defender, 'nigger'. Accused of racist insults, Suarez was sentenced to an eight match suspension and nearly 50, 000 euros in fines by the English football association. In his submissions, the striker suggested that 'nigger' was not an insult but one of the many terms used in Latino slang. In Italy too, in early January, supporters of the football team Pro Patria racially abusedMilan's football player Kevin-Prince Boateng during a 'friendly' match in Busto Arsizio, calling him a 'shitty nigger' (negri di merda); those same supporters called a young Brazilian player the same thing a few days later. Looks like this is going to be one that will only be allowed to work in the films.
Images: main courtesy of © Django Unchained facebook page
Translated from Pour réécrire l'histoire, à chacun son nègre