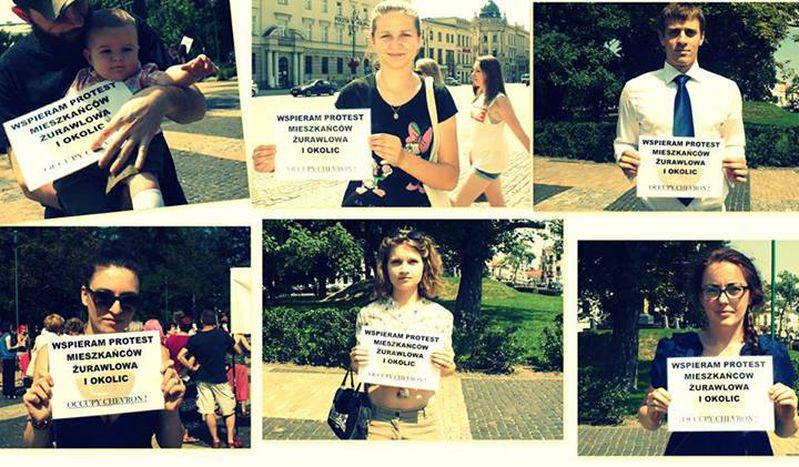 Polish village of Zurawlow is model in anti-fracking fight
Published on
The village of Zurawlow greets its visitors with two signs targetting an American fossil fuels company: 'Chevron, we don't want gas' and 'Yesterday Chernobyl, Today Chevron'. Launched by residents on 3 June 2013, 'Occupy Chevron' vehemently opposes the intention to explore and exploit shale gas - natural gas trapped beneath shale rock formations - in their community, says Raluca Besliu
The villagers of Zurawlow blocked Chevron's intention to start drilling in 2012 by invoking a Polish law which states that no activity on the ground or in the air should be conducted with the bird' habits or habitats during bird breeding season (starting in March and lasting several months). Desperate to keep the energy company out, the locals also filed complaints with the authorities that the company's trucks exceeded the legal limit on the roads. Polish protesters ardently oppose the drilling due to concerns about its detrimental impact on water, land and their health. They have experienced some of the potential dangers of fracking during Chevron's earlier seismic tests, when the explosives used led to water pollution, making it undrinkable. 
Keep out
Chevron had obtained governmental approval for exploring for shale gas in Zurawlow earlier that year. Since the implementation of Poland's geological and mining law, the state is allowed to seize land sitting on shale gas deposits for industrial purposes. The new law ultimately affords more power for companies, while leaving Polish citizens defenseless. Nevertheless, according to the locals, this authorisation was withdrawn in June 2012. Grazyna Bukowska, the official spokesperson for Chevron's Polish subsidiary, emphasised that the company had 'no immediate operational plans at Zurawlow, although we remain open for future operations.'
On 2 June, Chevron returned with security guards and took possession of a parcel on a concession land to install a fence and start drilling on the site. The locals immediately launched a protest movement called Occupy, claiming that the company had not received approval to build fences on site.
According to the locals, the concession, valid until December 2013, is exclusively for seismic testing, especially since Chevron's authorisation to explore for shale gas was cancelled in June 2012. Chevron states that it has the license to explore the area.
In a recent letter to the Polish prime minister and the environment minister, demanding governmental protection for the citizens of Zurawlow, locals highlighted the air, land and water pollution caused by shale gas extraction. They had experienced this first-hand as a result of the previous seismic tests.
Less and less exploiters
Other companies, such as Canada's Talisman Energy Inc., Marathon Oil Corporation (MRO) and Exxon are making a rapid exit from pursuing shale gas exploration in Poland.. In 2011, the US energy information administration announced that there could be as much as 5.3 trillion cubic meters - or 300 years worth- of gas that could be fracked in the area around Zurawlow, although subsequent studies have shown that the reserves are much lower than that and could only last for 26-70 years. This challenges the Polish governments' desire to become independent from Russia, which currently supplies two-thirds of Poland's gas at some of the highest rates in Europe.
'Gasland', 2010 oscar-nominated US anti-fracking documentary by Josh Fox 
Other countries are leading simultaneous battles against fracking and companies. France was the first European coun­try to adopt a precautionary approach to fracking, by banning the practice in 2011. Protesters in Balcombe (south of London) in the UK were most recently arrested for their part in anti-fracking activities - including a green MP, Caroline Lucas. In 2012, Bul­garia adop­ted a morator­ium on hydraulic frac­tur­ing and imme­di­ately revoked an explor­a­tion per­mit pre­vi­ously gran­ted to Chev­ron, invok­ing insuf­fi­cient proof of the envir­on­mental safety of the practice.
In my native Romania, people have repeatedly pro­tested against their government's decision to encour­age frack­ing. In Costin­esti, one of the con­ceded Romanian regions, 94% voted against frack­ing dur­ing a loc­ally organ­ised ref­er­en­dum. Through­out 2012 and 2013, over 8, 000 Romanian cit­izens have come out to protest. In April 2013, anti-fracking meet­ings and marches were held in many Romanian cit­ies. Some pro­test­ers par­tic­u­larly decried the government's lack of trans­par­ency and inform­a­tion on the explor­a­tion pro­jects. In a sign of solid­ar­ity in May 2013, Bul­gari­ans from the city of Dobrich also organ­ised ral­lies against frack­ing in Romania, which would also have an impact on their country. Zurawlow's example of opposition to fracking and their tactics of resistance is a positive and inspiriting example for other countries, such as Romania, who ardently want to save their communities, their environment and their health..