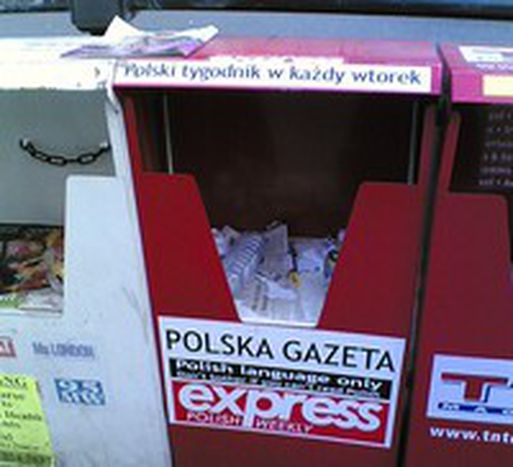 Poles in London: Lots of work, very little money
Published on
Translation by:
claire mcbride
Since the EU expanded eastward, 360,000 Poles have come to the UK in search of work
When the European Union accepted 10 more member states in May 2004 it was only the UK, Ireland and Sweden who opened up their working market for migrants from Eastern Europe. Since then, according to official figures, more than half a million East Europeans have come to the UK. The Polish alone have been given 360,000 work permits by the British Home Office. To add to this, independent contractors have also come who don't need a work permit as well as black market workers who don't even attempt to get any legal work documents. Experts estimate that the real number of Poles in the UK reaches up to and over 700,000.
Polish singles parties
In London, the expansion of the EU has built up a prosperous Polish infrastructure. There are two Polish radio stations for Polish immigrants, as well as a daily newspaper and three weekly magazines. There are also singles parties for Poles, Polish cultural centres and Masses in Polish. Although the East London area of Hammersmith has been affected by Polish immigration since the beginning of the 20th Century, most Polish live in the southern areas of London such as Balham und Tooting.
In Tooting you will find the Polish Centre, which is a first port of call for most Polish immigrants. Ewa Manno, 36, has been in the UK for nine years and founded the centre in 2002. Since then it has changed a lot, she says, 'In 2002 and 2003 we weren't really that busy. It was very complicated for Poles to get a travel visa let alone a work permit. However with the Eastern expansion of the EU this has changed radically. Within a few weeks we had ten times as many customers and since then there are constantly more and more.'
Resentment and obscenities
Over 80% of Polish immigrants are between 18 and 32 years old and are usually very well educated. However most of them only speak very little and quite poor English. Manno knows of many academics who start off serving in cafes or working as labourers. When they get a good command of the language they have the chance to get a better paid job'. Manno has also seen an increase in the amount of resentment amongst the Polish. 'The relationship between Poland and Britain was better two years ago. Poles have worked really hard on building sites and in factories for very little money.' Now a lot of them want better jobs and more money. The British realise that the influx has stopped and that many of those who have come want to stay. This is causing worry for many.'
Immigration is a slow-burning topic within British society. While the Labour government under Tony Blair stated that immigration contributed to the economic growth of the country, the opposition suggested that the situation is out of control. However in January this year when Romania and Bulgaria joined the EU the government placed restrictions on admission to the UK.
Qualified, young, resilient
Monika Gorska, 23, came to London nine months ago. At the moment she is working for a marketing firm and when she has saved enough money she hopes to buy a flat in London. She won't be returning to Poland any time soon. 'As long as the Kaczynski brothers remain in power (as prime minister and president), I will stay here in England. They live in the past and only look back not to the future. The government should be trying to improve the economic situation'. Indeed the Polish economy has grown by almost 6% thanks to EU money. But unemployment is still at 15% - the highest in the EU. Amongst the under 25s the amount of unemployed lies at 25% - another increase.
Alex Christie, director of recruitment agency 'Energi' believes that more Polish will probably travel to the UK. 'London and the rest of the country needs well educated workers. The Poles are the most qualified, youngest and resilient and they work for less money. Ruth Saunders, an HR representative for the Waitrose supermarket chain is looking for shop assistants and shelf stackers.
Back in Poland
'Most British people don't want to do these jobs anymore. In many of our stores the amount of Polish workers has increased to over 40% of the work force'. Most of them are happy to work for the minimum wage of £5.40 (7.73 Euros) an hour. That's four times more than they would earn in Poland for the same job.'
Many Polish workers don't even get the minimum wage. Trish Raftery is the London regional representative of the Trades Union Congress (TUC). She reveals that the minimum wage is often not even paid to Polish workers. 'We know of cases where Polish workers have worked for £2 or £3 an hour. Most of the time they are working unofficially and nobody is meant to know they are there or how little they are being paid.'
Nobody knows how many Poles want to stay in Britain for the long term. The Home Office estimates that more than half of Polish immigrants will stay less than two years. One Pole who does want to go back is Andrzej Stasko, 22. He has been here for four weeks, earning money by handing out flyers outside the Town Hall in Hammersmith for a removal company. 'It's all about money here. As a person I don't even count,' he says. As soon as he has earned enough he plans to buy a flat in Krosno, a town about 200 kilometres east of Krakow.
Translated from Polen in London: Viel Arbeit, wenig Geld