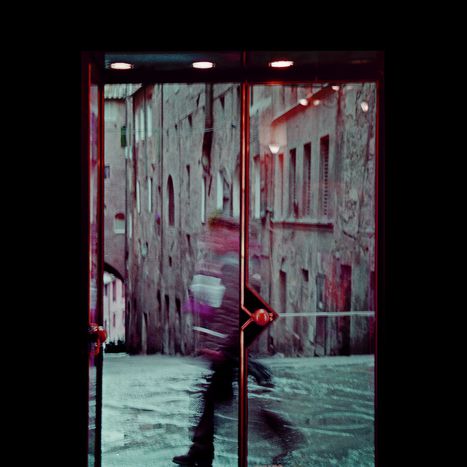 Pino Papaluca: Italy's anti-mafia Forrest Gump
Published on
Italy carries pain in its DNA. Its heroes died for national unity, for liberation from fascism and from the Germans during world war two. Today those fighting the mafia continue to die. Pino Papaluca, barber-turned-marathon runner, decided to run 30 km a day across the whole of Italy in memory of each and every one
His journey began on 18 February at Castel'Alfero near Asti, to the east of Turin. He has run the length of the country, through Garbagnate (Milan) to Paganica (L'Aquila), from Florence to Viterbo in Lazio and finishing in Palermo in the south. Having touched each Italian region in turn, his journey ended on 19 March in Potenza, coinciding with the 'sixteenth day of remembrance and commitment' in memory of the some 900 mafia victims.
Running for peace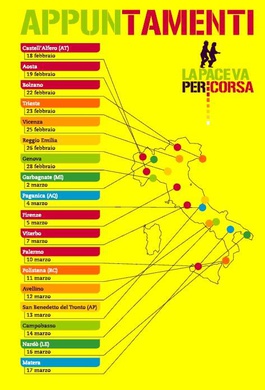 At every stride there were Italian citizens there to welcome him and run a short distance next to him: students, professors, voluntary bodies, NGOs, athletes in support of his cause, sympathisers and the merely curious. Every stride recalled a mafia victim, spoke of lawfulness and of civic duty and passed by confiscated properties. Pino Papaluca alias the 'marathon barber' has chosen a different way of celebrating Italian unity. The event is known as Running for Peace ('La pace va per...corsa'). It was first devised by the Libera network in remembrance of those 'heroes' who fell in service to their country; who have died to protect a magistrate, for having condemned abuse and collusion between institutions and mafia powers, for not having paid 'protection' money; for breaking 'omertà' (the silence code of the mafia) and for not being bound by the demands of Cosa Nostra, the 'Ndrangheta, the Cammora or of any other established Italian mafia bodies.
Among these victims is Eddie Cosina, a police officer charged with protecting the magistrate Paolo Borsellino. Cosina was killed when he was thirty years old on 19 July 1992 in the via d'Amelio massacre in Palermo. His niece Silvia Stener remembers him as she joins the marathon in Trieste. 'My uncle held a sacred respect for Italy's institutions, donning his uniform with such pride,' she says. 'Before he left on assignment he would always say to my grandmother that the greatest death he could dream of would be to lay beneath the Italian flag. It's good to celebrate Italian unity by remembering someone who loved Italy so very much.'
Read a cafebabel.com interview with Rita Borsellino, sister of fallen judge Paolo
'We must also remember this slice of Italy, these heroes who have departed to an Italy that is cleaner, more just, where law and human rights are seen as the natural bedrock of a civil society,' affirms Don Ciotti. He is the founder of Libera which is a network of around 1, 500 associations, groups, schools and establishments dedicated to their country. Since 1995 it has been the principal Italian rallying point against the mafia and for the spread of justice. Laws such as the social use of goods confiscated from the mafia, education on democratic lawfulness, the commitment to battling corruption, anti-mafia action groups, work and development projects and anti loan-shark activites are just some of the actions taken by Libera and by its active and Italy-wide network. 'The last 150 years of Italian unity have also been 150 years of criminal presence in our country, but also of years of resistance by Italy's men and women to these negative powers,' continues Don Ciotti. 'We wish to remember today's victims as well as those of yesterday. Today, we speak not of a country divided, but a country out of balance. Our constitution speaks not of north and south, but of a country bound together by the self-same rights and powers. It is because of this that the only means of recourse – social and cultural politics, accompanied by labour politics – must be through a political platform.'
Libera legs
Libera may have given Italy organisation, but Pino Papaluca has given us legs. He spends ten months of the year in his salon cutting hair, and the other two running all over the world in the name of peace. Within the many challenges he has completed on foot, the Moscow-to-Rome and the Amman-to-Baghdad runs spring to mind. His story is incredible: 'I became a marathon runner after undergoing eight very delicate surgical procedures on my knee, which was a result of twenty years of playing football. Running helped me to get my wind back and regain muscle tone in between procedures, as well as the will to grit my teeth to it all. After that, it became my life.'
'This is the real Italy – not sequins and talk-show hosts, or scripted, television-controlled reality'
Over the course of his marathon, Papaluca has run approximately 30km a day and has met hundreds of people united by the passion for lawfulness. 'This is the real Italy – not sequins and talk-show hosts, or scripted, television-controlled reality,' he adds. He was struck by the story of a Calabrian lad he met in a service station in Trieste – a boy who fled his home for not giving in to the 'Ndrangheta in his search for work. What astounded Papaluca was the extreme scepticism coming from the majority of those living in the north, who did not believe that mafia influence extended as far as where they lived. 
Papaluca's story and that of the people he met on his journey are recorded in a daily journal and published on the Libera official site. Read the cafebabel.com official blog from Rome
Images: main, runner in Sienna (cc) lorenzo cuppini verducci/ Flickr; in-text poster courtesy of Libera
Translated from Un barbiere corre per tutto lo Stivale. In ricordo delle vittime della mafia.