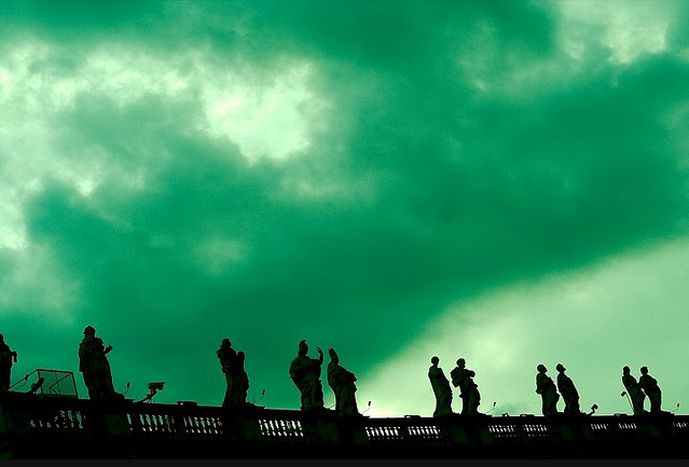 Pigs can fly or the pope is green
Published on
Does Benedict XVI really have green fingers? He's been branded the 'green pope' for his advocacy of global environmental protection for years – but is it merited?
Predictably, the tourists are flocking Rome's Piazza San Pietro in their thousands this morning. In the evening they'll probably be loading up materially on their memories of the Sistine Chapel with a mini Pope figurine from the souvenir shop or the most recent release from Joseph Ratzinger himself, the second edition of his 2007 Jesus of Nazareth. They'll also presumably be leaving a whole pile of rubbish behind them at the Vatican. The pope though has made it his business to fight those sort of ecologically related problems.
Mini state, maximum ecological
Every effort has been made to green up the Vatican City. Drum roll, please. It declares itself to be the first carbon neutral sovereign state in the world. In 2007, the American and Hungarian companies Planktos and KlimaFa offered the Vatican a 125, 000tree reforestation project. Due to begin in 2010, the project would see the Vatican offsetting its carbon emissions in Hungary, although to date no big moves on the so-called 'Vatican climate forest' have been made.
'Let's be honest, the Vatican is a mini-state where is forbidden by law to drive at more than thirty kilometres per hour. It's a kid's game,' explains young Vaticanist Andrea Gagliarducci on this self-denoted world record. He is the author of the book Propaganda fide R. E. Un intrigo clerical vip (2010) and regularly blogs on the Vatican on mondayvatican.com. He brings me to the Rome Video Book Bar near the Piazza San Pietro, a sort of lounge with designer white cubic furniture in Borgo Pio. 'I like coming here because you're less likely to bump into colleagues and priests,' he confides. He wears a small wooden cross on a leather necklace. So is the Vatican as green as all that? In fact, it has a weak political influence. 'Many people speak of the Vatican City as if it were the most powerful state in the world,' he continues. 'But it's not true. It does has a strong moral influence on the world's millions of believers. If the pope addresses the world in a message, people can decide if they want to believe him or not. But you know in principle that we never always agree 100% with our bosses. Yet still we listen when he or she has to speak. That's where the true power of the pope lies.' There is no need to sneer at the Vatican for a seemingly good public relations job though. Gagliarducci shakes his head decisively. 'No, you can't stamp it a PR job. It's written in the bible that you have to respect creation. It began with Genesis and it ended with Kyoto in Copenhagen.'
Pope: new bio guru?
It would be too simplistic to accuse the pope of 'greenwashing'. After all, 2008 saw 2, 400 solar panels installed on on the 5, 000 square metre roof of the papal audience hall, producing around 300 hours of clean electricity a week. North of Rome, the Vatican is building the biggest solar plant in Europe in a village called Santa Maria di Galeria between 2010-2014. The latest news is that the pope would like to make use of an electric popemobile to salute the masses of catholic pilgrims. But how much do his engagements thus far actually contribute to the environment? If a man is officially morally committed to protecting creation and peace in the world, it doesn't necessarily mean that tomorrow the pope will be donning a green skullcap, just as a certain fast food chain did by switching its logo from red to eco-friendly green. What's next – promoting fair trade condoms in Africa? Don't think so.
WikiLeaks 'green pope'
According to confidential diplomatic documents leaked by the whistleblowing site, the 'green pope' advocated the American position in Copenhagen, and discreetly lobbied other countries to do so too. Another cable reveals that the US government has been trying to convince the Vatican on genetic engineering. If the pope is promoting GMOs, it's to fight world hunger, of course. 'The WikiLeaks cables were badly researched,' criticises Gagliarducci. 'Honestly it's like cocktail evening gossip. It doesn't mean the Vatican is following Monsanto policies.'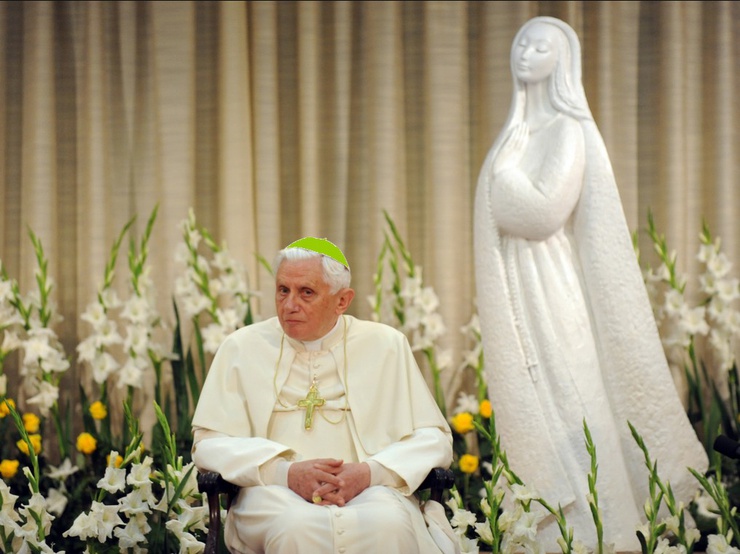 Another Vaticanist and journalist, Giacomo Galeazzi, agrees to go for a coffee away from the empty weekend offices of Italian newspaper La Stampa. He agrees there are many contradictions with regards to the GM foods debate. 'The catholic church is run by men. We have written many books about their errors. In Italy the expression goes: fa' quello che il preto dice, non quello che il prete fa, which translates to 'do what the priest says, not what the priest does.' Galeazzi says the catholic church has to preach by example. 'The problem is that they are always defending three or four points of view at the same time. When the pope made his visit to Africa, he spoke out against genetically modified organisms but then the pontifical academy of sciences defended its use.'
Bio farmers thrown out of garden of Eden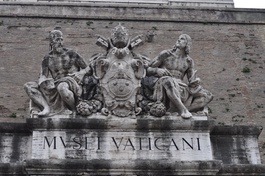 In front of the Vatican museum's exit, a small group of people are handing out flyers. The folks from the environmental protection parks, Tenuta dell'Acquafredda, are here to express their anger at the park's imminent re-use for urban construction projects in Rome. Various generations who have produced local vegetables there are joined by other environmental organisations today to continue a battle over an issue which first started in 1992. On 7 April four of the ten families will be evicted, explains Fulvio Albanese, the Aquafredda spokesperson. 'These farmers are catholics, they have a good relationship with the Vatican. They are honest people. They even paid their rent in January, even when they knew that they would be kicked out onto the street in the near future.' Behind the thick walls of the Vatican, is the pope even aware that these biological farmers have been given the red card?
Andrea Gagliarducci echoes the sentiments of La Stampa journalist Giacomo Galeazzi. 'He is also just a man. He can make mistakes too. The pope is not infallible just because he speaks in the name of god. His theological discourse is far from concrete things such as ecological carburants or genetic modification.' The residents of Aquafredda know it more than most, which is the best local example. It's worlds, not just walls, which are keeping these protesters and the Vatican apart.
This article is part of cafebabel.com's 2010-2011 feature focus on Green Europe, which has already hit Budapest, Brussels and Berlin. Thanks to the team at cafebabel.com Rome. Watch this space for Green Seville and Green Paris!
Illustrations: main image of the piazza (cc) Gianni Dominici; green pope (cc) Catholic Church/ both via Flickr; Vatikan museum ©Nikolas Konstantin/ Videos: world peace day 2010 (cc) Rome Reports; Aquafredda (cc) verdiwebTV/ both via Youtube
Translated from Vatikan: Gestatten - Papst "Greenwashing" Benedikt!