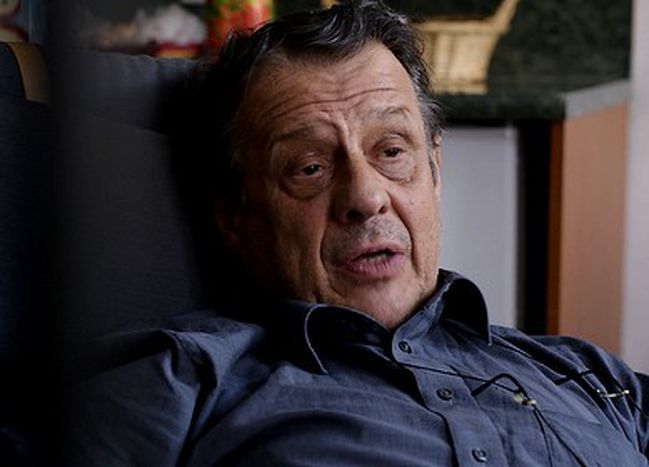 Petr Uhl: 'I prefer to call it the Czechoslovak spring'
Published on
He stood on the barricades of Paris and Prague in 1968 and later produced the Charter 77 civic initiative. The man who once smoked cigarettes in prison with former president Václav Havel looks back over his sixty-six years, but also to Europe and the future
'Ah, the rent-a-quote Trotskyite and his giant plasma screen,' says one Prague based French journalist who meets me en route to my meeting with Petr Uhl. In his native Czech Republic Uhl, 66, is very famous as a dissident, defender of human rights and more latterly a journalist – he writes three times a week in the social democrat daily Pravo. The living legend is waiting impatiently for us at the door of his first floor apartment on Londýnská ('London Street') in the chic south-western enclave of Vinohrady. 
His wife Anna Šabatová, the co-founder of Charter 77 and former Czech mediator for human rights, is not yet home. The cramped apartment smells of freshly washed laundry. Speaking in a French perfectly blended with several German expressions, Petr Uhl excuses the clothes hanging up around the apartment – their tumble dryer has just broken down. 
He leads us down a narrow corridor to the living room, and directs us, with a wink, to 'May 68 Explained to Nicolas Sarkozy,' a book recently given to him by a journalist friend by French philosopher André Glucksmann. It's a Friday afternoon in the Czech springtime. The giant plasma screen attached to the wall is instantly noticeable in the shadow-laden room. Silent, it gleams like a mirror, host to so many stories and moving images.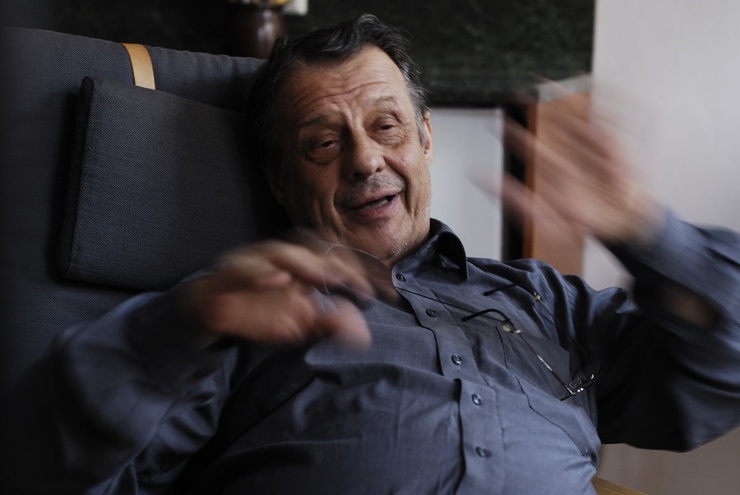 Behind barricades in Paris, behind bars in Prague
Petr Uhl could tell stories from his past for hours on end. Especially this year; it is the fortieth anniversary of the Prague or the 'Czechoslovak' springtime as Uhl puts it. From 1965, the young Uhl – with a diploma in mechanical construction – would often travel to Paris where he submerged himself in the revolutionary mood in the French capital and railed, along with students from the Sorbonne university, against Stalinism. 'I was delighted to discover back in '65, for example, that one could buy Le Monde on Wenceslas Square for just 3 Koruna,' he reflects with an amused grin. Petr Uhl was in Paris on 21 August when the Warsaw Pact troops marched in Prague, and former Czech leader Alexander Dubček's 'socialism with a human face' went up in smoke and was replaced by the self-proclaiming 'normalisation'. 
Only a few months later, Uhl brought together students from the various Prague universities to found the Hnutí revoluční mládeže (HRM) youth movement. Uhl dips spontaneously into this era, 'at the time the most politically active people were students and particularly those in the arts and literature departments. In December 1968, the HRM stuck up its manifesto in the university hall. But gradually, and especially after April 1969, we were forced underground. I was one of the founding members, and so many saw me as having a very important role in the organisation – unfortunately the police saw it that way too. So I was sent to jail for four years.' Sibylle Plogstedt, a student of east German origin and Uhl's companion at the time, was also sent to jail for two and a half years in 1971. However, whereas she was allowed out early, Uhl saw his sentence through right until the end. 
Spied on relentlessly 
In total the engineer was to spend nine years, not a day less, behind bars because of his political opposition to the regime. Along with Anna Šabatová, whom he married after his first stint in jail, Václav Havel, Jiři Dienstbier and other artists, politicians, workers, religious figures and dissidents, continued to fight for the cause of Charter 77, and against the human rights that occurred in Czechoslovakia during the period of 'normalisation'.
241 supporters signed the petition. The following year, the committee to protect those unfairly pursued by the regime was created – with inevitable consequences. 'I was considered an enemy of the state because of my Trotskyism and was found guilty of the so-called 'subversion of the republic',' Uhl recalls. 'They jailed me for five years and Václav Havel for four and a half. I served the entire term – nine years in total. I found that my four children had grown quite a lot when I saw them again.'
Wire-taps in the living room
So, whilst he rotted in solitary confinement, did Uhl never think of emigrating? 'The secret police did indirectly suggest that I leave the country. I wrote to my wife and decided to leave that decision up to her. For me it was her and the Charter that mattered the most. After seriously thinking about it, she decided to stay and I was very happy with that decision. Nobody in our group decided to emigrate.'
Uhl's family were under permanent police surveillance- a patrol car parked in front of their house, and a table and two chairs were placed in front of the door of their apartment. In spite of all of this, the Uhl family continued to send information abroad from their house on Anglická ('England Street'). Peter Uhl was later to discover that wire-tap devices were hid all over the house, 'pretty much everywhere, except for in the kitchen where we discussed everything.' 
The fall of the wall
During the eighties Uhl worked for a central heating company along with Jiři Dienstbier, who he affectionately calls by his surname, which translates to 'service beer' in German. In any case, nobody else was interested in giving him a job as an engineer. 'I worked next to him, we could type at the machine all night and in the morning he would give me his manuscripts. We had to be very careful, but he knew what he was doing – Vienna and London would contact us from where we worked.'
In 1989, the Velvet Revolution changed history. With the fall of the Berlin Wall and reunification, Dienstbier was named foreign affairs minister and Uhl was made head of the Czech press agency ČTK. 
Uhl the European
In the years since, Uhl has seen times characterised by engagement, but also by illness. In May 2008 he attended a ceremony to receive the Sudeten German Homeland Association's Karlspreis for his unrelenting human rights activism. In his acceptance speech he declared, 'This prize helps to wipe clean the stains that sully our collective history and also help our coexistence at the heart of the European Union. A union that cannot be built upon a past of secrets and concealment.'
'I am very happy with (today's) open Europe,' Uhl now repeats as he sits in his Londynska lounge. 'I was to meet my wife in Warsaw for a conference with Cohn-Bendit about the events of May '68. I was travelling from Prague and she from Strasbourg. So we both took overnight trains and made it to Prague without being disturbed by the cops or hassled by customs officials. We didn't even need to show an identity card!'
Translated from Petr Uhl: "Im Gefängnis hat man mir angeboten, das Land zu verlassen"