#ParisAgainstTrump: France shows solidarity with the USA
Published on
"This is what democracy looks like." Donald Trump's election will have huge implications both in the United States and across the sea on the Old Continent. We went to a protest in Paris to ask people about their reactions to the new commander-in-chief and what his election might mean for French politics. 
Two weeks have passed since the world found out that Donald Trump will be America's next president, and the news still doesn't feel real.
On Saturday 19 November, French residents and American expats took to the streets of Paris in solidarity with those protesting in the US, and against those in France who want to see the Front National (FN) leader Marine Le Pen sweep to power in their own country. Hundreds of protestors marched from the Place Joffre to Trocadéro, holding signs in both English and French. Their chants expressed their displeasure at not only president-elect Trump, but also his deputy Mike Pence and Steve Bannon, former leader of extreme right wing website Breitbart News.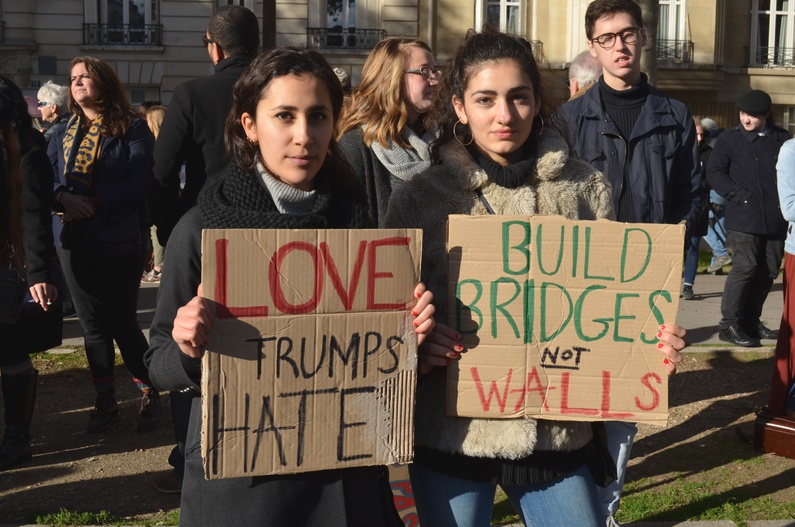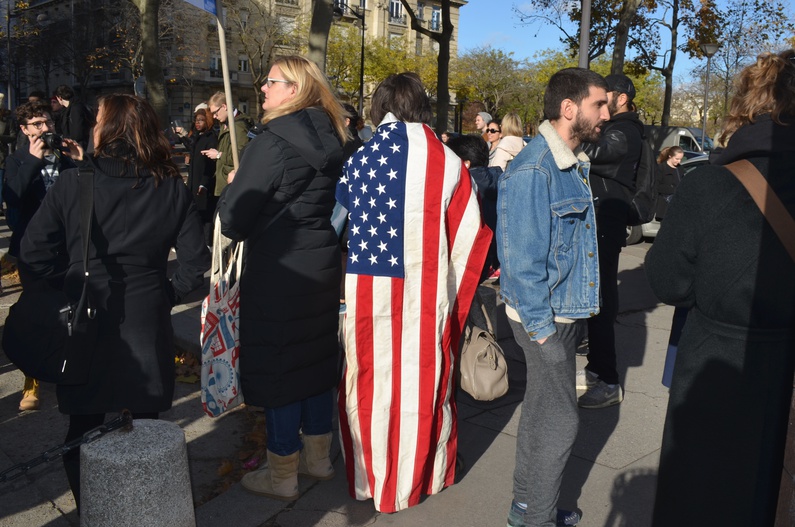 Madi, also 21, said that she felt Trump's election in the US was due in part to a "naiveté among white liberals, and a lack of attention paid to people who did feel threatened by [him]." Amelia, a 19-year-old from Texas, stressed the importance of listening to the other side. "There's a huge portion of the population that feels disenfranchised, and we need to realise why this is happening and not dismiss it," she said. "It's horrifying to think that these right-wing populist movements exist, but they exist for a reason."
Bob Vallier, secretary of the Democratic Party in France, said that Trump's administration was shaping up to be "absolutely odious… [Trump] is a man who appears to be president by constitutional default, and against the wishes of a majority of Americans; who seems to be keeping his word to deport 3 million illegal immigrants; who appears to be interested in a Muslim registry; and who is appointing an avowed white supremacist to whisper in his ear in the Oval Office."
Vallier, who has lived in Paris for 10 years, added that he is "deeply worried" about the influence Trump's victory will have on Marine Le Pen and the FN: "She appears ready to completely transfer the strategy Donald Trump used to France. And Breitbart has promised to open a platform here in France to promote Le Pen and export that strategy."
Victor and Laura, two Parisians who also attended the protest, share Vallier's fear that a Le Pen presidency is now much more likely. 
"It's been demonstrated throughout history that when the traditional left and right are weakened and when people are disappointed, extreme and radical movements arise," says Laura. "I think it's possible that Le Pen will gain popularity because people have never seen her in a position of power and they'll be curious."
"Of course it's possible that Le Pen can win," adds Victor. "But I also believe that those protesting in the rest of the US can affect the rest of the world. I'm betting on that."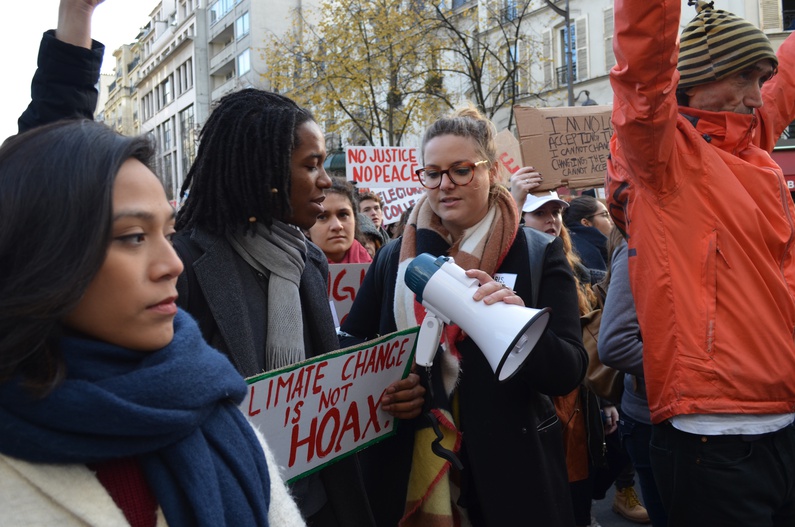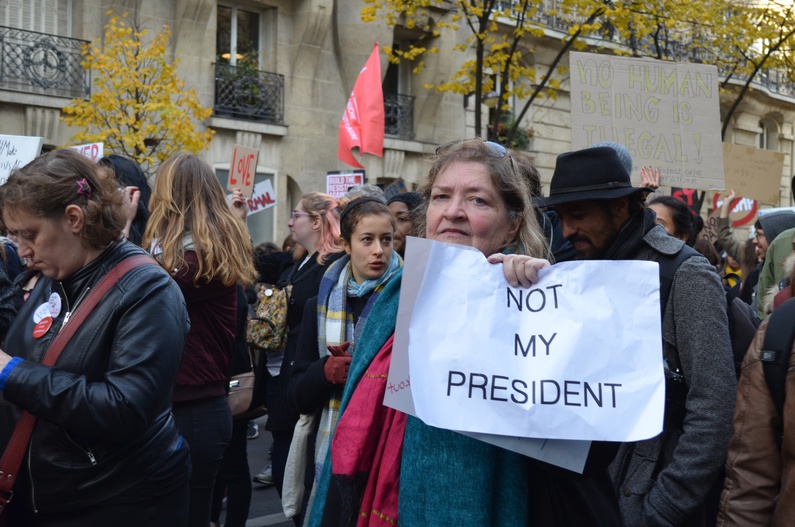 Only time will tell what influence Trump's victory will have on next year's French elections, but there have already been some upsets. In the right-wing presidential primaries held last weekend, Nicolas Sarkozy faced a surprising defeat against former prime ministers François Fillon and Alain Juppé.
Video by Lara Bullens