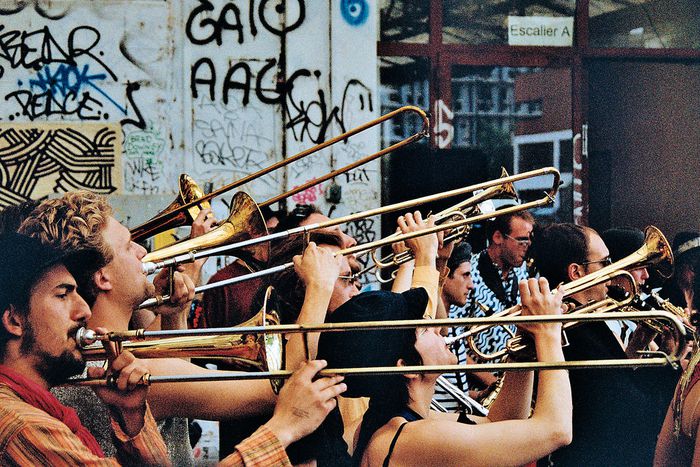 Paris: squats in Europe's second most expensive city
Published on
Amidst an explosion of rental prices, the Macaq organisation squats unoccupied buildings to bring the lack of student housing into the public eye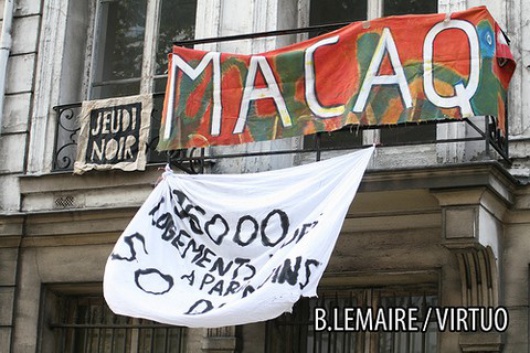 Macaq is transforming unoccupied buildings into places to live and experience culture (Photo: ©Lemaire.benjamin/ Flickr)
Homes for the well-heeled, stately tree-lined avenues and chic brasseries: that's the eighth arrondissement in Paris. The capital is still proud of its picture-postcard image. And this image is perhaps best preserved behind the doors of a beautiful Hausmannian style building on the edge of Monceau park. One assumes that the tenants must be a nice middle-class family. However, around thirty squatters live inside this grand building.
The building belongs to an Egyptian insurance company. Up until November 2007, it was in a state of disrepair, until the cultural and artistic movement 'Macaq' arrived. With its dusty tiling and creaky doors the 1200 square metres of inhabitable space was run-down after years of neglect. 'It's absolutely atrocious!' writes Julien Boucher, the leader of the movement. 'A house isn't a house anymore; it's all just for financial gain!'Currently, 17% of Parisian apartments lie empty.
Well organised squatters
Dirty windows, empty dustbins, full postboxes and constant coming and going. And then, one bright sunny day a group of 'workmen' arrive, sometimes dressed as builders. This is all familiar territory for Julien, but he doesn't want any dark corners in his buildings.
This typical middle-class house, which yesterday lay in ruin, now has a fresh coat of paint on the walls, a kitchen, is kitted out with pasta and coffee, a shower (still under construction) and a lot of music. There are no drugs and no disgusting smells either. The fifteen students and twelve artists living here are all incredibly organised. Each squatter has their own room and shares the common rooms and electricity and internet costs.
Everyone does their bit, whether it's cooking pasta, doing housework or fixing the plumbing. Written on the table is, 'now your bellies are full, tidy up after yourselves!' Living in a community still does mean some ground rules and everyone tries to follow them. On levels four and five of the building there are large rooms with parquet flooring available for dance and theatre groups.
Student housing difficulties
Before Jean-Marc, 22, moved into a squat, he did consider the other options, like a single room with a shower on a corridor or a flat-share. 'There was simply no more space in the halls of residence,' explains the psychology student. 'I didn't have the money to be able to afford letting agent fees.' With the money from his parents, his housing benefit and the 300 euros from his part-time job as a waiter, Jean-Marc has about 700 euros per month. Not enough to afford the rent in Paris.
According to the DAL (Droit au Logement, 'Right to Accommodation') association, for the 54% of students who no longer live with their parents, almost 1.2 million in France, accommodation represents the largest single expense. In Paris this means students pay between 470 and 550 euros per month in rent, excluding bills. Most of the students' money goes on rent, meaning they have even less to spend on food, transport and health care.
The ECA International Study 2007 ranks Paris, just behind London, as the second most expensive city in Europe. In the past ten years, rental prices have risen by more than 30%.
A ministry to deal with the housing crisis
For the past eight years Macaq has been 'squatting' in unoccupied Parisian buildings; turning them into places to live and meeting points for artists and groups. At the end of 2006, together with the DAL association and the Jeudi Noir ('Black Thursday') student movement, Macaq founded a youth organisation which visited letting agencies, bearing champagne and streamers in order to draw attention to the explosion in rental prices.
In Barcelona and Lisbon, organised groups of squatters have already succeeded in drawing public attention to the matter of unoccupied flats. And in Paris too, the three associations have decided to 'give the French press a rude awakening,' says Julien Boucher. 'We have to stop landlords and investors in real estate taking advantage of the situation,' adds the young leader of Macaq.
In January 2006, shortly before the French presidential elections, the three associations bought a building with 1600 square metres of floor space in the second Arrondissement, rue de la Banque, Paris. They named it 'Ministry of the Housing Crisis' and on the façade of the building is a Marianne, the symbol of the French Republic, wielding a crowbar. 'We love the upmarket areas,' the leader says smilingly. 'That's where we find the most unoccupied houses!'
The ministry's latest adventurous project is to turn disused buildings in the capital into halls of residence. Students have of course been evicted on more than one occasion in the past, but the idea is becoming more popular.
Translated from Squats universitaires