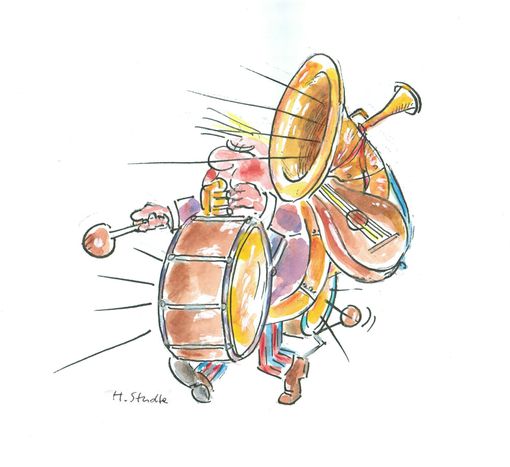 One man show
Published on
Ultimately, 'babelians' all self-identify as one-men shows of sorts: young journalists who write, take photos, film reports, translate and freelance as well as look for other jobs on the side. But enough about us. Idiom of the week
In French the one-man orchestra (L'homme orchestre) plays ruthlessly as he plays with people. Like the French comic actor Louis de Funès dominated films such as The Mad Adventures of Rabbi Jacob, a one-man orchestra dominates a situation with his charisma, juggling with various instruments at a time, striking up a trumpet one minute or a guitar the next.
He strains his strings jokingly and later provocatively. He always has something to say. Sometimes we want a kiss (and you may not even need to ask for it), whilst other times it makes you want to scream àla King of Spain ¿Por qué no te callas? ('Why don't you [just] shut up?', as he famously told Venezuelan leader Hugo Chavez in 2007). The French homme orchestre is like the German Stehaufmännchen (literally 'pay attention little man' but referring to a tilting toy), who is impossible to stop in his tracks: he (or she, of course) is always on the ready to make a comment, like a boomerang, and the more you go for it the faster he comes back at you. It's impossible to get a word in edgeways, because this person runs the show. That's where the most commonly translated phrase one-man show or Ein-Mann-Orchester comes from.
Spanish deputy prime minister and interior minister Alfredo Pérez Rubalcaba takes cafebabel.com's vote for Europe's best political one-man show. Traditionally el hombre orquestra travels as a minstrel through cities and towns. It's a trend that Arab leaders of yesterday have been forced to take on. After all, from Tunisia to Egypt via Libya, the Ben Ali-Mubarak-Gaddafi one-man shows of North Africa and the Middle East are slowly but surely being toppled in revolutions. In January 2011 Ben Ali found asylum in Saudi Arabia in the arms of another key OMS player, Abdullah bin Abdulaziz al Saud, who has been the Saudi king since 2005. The eternal president and prime minister is also a prince and 'custodian of the holy two mosques'. On 3 January 2005 he even funded an operation to separate Polish Siamese twins Olga and Daria Kolacz. Now that's a show and a half!
Illustration: © Henning Studte
Translated from Człowiek orkiestra - show must go on