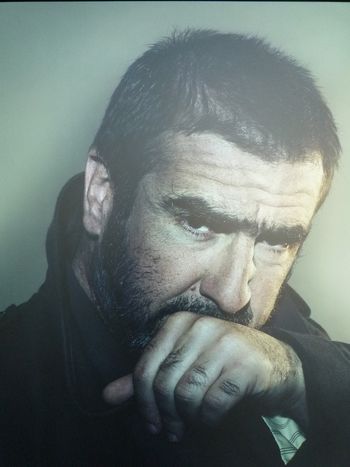 Odd ode to Eric Cantona
Published on
The Olympic Marseille football club is beginning to form a reputation as the starting block for 'wannabe presidents'. Following in the footsteps of George Weah and his candidacy for the presidency in Liberia, it's now the turn of Eric Cantona to make his ambitions for high office known, writes one French blogger, 'ASL'
The former professional footballer is clearly not satisfied with the title given to him by a nineties-era British public. 'King Cantona' must see pursuing a political career as the most noble profession of all. At the very least, the Frenchman is an 'engaged citizen'. That is how he described himself at the head of a letter addressed to the mayors of France when he was going around collecting 500 signatures. However, the footballer-cum-actor was not running to be an official candidate in 2012's presidential elections. It was all a publicity stunt, as Eric Cantona was campaigning to highlight the problem of inadequate housing in France.
Ooo, aah, Cantona
The raging and ranting Cantona is also the king of creating a buzz. In terms of generating media interest, Cantona has an unmatchable ability. Looking back over his football career both for club (most notably for Manchester United, 1992-1997) and country (France, 1987-1995) and his rants and temper tantrums, you can see he already had an innate sense of how to make noise. He also put these skills to good use during the banking crisis which was being felt around the world. Remind yourself of his rallying cry that day in 2010: for everyone to go out and withdraw all their money from the banks to break the system. With his way of thinking, there is always a certain level of success. Cantona speaks simply, boldly and truthfully. To say the banks do not care about us and that we can hurt them with this initiative is very truthful, direct and easy to understand. Behind that, it's a waste of time, since there is no concrete action.
The essence of Cantona is not only in his manner of denunciation. It is also in his manner of highlighting an injustice, be it on the streets, amongst the bankers or about substandard housing. However is that sufficient or useful? Are these moves not counter-productive? It does demand the question 'what if' – what if Cantona had not fallen foul of the French football federation in his prime, or the banks. The Abbé Pierre foundation, a charity of which Cantona is patron, is suddenly faced with the principle of apolitical association.
Merci!
It is a tradition in Greece for great cultural figures such as songwriter Mikis Theodorakis to draw upon their public image in a battle. It was tradition with the Movida movement in Spain, where the films of Pedro Almodovar undoubtedly contributed to making the nation look at itself and evolve. In a similarly effective fashion, Italy's former prime minister Silvio Berlusconi succeeded in using the public's fascination with people and celebrity in order to establish himself and his political party. Eric Cantona's celebrity outside of France is an additional asset. To be effective, you must speak at and be able to convince a continent, a union, Europe, because at the end of the day decisions are better taken when they are agreed in union. Cantona is not the Messiah, but he knows how to talk to seagulls, so can very well speak to those selected few and make his case.
Frankly, I would like to thank Cantona for what he is doing. Even if his concrete results are weak, he pushes people such as you and me to ask questions of ourselves and of people like us, and to ask ourselves what is just and what is unjust. He takes on a similar role as Stephane Hessel, author of the successful book Be Indignant! (''Indignez-vous!) - Cantona too wants us to be outraged.
Translated from Cantona rien à perdre...