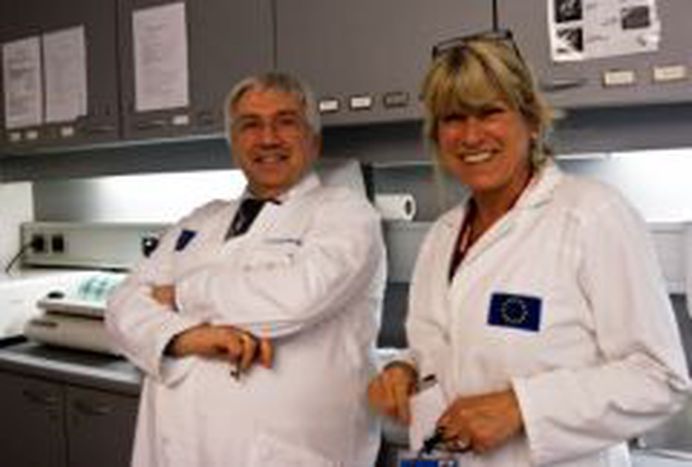 Occupation: Parliament Village Doctor
Published on
by Aurélie Feller, translated by Patricia Philbin Patients come along to the Parliament's medical service during every session, whether day or night, from Strasbourg to Brussels. Dr. Giampiero Di Paolantonio's medical team looks after the civil servants, members of parliament, and all of the European parliament's service providers.
This is the portrayal of an ordinary and welcoming doctor, one who would have loved to be a village doctor and is today the chief doctor of this institution's medical service.
A "Tower of Babel" Polyglot
With his white-grey hair, impeccable coat and glasses, he strikes an imposing figure. Dr. Giampiero Di Paolantonio recalls his first days at the Parliament. In the '80s, at the age of 30, he was selected from among the final candidates to become the Parliament's doctor. His knowledge of languages gave him a solid advantage during the selection process. Owing to his family's background, this Belgium native learnt Italian very early on. He perfected his Dutch while practising general medicine at Leuven and also English, with time. He understands German and Spanish but does not speak them fluently. Much to his own surprise, this multilinguist has been lucky.
8000 patients annually for 6 doctors
Over the past 30 years, the work has changed. The E. U. has grown from 10 to 27 countries, and demands have also increased. "In the beginning, there were 3 of us: a secretary, a nurse, and a doctor", he recounts. The service now has 6 doctors, 7 nurses, and 7 secretaries. Together, they treat more than 6000 patients each year, 200 of which are emergencies, caring for everyone from the chefs to the MEPs, employees from every nationality. On this very day, a young woman is resting in a small isolated room to ease her headache. She has 2 hours in order to decide whether to return to work or go home. "Most often, we treat colds, depression, stomach- and headaches", he explains, "sometimes technician's cuts, and, more rarely, more serious cases such as infarctions...".
Health First
They have everything on site like a proper little polyclinic for optical and aural examinations, electrocardiogrammes, even a pharmacy. They are in charge of the pre-hiring exams and industrial medicine of the Parliament. "For the employees, who arrive on Monday and leave again on Thursday, my service is important, because it is often difficult for them to find the time to get treated at home". They also take care of vaccinating the civil servants who often travel a lot between Brussels and their home country to tropical countries. "There is a false impression of civil servants being lazy, however, most of them are very motivated. We need to tell a lot of people to work a bit less and to look after their health", he continues.
Far from simply practising administrative medicine, he gets satisfaction from providing a human dimension to the service, as much as possible. Looking thoughtful, he adds that "leaving general medicine was a difficult life choice, (he smiles), I have missed the older patients". But in the end he has gained considerable experience from listening to and caring for the patients of this particular environment. He believes that all patients are the same, no matter where they come from and what they do.