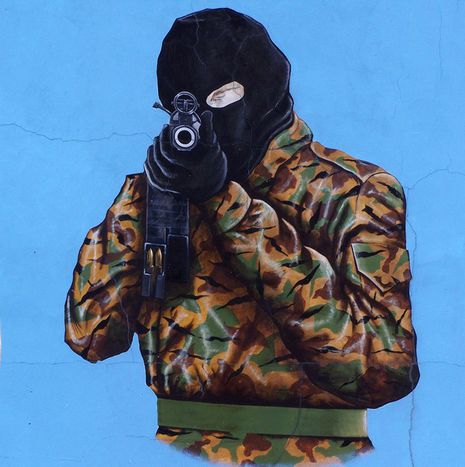 Northern Ireland terror continues
Published on
A further terrorist attack rocked Northern Ireland on 9 March when a policeman was shot in Craigavon near Belfast. Prior to that two soldiers had been killed in an attack on a British military base. Splinter groups of the Irish republican army (IRA) have claimed responsibility. Press review from Ireland, Holland, Austria and Finland
'Paramilitarism is a dead end' - The Irish Times, Ireland

With the second attack in three days, terror has returned to Northern Ireland. The Irish Times condemns the perpetrators: 'Above all, though, there is the challenge of ridding Irish culture of the last vestiges of the sneaking regard for their crude ideology and the murderous methods that flow from it. A part of the price that has been paid for the peace process, and for bringing paramilitary killers in from the cold, has been a reluctance to challenge too strongly the notion that violence was ultimately vindicated. We must acknowledge that paramilitarism achieved nothing for the Irish people over 30 years except blood and tears. It was, and is, a dead end. Those who would revive it must be treated by everyone, of every political persuasion, for what they are: the enemies of democracy, decency and Ireland'
'Keep a cool head' - Die Presse, Austria
With their most recent killings the nationalists are intent on rekindling the violence in Northern Ireland, writes the newspaper: 'What the IRA renegades are doing is diabolical. They are seeking to tear open the wounds of Northern Irish society which have just barely healed. They are sewing discord between protestants and catholics in the hope that the two communities will once more go at each other's throats.
The Northern Irish politicians are right
The current leaders in Belfast are aware of these plans and appealing urgently to protestants not to let themselves be incited to committing acts of revenge. As banal as it sounds in such a tense atmosphere, the Northern Irish politicians are right: the important thing now is to keep a cool head. That is the only way to help counter the murderous plans of the IRA psychopaths - as well as painstaking police work, of course' (Burkhard Bischof)
'Blame the crisis' - Kainuun Sanomat, Finland
The daily writes that the economic crisis is partially to blame for violence flaring up again in Northern Ireland: 'During the times of the Northern Ireland peace process the economy developed rapidly, and then the financial crisis hit. The price of real estate dropped by at least a third last year and unemployment is rapidly increasing.
Wall Street and the irresponsible bankers of London city are to blame for this disaster
The collapse of financial capitalism is radicalising several extremist groups. Wall Street and the irresponsible bankers of London city are to blame for this disaster, for the loss of jobs and misery all over the world. Marxist-anarchist ideas and the concept of armed resistance are now more in vogue in Europe than they were in the last decade. The security authorities must be on their guard - and not just in Northern Ireland'
'Political co-operation needed' - NRC Handelsblad, Netherlands
After the recent attacks in Northern Ireland the daily writes that history seems to be repeating itself: 'The broadness of the coalition doesn't necessarily mean that the past has been forgotten. The tensions between catholics and protestants that sometimes coincide with the gap between poor and rich have not been resolved. Many generations have regarded above all the police as either friend or enemy.
Not solely a matter for the police and judiciary
For decades almost every arrest could be seen as a political act, even if it simply involved normal crime. In such a climate the Real IRA was able to maintain its hold throughout the past decade. According to the authorities the perpetrators of both attacks were desperados. But this doesn't mean the issue is solely a matter for the police and judiciary to deal with. The danger has not subsided. Groups like the Real IRA can only be isolated if political co-operation in Belfast continues'
Translated from Nordirland: Der IRA-Terror geht weiter