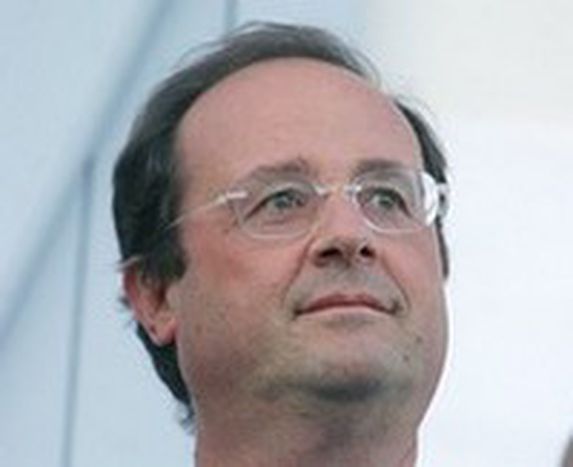 No more Mr. Royal
Published on
International Women's Day, on March 8, is an occassion to celebrate the new alpha-female - the Royals and Merkels of Europe
According to Bloomberg, the Socialist Ségolène Royal is the only French presidential candidate who could stand up to the centre-of-the-right's most likely candidate, Nicolas Sarkozy. She is fresh, bright and willing. Her charm and poise has conquered the French voters. But she has also stolen the spotlight from her partner François Hollande, secretary of the Socialist Party, who once dreamed of running for the Elysée himself.
Suddenly everything changed for him: the smile of his elegant ex-minister and deputy wife, and a few snapshots of her in bikini, now gleam on the covers of glossy magazines. Headlines announce a new "Ségomania". The ruddy and somewhat awkward Hollande must now feel like an old "elephant" as the French call their dusty male bureaucrats. Will "monsieur Royal" become a new entry in the not-so-prestigious club of forgotten husbands (together with Margaret Thatcher's Denis and Britney Spears' K-Fed)?
Sic transit gloria mundi. But when it comes to women who are more successful than their partners, Hollande is not alone.
Men like moon-boots are out of fashion
Sure, European politics are still dominated by alpha-males. German chancellor Angela Merkel and more than 150 Swedish female parliamentarians are exceptions. European politics are dominated by men and, on average, female MPs account for 35% of national assemblies, reports UK government institutions.
The conditions on the job market are just as bad. The glass ceiling still prevents women from obtaining "C-level jobs", positions whose title begins with "Chief". According to a survey conducted by the Ethical Investment Research Service, less than 10% of French, German and British executives were female in 2004 (the Y-chromosome supremacy is even stronger in Italy and Spain, were male CEOs account for more than 95% of total figures). And no matter what their job is, European women earn on average 15% less than men.
Yet trends are changing. Many female employees are said to be better-educated, harder working, and better communicators than their male counterparts. According to the Economist, men perform better only in jobs where good hand-eye coordination is involved (great for hunting wild animals with arrows and spears). Boys are also better at rotating three-dimensional shapes in their heads; but then again, computers do it better.
Who's bringing home the bacon?
More and more women are becoming the breadwinners of the family. In France and the USA, one third of women earn more than their partner, reports the French magazine L'Express . But the old-fashioned conception of a man's role holds its grasp: men, more than women, tend to see their jobs and salaries as proof of their usefulness.
If traditional roles switch, some men may feel emasculated and held in captivity. As Debra Burrell, psychotherapist and founder of the Mars & Venus Counselling Centre in New York, told our magazine, "men feel bad about their "less than" success and try to overcompensate by being more demanding or needy at home". As men grow whimsical and prove unable to adapt, their better half can react with pique. "Women feel resentful, especially if it was not what they "signed up for", and relate to their husband contemptuously and with a lack of respect".
Harriet Pappenheim a seasoned couple therapist and author with Ginny Graves of "For Richer or Poorer – Keeping Your Marriage Happy When She's Making More Money" , adds that "it can be tough for women, especially if they have children. If their job prevents them from spending enough time with their offspring, women's unease can morph into resentment against their partner". Don't tell that to Segolène, a happy mother-of-four."
In a world where women pay at restaurant and expect their men to prepare breakfast, Hollande and friends should listen to Maureen Dowd, columnist of The New York Times and author of Are Men Necessary?. prophesizes: "we'll finally have our fair share of corrupt female CEOs and philandering female presidents. And we'll run the world. In a manly way, of course".