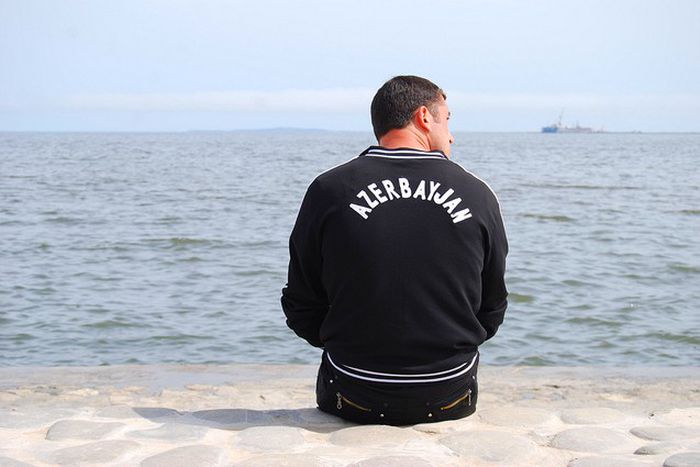 Nightlife, footie and crooning in Azerbaijan 2012: Baku calling
Published on
Translation by:
hkeet
With Azerbaijan winning the eurovision song contest and celebrating 100 years of football with a visit from Blatter and Platini themselves, it has become clear to many Europeans that they have at best dangerous superficial knowledge of one part of Eurasia. The land-locked country in the Caucasus is approximately the equivalent in size and population to Portugal
It was 11 October 2010 when Rashad F. Sadygov became a national hero in Azerbeijan. We are talking about the 38th minute of the qualifying match for the 2012 football European championships (in Poland and Ukraine) between Azerbaijan and Turkey that took place in the capital, Baku. The highly favoured Turks had good opportunities and were wrong in thinking that they would win when Sadygov, defender and Azerbeijan national team captain, created a sensation with a corner trick and scored with a strike from fourteen metres (although German Turkish player Mesut Oezil exacted some kind of revenge in a 3-1 bashing of Azerbajan in Baku on 3 June - ed). 'This was an extremely important win for us,' says Abbas, who works for the Uefa (union of European football associations) in Baku. Rashad F. Sadygov, who had previously played in the Turkish Super Lig for several years, is an absolute idol in his country. Azerbaijan's first-ever qualification for a European championship, which was incidentally under the leadership of German coach Berti Vogts, lies within reach. 
Baku - the new Dubai?
Azerbaijan were able to pull in another surprise victory on 14 May when Ell and Nikki won the eurovision song contest with their song Running Scared and will bring the competition to Baku in 2012. It became an independent state from the soviet union in 1991 when it became a presidential republic with a one-chamber parliament. Many eurovision fans are uncomfortable because the elections in the 'Azerbaijan democratic republic' are undemocratic. The question will certainly arise, just like during the olympic games in China, of whether we should even attend, or just boycott the event entirely. But if we are consistent with this eurovision thought, that should mean: book the flights!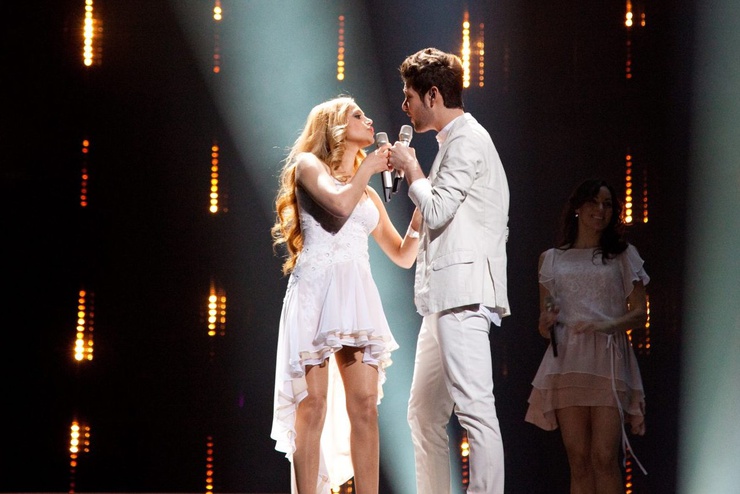 As for Ell and Nikki, they show a modern side to the country, which is often compared to Dubai because of the building boom and the luxurious main shopping street in the capital of Baku. Abbas loves the view of his city from Mountain Park. However, he could gladly do without the hectic rush that reigns in the streets, as well as the people from the provinces who have recently settled in Baku and behave 'like complete country bumpkins'. Tural has a bachelor's degree in religious studies, and the way some of the older people think bothers him: 'When I wear shorts in summer, some of them look at me as if I had just committed a great sin.' Young Azeris love their country, but they are just as nomadic as other members of the euro generation. Many go abroad to study and then come back, whilst others emigrate. Nikki is an example of this: the singer, whose real name is Jamal Nigar, followed her love and current husband Lukas to London a few years ago.
Baku nights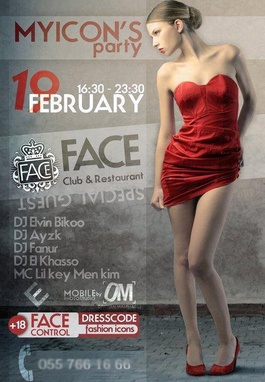 The extravagant nightlife is also greatly praised. Amongst international party goers, it is treated is 'the next big thing' after Tel Aviv and Beirut. The German DJ David Traenkle currently lives in Tbilisi, Georgia, and has ongoing business in eastern Europe and the Middle East. However, he will never forget his appearance in April in the trendy Face Club in Baku. 'You can tell that this is an emerging city, and party-goers really go for it here,' he says. However, you have to shell out several Azerbaijani Manats (AZN) to have a good time in one of the trendy clubs in Baku. It is common to reserve a table in them, where you then have to spend the minimum of the equivalent of 300 euros (£267) on food — or better still, on drink. It is not only frequented by high society, but also people on an average income who like to appear to be rich.
Whilst the catchy pop song Running Scared may have helped Azerbaijan to eurovision victory, the song, which was penned by a Swede, only represents a fraction of the local music scene. There is a big jazz scene in Azerbaijan. More than anything, the locals like to listen to mugham jazz, a fusion of jazz and folk music.
Azerbaijan is not only culturally very diverse: 'The 'typical Azeri' does not exist,' says Abbas. 'We are proud that we are different to one another and that we still have values that unite us. For example, in almost every store you can buy pork or alcohol.' Incidentally, in Baku you are also allowed to drink alcohol on the street, which is now an absolute no-go in many western European cities. Perhaps this also explains why a country like Azerbaijan, which has a muslim majority population, sent a singer like Nikki — who has a western style and wore a very short dress at the contest — to represent the country in Duesseldorf.
Couchsurfing paradises
However, the tolerance stops at the border to the province of Nagorno-Karabakh, a region mainly inhabited by Armenians, which was granted to Azerbaijan after the dissolution of the soviet union. After military riots in the nineties, the conflict is currently being managed, but there is no talk of peace, even though a ceasefire was declared there in 1994. On his profile in the couchsurfing community — where members use people's houses as accommodation on their travels rather than hotels or hostels, sleeping in whatever spare space is available, floor or couch — a young couch surfer warns others not to travel to this region: 'Don't do it, or you will not be able to return to Azerbaijan, no matter whether you have a visa or not.'
'We have one of the finest cognacs in the world, the Tovuz Cognac'
The success of the eurovision song contest 2011 has ensured that a large part of Europe has taken an interest in Azerbaijan for the first time. It is a one-off opportunity for the country to recreate its image. Sportswise, the country marked one hundred years of football with visits from Fifa and Uefa supremos Sepp Blatter and Michel Platini on 7 June. The Azeris of the euro generation appear western-orientated, and they are glad that people do not just think of problematic political relations or the oil industry when they think of Azerbaijan. 'Foreigners often have strange ideas about our country and life here,' says Emin. 'We Azeris are very hospitable, we have a rich culture, beautiful scenery, excellent cuisine and a unique tea culture,' Tural says. 'And one of the finest cognacs in the world, the Tovuz Cognac,' adds Abbas. Baku is known as the 'wind-pounded city' — a fresh gust of wind is currently blowing through the 'land of fire'.
Face Club, 10, Nizami str., Baku, Azerbaijan
Images: main (cc) sugarmelon.com/ Flickr; eurovision © Pieter van den Berghe/ EBU/ Face club party event poster courtesy of FACE CLUB BAKU facebook page/ video (cc) eurovision channel/ youtube
Translated from Aserbaidschan 2012: Baku Calling