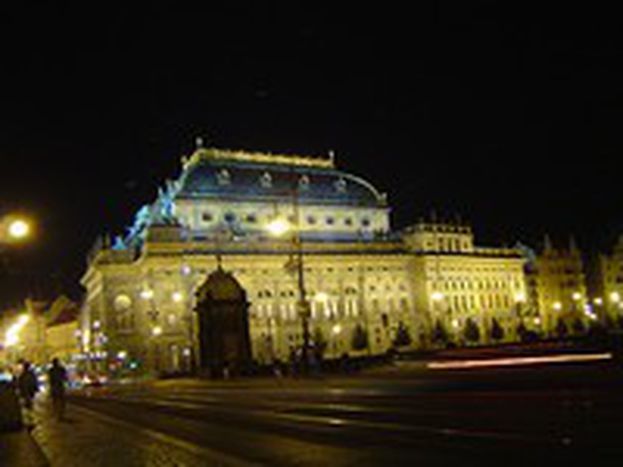 New wave in theatre
Published on
Translation by:
kate stansfield
Free from the shackles of Communist oppression, Czech theatre has discovered its own identity, lying somewhere between pop culture and experimental drama. Presenting three portraits of this new generation
Czech theatres have been showcasing their repertoire for 150 years. Czechoslovakia's independence in 1918 corresponded with the height of dramatic creation, with works from playwrights including Frantisek Langer and brothers Karel and Josef Capek. But the Communist regime soon began to use art as a propaganda tool. Creation found itself placed under the heel of 'Socialist realism': constructivist drama was born.
During the seventies, criticism of the Socialist system gathered steam thanks to the appearance of art and workshop theatre and venues such as the 'Ypsilon Studio' and 'The Ha Theatre'. Several exceptional writers opened the way for a free theatre: Vlasta Chramostova, Daniela Fisherova, Ctibor Turba and Karel Steigerwald.
Today, Prague's theatres are organised around the companies attached to them. They bring in one or several 'dramaturges' - people responsible for selecting works - based on the specificity of their place of work, but also their own conception of theatre. Both popular and social, Prague theatre seems to have come into its own. A hybrid, it has succeeded in reworking its role at the heart of a new society, whilst gathering a loyal audience attracted by new sources of entertainment.
Lucka Kosova - drama critic
Like all young girls, she dreamt of becoming a famous actress. But reality has been entirely different. After attending several Czech and Russian repertory plays, she found herself entering the world of stage design. She devotes herself to deciphering colour games, interpreting the staging of a production or getting a message across to the audience. Her perspective on today's theatre appears somewhat critical. 'There are two kinds of theatre: one, popular, which is concerned purely with entertaining without thought, and the other, d'auteur, which really seeks to convey a message.'
She is currently a student at Prague's prestigious DAMU (Drama Academy of Performing Arts), the school that trains the country's future actors, playwrights and stage designers, and proposes a hybrid theatre that blends dance, cinema and music. This approach leads to the breaking-down of the symbolic barrier between the audience and the stage. Lucka sees a kind of Czech 'New Wave' emerging, a new elite. And she defines its goal as the 'meeting between the two lines of shape and colour, audience and stage, scripts and sets.'
Petr Kolecko - playwright in vogue
Also DAMU-trained, this youngster embodies the symbol of a new momentum gaining in Prague. The unconventional Petr Kolecko has just met with great success with his play 'Britney Goes To Heaven', which recounts with an ironic tone the trials and tribulations of the American queen of pop, Britney Spears. Slated by the critics, the script is nevertheless soon to be translated into English. Kolecko is not afraid to assert pop culture, aimed at a public with no particular theatrical education. 'My only goal is to tell stories,' he explains.
'There's nothing to explain with words. Theatre is as straightforward as a TV programme: you either like it, or you switch over.' The originality of his style comes from the blend of popular genres found in his theatre: football, television, or film. Kolecko represents a third way in theatre, between the classical repertoire and the popular tradition. 'My aim is that every member of the audience leaves the theatre feeling they've been well entertained,' he says. Today, the playwright is inundated with offers, most of them for television adaptations.
Nina Chromeckova - sur(realist) actress
As she enters her thirties, Nina Chromeckova is excelling in experimental theatre. After her university studies, she joined a company called Mama y Papa late in the day, consisting of seven musicians and ten actors. It was a real eye-opener: 'I got a kick out of that like nothing before. I got to work on scripts that were completely different from each other. It was my first great journey.' Attracted by 'Russian and Japanese works,' she notes the emergence of a new and rather heterogeneous generation on the stage.
'There are a lot of young companies who are touring the entire country and being hugely successful. Following our independence, people are no longer afraid of political censorship. It is, however, interesting to use people's fears in a performance; a way of engaging in some group therapy.' Passionate about dance, flamenco and ballet, her work now centres on the 'Ztracena' (Existence) company, touring small theatres and bars. She is currently appearing in Dentalni Rapsodie, a play by Alexandr Guha. Surrealism and dadaism influence her choices above all else. Chromeckova also finds time to work for an NGO helping the most unfortunate. 'Communicate for others, that's my motto,' she explains.
Translated from Nouvelle vague sur scène