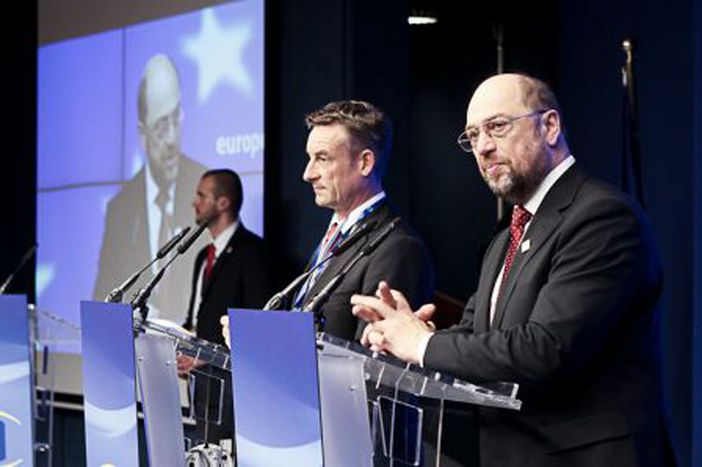 My name is Martin Schulz, "Guardian of the European Union"
Published on
By Matteo Adduci Photo by Davide Martinotti "The European Parliament must be a fully entitled member within the decision process on European financial and economic governance. I see myself as a guardian of the European Union". These were the words expressed by Martin Schulz, newly elected President of the European Parliament, at the opening press conference of the EU Summit in Brussels.
It was his response to a question on the marginal role the EP is going to play if the Fiscal Compact Treaty is adopted as it has been drafted.
He positively welcomed the Council's approach regarding future investments for the revitalisation of economic growth in the EU, in particular through job creation for young people. "Fiscal discipline is surely necessary" – he said - "but it is simply not enough". However, he declared himself strongly disappointed by the fact that the new Treaty states in article 12 that "the President of the European Parliament may" – just! – "be invited to be heard" at summits. This is unacceptable says Mr. Schulz. The Parliament has to participate all the time. This is not a personal caprice, he explained: "I represent the legislative assembly of the European Union".
He also replied boldly to a question on the on the establishment of a sort of budget super-commissioner for Greece, a proposal presented by Merkel's Christian Democrats, saying that "more intelligent contributions should be brought to this discussion". We should all try not to spread this false idea of a loss of sovereignty for the Mediterranean country, also given the delicate times that the Euro, the Eurozone and Greece are experiencing.
Next Thursday the EP will present a resolution on the new Treaty. It will be very difficult for them to forward a positive opinion, unless drastic revisions towards a wider inclusion of the Parliament is introduced by the representatives of the Member States in the EU Council.
A rough start indeed for the new President.
We will follow the developments.