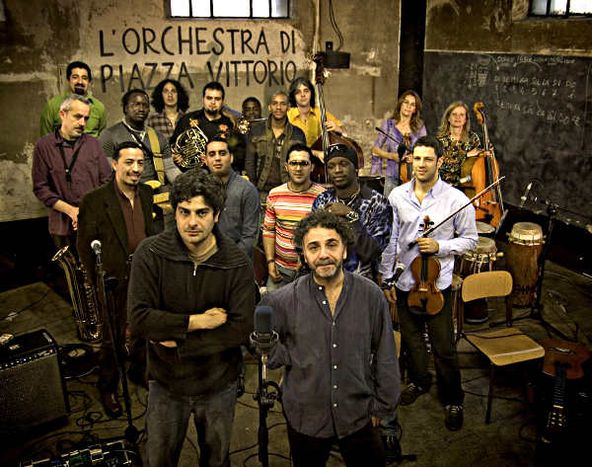 Multiculturalism in Piazza Vittorio, Rome
Published on
Rome's Piazza Vittorio Emanuele was once a prime example of integration, but today some residents claim that the area has since become overrun by 'Chinese trash culture'. The good news is that there are efforts to unite the district's inhabitants through art
'I am the last remaining Italian in a sea of Chinese, and you want to throw me out of my shop because I can't pay my taxes? How can the city of Rome allow this to happen?' So reads a letter of complaint hanging in the display window of a clothing store at Piazza Vittorio in the centre of the Italian capital. The shop owner records his grievances and proclaims that, over the past few years, his district has degenerated into Rome's Chinatown.
Chinatown, Rome
Welcome to Piazza Vittorio on Esquiline hill. It's located just around the corner from the central train station and is the city's best-known multicultural area. Surrounding the piazza are numerous discount stores and small eateries. Almost all of them are advertised with signs written in Chinese and specialise in cheap wares including jewellery, clothing and fast food. According to a 2011 immigration study by Caritas Roma, one out of every eight Romans is of foreign nationality. The most populous groups of foreigners are Romanians (21.6%), Filipinos (10%), Bangladeshis (4.7%) and Poles (4.4%). The Chinese immigrants rank next, making up 3.9% of Rome's population. However, between 1961 and 1991 the Esquilino district declined in population from 42,000 to 24,000 residents. As the blogger Salvatore suggests, one can hardly claim that the Chinese have contributed to local overcrowding.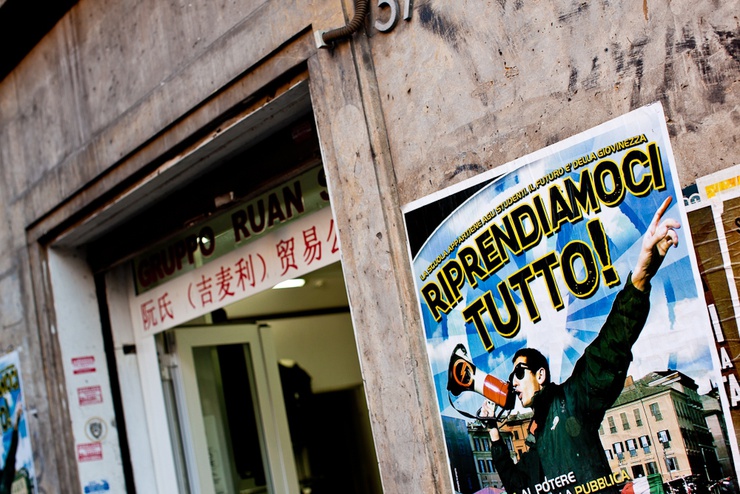 In Amara Lokhous' 2006 bestseller Clash of Civilizations Over an Elevator in Piazza Vittorio('Scontro di civita un ascendore in Piazza Vittorio'), the district's Chinese residents receive their just deserts: 'They told me that Chinese people eat dogs and cats. Now that I have told you all these things, there is no longer any doubt that the Chinese have kidnapped and eaten my poor Valentino!' Lokhous, an Algerian who himself has spent many years living on the Piazza, tells the story of a murder that took place in Rome's famed multiethnic district. In his novel, the many cultures and cliches that define workaday life at the Piazza Vittorio collide with one another. 'I arabise the Italian and italianise the Arabic', is how Lokhous describes his particular style of writing. His book became a popular success and was made into a film directed by Isotta Toso in 2010.
Orchestra of the square
While some residents might complain about the invasion of Chinese immigrants, Rome's multiethnic quarter has actually built a pro-integration reputation for itself thanks to a number of successful cultural initiatives. In the same year that Lokhous released his bestseller, a documentary-musical called The Orchestra of Piazza Vittorio ('L'Orchestra Di Piazza Vittorio') was released, which portrays the district's famous home-grown orchestra whose members come from every corner of the planet. The impossible search for perfect harmony and the interplay of cultural differences recounted in the documentary was the quaint idea of Italian director Agostino Ferrente. Upon the closure of an independent cinema named Apollo 11 in 2002, Ferrente founded an association of the same name that he hoped would help counter the cultural deterioration that he perceived around Piazza Vittorio. The association is made up of sixteen members from eleven different countries. Ferrente's initiative quickly gained international recognition and has also helped spread the ideas symbolised by the Piazza Vittorio to other countries. However, the success and widespread commercialisation of the concept might have gone to their heads, as the association and the orchestra will be going their separate ways in the near future.
Nevertheless, the split hasn't taken the wind out of Agostino Ferrente's sails. We meet at a movie theatre called Piccolo Apollo along with Greta De Lazarris and Maria Theresa Tringali, two other members of Apollo 11. They work as authors, musicians, producers and directors and often organise film screenings in the district. 'We aim to show a different world,' says Maria. 'Different music, different books and fresh talents.' They use documentary films to inform people about different cultures and lifestyles in order to help bring them closer together. For this reason, the group also strives to keep their events free of charge. Today, a documentary called Our Best Years ('I nostri anni migliori') is being shown, accompanied by popcorn, crisps and wine. The substantial turnout means that every seat in the theatre is occupied. Some visitors even resort to sitting on the floor. Onscreen we follow the fate of five Tunisian refugees from camps in southern Italy. Shortly after the toppling of Ben Ali, they escape their country by boat and land on the Italian island of Lampedusa sometime between February and April of 2011.
Integration schools
In Bixio street, a few blocks down from the film screening, a potpourri theatre group called the Esquilino young orchestra is preparing to rehearse. Their meeting place is Rome's first integration school for disabled and non-disabled students, the Scuola di donato or donated school. Originally, the group was intended solely as a musical ensemble founded to cultivate new talent for the orchestra of Piazza Vittorio. 'We want to present cultural diversity in a positive light. We are united,' explains 20-year-old Juri as he simultaneously translates our conversation into English for his friends. 'We feel the same things,' says Ali. 'We don't feel in French or Italian. It's the feeling behind the words that count.'
However there were some difficulties at the beginning. 'We had to build trust,' explains art director Moni Ovadia. 'We deal with immigrants who often come from mixed families, be they Italians, Chinese or Turks. Through our instruction here, theatre, music and movement, we are able to build a relationship with them.' According to Ovadia, most of the problems that students experience can be traced back to an absence of dialogue. This is precisely the issue that the group hopes to remedy through teaching. 'Art is integration,' summarises teacher Antonio Vignera.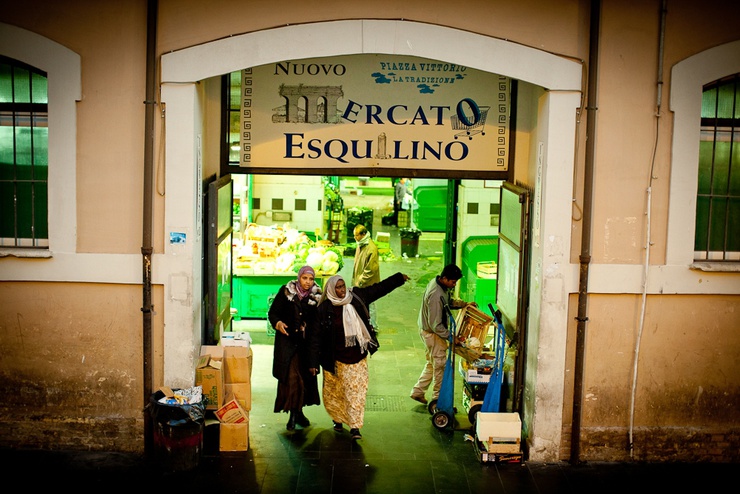 According to Asha Sabrie, integration at the Piazza Vittorio may also happen in a more banal fashion. Sabrie works for an internet TV broadcaster called Lookout-TV which focuses specifically on issues of multiculturalism. He explains that Romans visit Esquiline hill first and foremost to shop at a discount. Most shoppers don't just restrict themselves to the famous Vittorio market, which sells spices, foodstuffs and products from the planet's most far-removed regions. According to Sabrie, even shopping represents 'an opportunity to interact with one another, especially because everything here is dirt cheap.'
Images: main © Orchestra di Piazza Vittorio; in-text © Ehsan Maleki; projects © Christina Heuschen/ videos: Scontro di civita per un ascendore in Piazza Vittorio (cc) RBcasting; documentary (cc) luckyredfilm/ via youtube
Translated from MultiKulturmeile Piazza Vittorio: Einmal Integrationsfahrstuhl und zurück