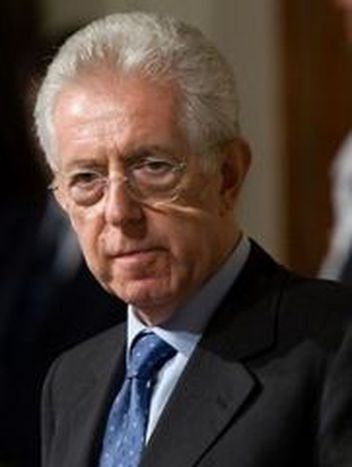 Monti: "From now on, the EU sits on a rock"
Published on
By Matteo Adduci Presenting the freshly reached agreement on a fiscal pact ratified by 25 EU member states (everyone except the UK – same old story - and the Czech Republic – due to "different problems in relation to the possible adoption of the agreement"), Italian PM Mario Monti stated that Italy had had significant impact in the achievement of this "very good and successful result".
Mario Monti joined the press conference room visibly satisfied. Italy had had significant impact in the achievement of this "very good and successful result".
We are back at the table of negotiators.
The Italian Prime Mnister summed up the two main points debated in the summit: firstly, he said, Italy supported the opening of the future negotiations to non-Eurozone countries, provided they had intentions to one day join the common currency - therefore responding to the issue raised in particular by the Polish Prime Minister Donald Tusk.
On the complex issue of the relationship between deficit/GDP, whereby Eurozone countries are supposed to remain within the threshold of 60% of national GDPs, he positively welcomed the statement made by the President of the EU Council, Van Rompuy, who clarified that every violation of such a condition will be treated in compliance with the art.126 of the Treaty on the Functioning of the European Union (TFEU).
"This is a crucial political agreement for Europe" he said, not only because it overcomes the criticisms of the preceding days, but also because it clarifies many things. From now on "the EU sits on a rock, with a solid fiscal stability that is constitutionally enforced within the member states". In his opinion, this will reassure the financial credibility towards the markets.
He also had a few words on the very positive decision of the Council to place emphasis on growth and job creation, in particular for youth. This will represent the first of three steps necessary to get out of the Euro crisis, along with the completion of the single market, and economy stimulation through the support of small enterprises.
As Martin Schulz, the President of the European Parliament, already had a few hours earlier, Monti proclaimed that a German proposal for an ad hoc EU Budget Commissioner for Greece as unlikely: "imaginative and unpleasant" he said.
With confidence, strengthened by the positive words offered by Mr Barroso on Italy's progress, Monti showed that the country is back as a fully entitled member at the table of the European negotiators. Not just a simple and passive receptor of European fiscal discipline, but very much a consumer of the potential benefits of EU-wide economic governance.