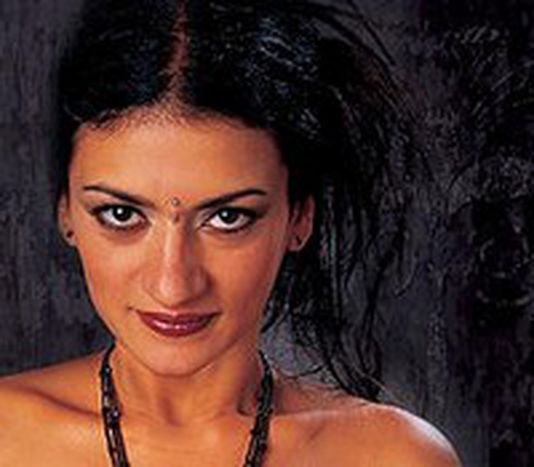 Mónika Miczura, a 21st century gypsy
Published on
Translation by:
luke croll
As the owner of one of the most beautiful modern-day Romany voices, Mónika Miczura, 37, affirms her musical freedom, reclaims her own traditional instincts and modernity, and turns her back on the standard clichés of gypsy folklore.
At the Paris Festival of Music 2006, technicians are hurrying to erect a temporary stage in front of the Church of Saint-Sulpice, whilst black clouds loom threateningly overhead, buffeted by a cold wind. A few streets along, in a corner of the Hungarian Institute, a petite woman smokes cigarette after cigarette. In an hour's time,
Mónika Miczura will be on stage. Whilst waiting, the slender silhouette nibbles on a cheese canapé. When I cross the threshold of her improvised home, she leaps to her feet and comes over to me, her black eyes fixing mine. Although she knows no English, her look alone speaks volumes. With her jet-black hair, metallic laugh and clinking bracelets, she is terribly, irresistibly, gypsy.
However, Mitsou, as she is nicknamed, views labels like the plague. "I've never claimed to be a folk singer," she says. "What I sing is what I am and no-one can tell me how to behave." The tone is set. Listening to her, I notice that the pitch of her voice continuously changes, moving from childlike chatter to a husky, never-ending flow of exotic words.
An exotic creature
Before breaking into the world of music, Miczura grew up in "a Hungarian village in a family where music and dance were part of daily life". Used to performing in local traditional shows, she then took formal theatre classes. At 16, her parents moved to Budapest and Miczura had to withdraw from the capital's drama school. "My marks were too bad, particularly in French," she says, with a mischievous wink.
Later, whilst taking part in a summer workshop for young gypsies, she was spotted by Jen Zsigól, the producer of 'Ando Drom' (On the Road), a Hungarian group particularly popular in the eighties. "At the time, gypsy music was really developing and was in a state of renaissance," Miczura says. "There were groups like 'Kaly Jag' (Black Fire) or 'Ando Drom', who helped to bring Romany songs into the public eye. This was how gypsy music became a form of artistic expression."
A fortnight after meeting Zsigol, Mitsou became the voice of Ando Drom. "Everything moved quickly and they became like my family." The adventure lasted for 8 years, with nearly a dozen concerts and festivals in a 100% gypsy environment. Then came the breakdown. Discreetly, Mitsou talks about "a difference of opinion, on a personal as well as an artistic level" with the members of the group. She then decided to give it all up. "For three years, I didn't sing at all and it was very difficult. I was waiting to be ready to make my own music. I only accepted proposals that I felt at ease with, like Tony Gatlif's films." After playing Nora Luca, the singer with the unsettling voice who is desperately searching for Romain Duris in 'Gadjo Dilo' (1998), she performed on the original soundtrack to 'Swing' (2004).
A trendy mixed-race woman
In 2003, she started her own group, 'Mitsoura', giving her creativity free rein. Following a tradition straight from Rajasthan, she adds cutting edge audio techniques to her voice, and improves her performances using hypnotic visual effects. "The songs that we perform come from different Romany traditions, melodies from holidays or funerals, sung by my mother or old gypsies whose talent I will never come close to." Punctuated by electronic chords and rock, jazz and classical notes, her music sings the virtues of mixed races and the colours of India with Balkan cymbals.
The sound is both original and cutting edge. Is it a form of recycling marketing? "I don't think I'm betraying anything," she says in a flash, fixing her black eyes on me. "What we understand by Romany music ends up being false and simplistic. Music is, first and foremost, a whole range of influences and each instrument brings its own particular atmosphere". Miczura is well aware that her bold mixing "can lead to some people being disappointed" but wants to carry on her experiments in her own way – following her instinct.
Pure artiste
"I sing for pleasure more than anything, I can't imagine my life any other way. I don't have the strength or the pretension to set myself up as the pasionaria of the gypsy cause," my host explains at length, sipping a glass of red wine. "I don't think there are borders to my music, and I hope it will be recognised on an international level. I'm a 21st century woman, brought up in a Romany family, but who is open to the world and able to reflect on modern music," she says. The vehemence of her words shows the difficulty of making a name for herself in a Romany environment that can be closed and chauvinistic.
Despite her growing popularity, Miczura refuses to set herself up as the spokeswoman of the gypsy community. Hungary and its 600 000-strong population is the 4th host country for the 12 million gypsies worldwide, behind Romania, Bulgaria and Spain. Despite her apparent distance and artistic independence, she maintains that "the integration process for Romanies in Europe will take much longer than people think. Not enough money is being spent in Hungary to promote gypsy culture," she says. "The country is so small that we see some propinquity amongst the elite. It is always these same people who make all the decisions". No matter where she is, Mitsou has chosen to change whilst remaining the same.
A huge thanks to Kristina Rády for translating from Hungarian into French
Translated from Mónika Miczura, gitane sans filtre