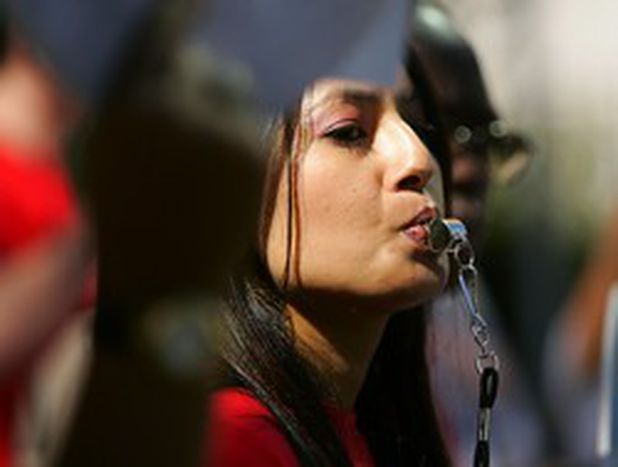 Miss Nepal: no world hunger cliche
Published on
The 62nd UN general assembly opens on 24 September with a focus on climate change. Famous protestors remind HQ about their 2015 world hunger promises
'It's my first time in America. I can't help feeling outraged by the general indifference which countries show towards a grave plague in my country.' Malvika Subba, a former beauty queen otherwise known as Miss Nepal, rose to fame in her home country for her commitment in the fight against poverty. She heads the 'HungerFree' (a world without hunger) campaign, launched in July 2006 in over 30 countries, to highlight the fundamental basic right of having food.
In the week before the opening of this year's 62nd general assembly at the United Nations, focused on climate change, Subba took part in protests organised by NGOs and activists in front of the headquarters on First Avenue. The protesters are indignant about the fact that hunger doesn't even make the list of topics during the week-long summit.
Goal: the moon
In a cloud of pomp in 2000, the world's countries declared that the fight against poverty would take number one priority in an eight-part series of actions called the 'Millenium Development Goals' (MDGs). The 2015 goals included halving the number of people living in poverty, alongside targets to provide basic school rights for all children and HIV/ Aids targets.
Seven years of lengthy discourse later, the figures are quite pessimistic. The last Food and Agriculture Association (FAO) from the UN report indicates that the number of people suffering from malnutrition has in fact increased from 800 million in 2000 to 854 million today. But at the heart of the institution, no-one is daring to discuss the obvious failure of the target so far. Does Subba therefore really believe in a world without hunger? 'When the American policeman asked me what I was doing here in the passport check at the airport, I told them I was going to take part in an international campaign against hunger. He started to laugh, saying 'it's not possible – that will never happen!'
Brasilian example
But Subba is optimistic. 'Of course I'm not being naive,' she clarifies. 'But the FAO reports and numerous development agencies show that we have enough food and natural resources to feed the entire planet. The main obstacles in the fight against hunger are political,' she stresses. 'For example, the lack of access of earth for women in many countries.' African protestors agree. 'In Senegal, women participate in more than half of the agricultural production. But only one out of 2% can access the earth and any means of production,' explains Ibrahima Niasse, a representative for peanut producers in Senegal.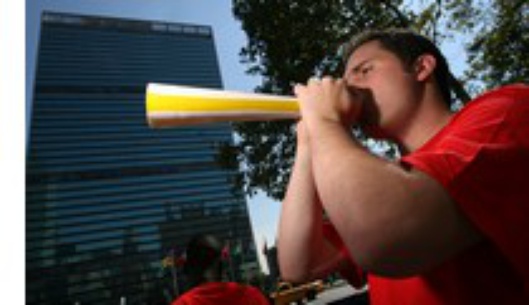 'The implementation of the 'Hunger zero' programme by president Lula da Silva is part of an unprecedented mobilisation by civil society,' says Marcelo, a young Brasilian activist. 'By contrast, it has allowed a significant reduction in the malnutrition suffered in my country.'
Chief bureaucrats support the protestors discreetly. 'What you are doing is really important,' declares a Cuban diplomat. 'Keep it up - it helps us maintain the pressure on the inside.'
Homepage and in-text photos: (Charles Eckert/ ActionAid)
Translated from ONU : des objectifs sans faim