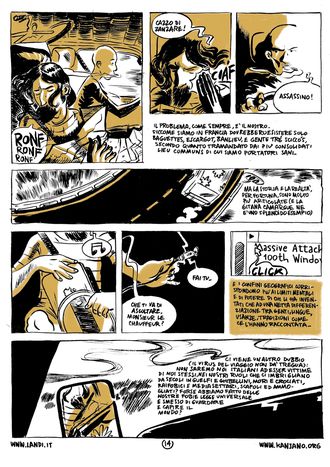 Mediterannean road trip becomes Italian comic
Published on
Translation by:
mary maistrello
Italian illustrator and writer team Giuliano Cangiano and Gianluca Ferro decided to spend a different kind of summer in a van driving along the western coasts of the Mediterranean. The pictures from 'Europe 2009 A.D' address stereotypes, the Basque omertà and the flames of Marseille
Our protagonists are Giuliano Cangiano, illustrator, and Gianluca Ferro, writer. Artistically they are known as the well-worn satirical duo Kanjano&Ferro, that for years has persevered.. in under and over-ground magazines, national papers such as L'Unità and Liberazione as well as persistent appearances in the digital world of the web.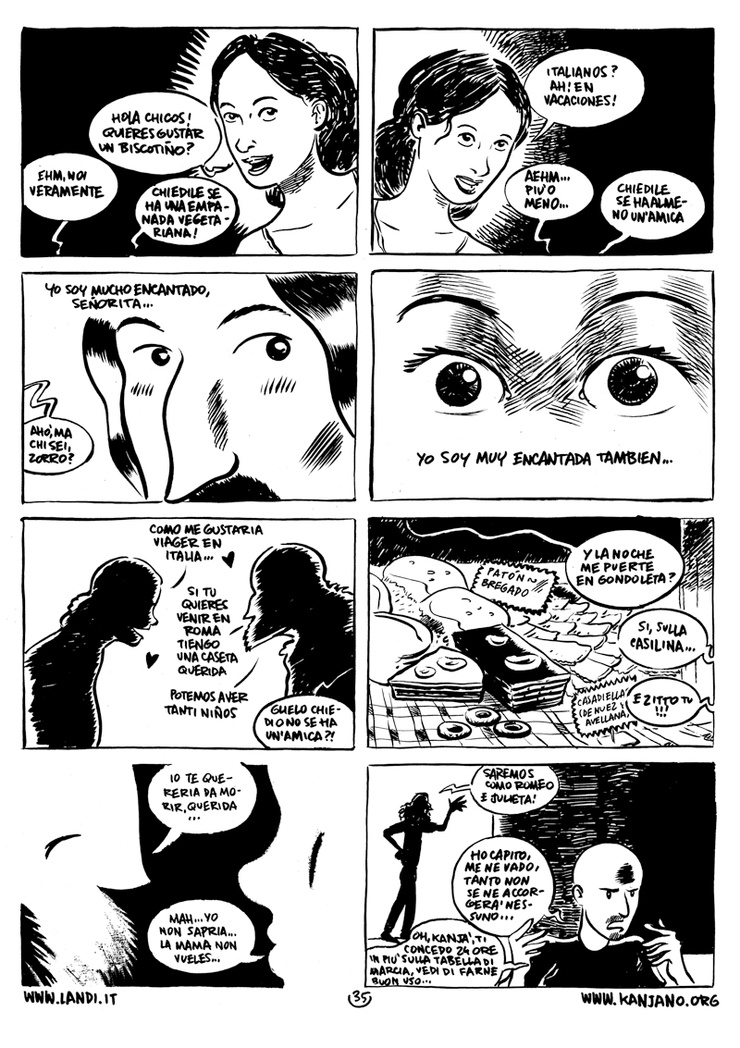 1/ 'Hi boys! Want to taste a little biscuit?' 'Erm not really' 'Ask her if there is a vegetarian empanada!'
2/ 'Italians? Ah! On holidays!' 'Erm, more or less' 'Ask her if she has a friend at least'
3/ 'Nice to meet you, senyorita' 'What are you, Zorro?!'
4/ 'Nice to meet you too...'
5/ 'How I'd love to travel in Italy...' 'If you want to come to Roma I have a little house there, my lovely' 'We could make so many children' 'Can you ask her if she has a friend or not!?'
6/ 'And at night you'd take me on a little gondola?' 'Shut up!'
7/ 'I'd love you until the end, my love'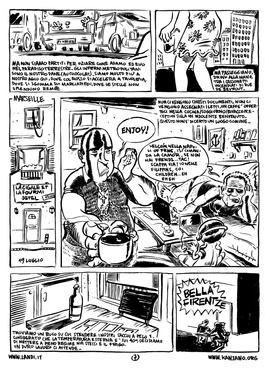 'Going east would have been way too cool, so we decided to draw comparisons with people and stereotypes whose echoes reach us loudest,' explains Kanjano. So our heroes leave behind the wheel of an old, gas equipped Japanese van, having found a sponsor within a matter of hours (a firm which actually supplies gas equipment!). Under the July sun, they are on a voyage which takes them to the Côte d'Azur, the Pyrenees, Catalonia, Andalusia, Extremadura, Portugal, Galicia and the Basque Country, armed only with pencils and notebooks and with the most classical stereotypes of the imaginary European pop chart in their heads - baguettes, castanets, toreadors...
But the stereotypes end here, after only a handful of sketches: the pair don't even attempt an in-depth or banal sociological study, and the rest of the pages slide away lightly and quickly, like the mid-morning break at school. 'We didn't want to describe Europe,' explains Kanjano. 'To do that, you'd have to ride on your bike for ten years.' They simply want to 'tell their story' around little bits of Europe , by using the medium of the travel diary, gathering impromptu impressions and translating them into images, drawings and sketches.
Here's the first postcard of the summer of 2009 from a Marseille devoured by flames, when, inJuly 2009, hundreds of hectares of woodland were transformed into a distressing lunar landscape. Then another flash, from Arles, where they are overwhelmed by the aggressive 'territorial marketing' of the French town, which attacks them assuredly between fake religious relics and Roman heritage mingled with places where Van Gogh used to live, in an 'all-inclusive package' aimed at the most streetwise tourist. 'Many of the places we visited present themselves as bait for tourists, making use of every kind of stereotype for their marketing strategies,' observes Kanjano. 'To think that people can be the same as these incredibly generic images is completely crazy.'
But maybe the juiciest and most unexpected sketch comes from Bilbao, when they run into in an ETA celebration on the evening of 30 July, when in the space of a few hours the separatist Basque organisation is credited with two bombings in Burgos and Majorca. They receive only elusive answers to repeated requests of what is being celebrated, or faces which close up behind a grammatically incorrect no compriendo. 'The truth is that you can't talk about ETA in Basque Country, it's impossible. It's almost like the Sicilian omertà (code of silence).'
And Kanjano&Ferro know something about omertà. Both are from Catania and met at the offices of Erroneo in 2001, a small independent counter-information, anti-mafia publication, which had to close four years agounder pressure and lawsuits from powerful local people. After that experience, the two young authors decided to leave Sicily, and their artistic partnership has endured since then. So have they have found the European soul which they had wanted to meet up close and personal? 'We must have met a thousand souls,' says Kanjano. 'It would be impossible to summarise them all.'
So it's up to me to try to summarise Europe 2009 A.D.: Ventimiglia, Côte d'Azur, Marseille, Arles, Montpellier, Carcasonne, Bilbao, Gijon, Santiago and Oporto are the geography of this work, but in 1958, the Italian director Alessandro Blasetti – also looking for the European spirit in his documentary Europe by night - dealt with an itinerary which connected the great capitals like Paris, Rome, Berlin, Madrid and Moscow; there is now a change in the geographical perspective. This in itself shows a different way of picturing contemporary Europe.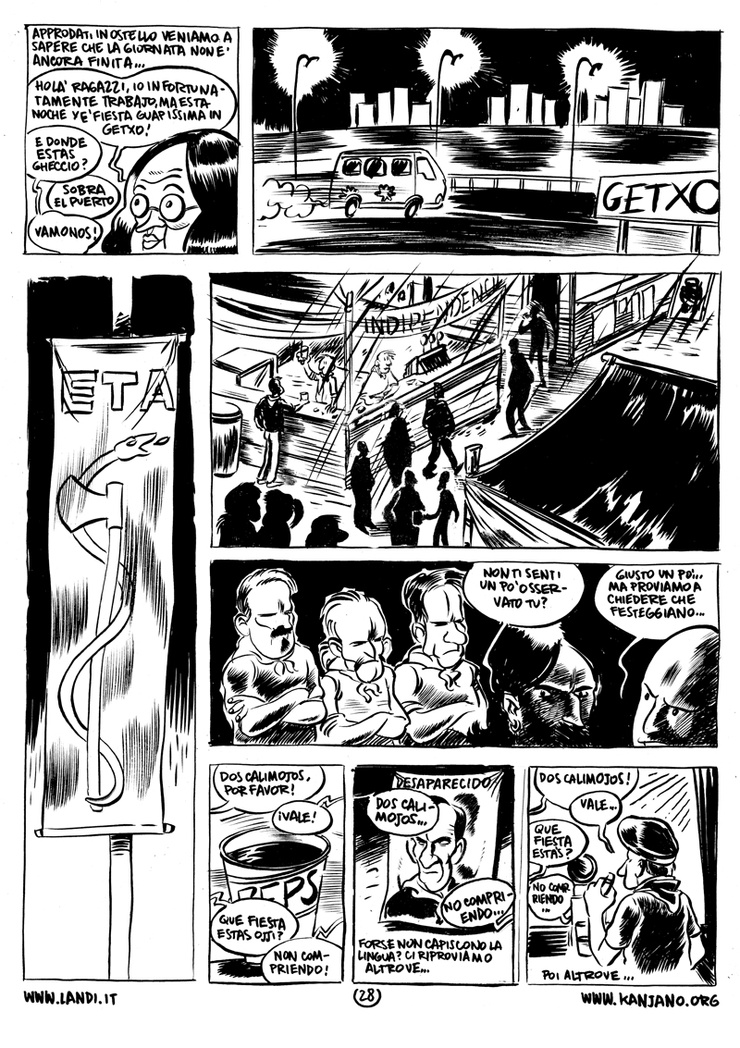 Illustration: ©kanjano/ Flickr
Translated from "Europa 2009 D.C.": un viaggio pieno di cliché