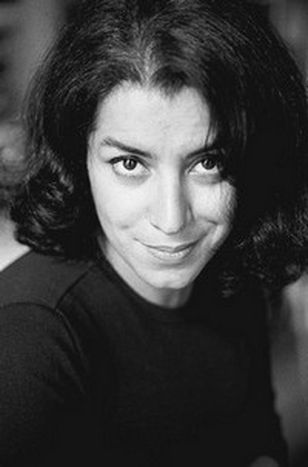 Marjane Satrapi: 'the Iraq war was about nothing but oil'
Published on
Translation by:
lindsey evans
We spoke to the Iranian graphic novelist, 37, in January, after she shot to fame with her black-and-white comic book 'Persepolis'. It's currently hitting movie screens in its animated French version
'The majority of normal people are either homo or hetero. We cartoonists must be bi, since we can't decide between words and pictures!'
We meet Marjane Satrapi by the French Institute on one of those warm autumn days when Warsaw's streets are covered with leaves, shimmering in a thousand colours in the sun. The day before, an event had been held at the FI in her honour, attended by many admirers of her talent and latest book, 'Chicken with Plums' (2006). Satrapi's most recent work, published originally in French, had won a prize at the Angoulême International Comics Festival. But it didn't just attract die-hard comic fans - people turned up who wanted to hear about the situation in Iran and its problems.
Satrapi patiently answered questions, which ranged from her book to the subject of women and their abortion rights. She admitted in a nervous, trembling voice that she too had had a termination in the past. 'It's mainly women who condemn me for it,' she says.
'Humour transcends borders'
The café is still dead at this hour. Satrapi, whose adopted home is Paris, speaks huskily into the silence, cigarette in hand, about her passion for drawing and about how the idea came to her of treating such tricky themes as Iranian politics and mores in picture form. 'An image can speak to everyone. For me, it's an international language. I could do a whole biography in pictures. But comics are a much shorter, and therefore harder hitting, means of representation.'
She reaches for her teacup slowly, takes a measured sip and continues: 'I couldn't keep from expressing my thoughts through drawing. I like thinking in pictures and that's what comics are made of. For me it's important not to use too many words or think in black-and-white.' This young woman with her Eastern features is passionate about what she does.
So what is laughter? 'It's universal comprehension. Humour in the form of pictures transcends borders. It can be understood in different parts of the globe.' It must be why her books sell so well, and are read by Europeans, Americans and Asians.
American must-read
The popularity of her books is not only due to the imaginative drawings, but perhaps primarily is down to the content. In the United States, her 'graphic novel' 'Persepolis: The Story of a Childhood' was put on the syllabus in roughly 250 universities. Satrapi is currently working on a film adaptation of her autobiographical story of a girl growing up in Iran at the time of Shah Reza and the Islamic Revolution. Her parents send her to Vienna, where she is just as misunderstood as in her home town of Tehran.
In spite of her frequent visits to North America, Satrapi doesn't betray warm feelings when discussing the US. She's a fierce critic on American intervention in Iraq. She lights another cigarette and her look suddenly becomes colder and more intense. 'We're calling this cynicism lurking behind the Iraq war 'democracy'. It's about nothing but oil. Saddam was pure evil. He was overthrown and everything should have got better from that moment on. But unfortunately it has just got worse. If you think you can build a democracy with bombs, you're not right in the head.'
Her voice becomes harsher. The attack on the World Trade Centre was, she believes, exploited for political and propagandistic ends. 'September 11 was clearly an unbelievable tragedy and Islamic fundamentalists were behind it. But before that other religious fanatics had organised two terrible attacks in Oklahoma and Atlanta. That's now been totally forgotten.'
Satrapi also has choice words for Western Europe, referring to the Medieval Inquisition in the Middle Ages and the Balkan wars. At the root of conflict, poisoning people's thoughts and destroying their seemingly peaceful existence, is fanaticism: 'Today the clash is not so much between East and West, or Islam and Christianity, as between fanatics and normal people.' And although she isn't religious, she says: 'God created this world and we just complain about the terrible things that fanatics and bombers bring about.'
'I like it when I get recognition for my work'
Satrapi was always something of a nomad, and nowadays she's still constantly on the move. 'I travel around the world a lot and come across a lot of interesting people and different cultures. I don't just move in Iranian circles. I married a Swede, I have dual nationality and I've lived in Europe for a long time.'
Following the publication of 'Persepolis' in 2000, things really took off for her. The comic book sold a record 300,000 copies in France. Meanwhile, the doors of her homeland closed on her indefinitely. She suddenly had a whole host of enemies among the fanatical guardians of Islam and tradition. In spite of her celebrity, Satrapi resents fame. She prefers anonymity and remarks somewhat wistfully: 'People do sometimes recognise me, which I really can't stand. On the other hand, I really like my work being recognised.'
Translated from Marjane Satrapi: humor nie zna granic