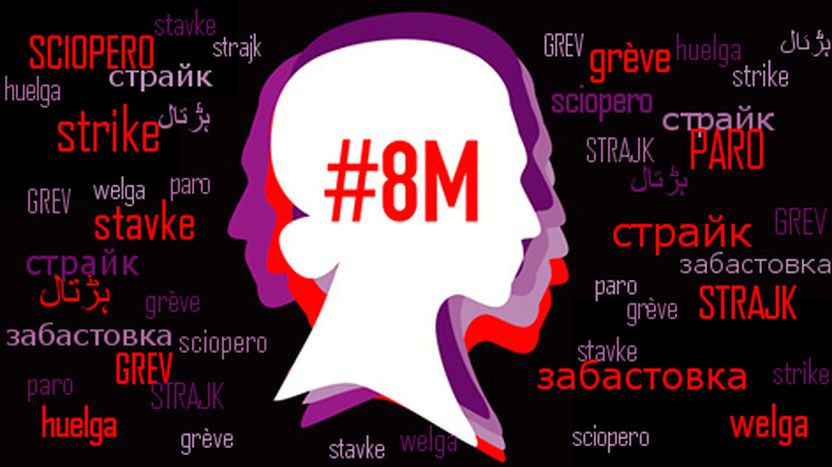 March for Equality
Published on
March 8, International Women's Day. Marches all across the globe are reminding us that the road to equality is still long. If the law already guarantees rights to women on an official level, the focus must be placed on actual gender equality by completely changing how society thinks.
An unprecedented March 8
For the first time ever, a day of international protest to denounce pay inequality, gender violence, sexism, and discrimination still undergone by the majority of women in the world. Inspired by the example of the Icelandic women who were already marching in national protest back in 1975, the International Women's Strike platform called for a mobilisation for equailty; a total of around fifty countries answered the call.
In France, labour union organisations and feminist groups invited one and all to stop working at 3:40 pm as a means to denounce wage gaps between genders. Still Today, women earn, on average, 26 % less than their male counterparts. In a 9 to 5 work day, this basically means women are no longer paid after 3:40 pm.
Despite this call for protest, French businesses were not even close to emptying at 3:40 pm, on March 8, 2017. In the European capital, Strasbourg, people don't really rush out to protest against inequalities. The General Confederation of Labour (CGT), the Union syndicale Solidaire (NB. the United Labour Union), the Association for the Taxation of Financial Transactions and for Citizen's Action, and other groups were calling for a rally in the Place Kléber. Relatively few from Strasbourg answered the call, braving the rain on that gloomy afternoon.
For Sara*, a member of the Union synidcale Solidaires, this day was a chance to assess, make an impact, and remind each other that wage gaps are not normal. According to her, the fight for women's rights happens through a shift in society's mentality, in men just as much as in women. "For me, that the most important thing. We have to stop stereotyping", she states. Sara has already felt discriminated against at work, "But it's the little things", she continues. "If I'm carrying a table, it bothers me when a man comes to it out my hands. And if there's a technical problem or a little odd job, men are always gone to for help instead of women", she says. These "little things", repeated on a daily basis, tend to end up propogating a weak image of women and a minimized belief in their abilities.
For Laura*, a student at the University of Strasbourg, inequalities are noticeable in the everyday comments, clichés, and sexist jokes. She also brings up her negative experiences on public transit in Bordeaux, where women are subject to almost daily harassment. "People around never react, never, never!", she exlaims. "When I got to Strasbourg, the harassment became a lot less frequent. That was a welcome surprise. But it should always be like that", she says.

This involves men too
For Benjamin and Théo, students in Strasbourg, "All the fights for equality are essential". "We belong to the more favoured sex. But that doesn't mean that we shouldn't get involved in the fight for equality. Quite the contrary", Benjamin says.
These thoughts are also shared by 35-year old, Hervé. This union worker, who's affiliated with the CGT, hands out leaflets to passerby to raise awareness of the problemes surrounding wage gaps and gender violence. "As a man, I don't necessarily always feel like I can speak to these issues", he confesses. "Women can fight themselves, but I think that it's important to support in the fight against inequality", he says.
Benjamin, Théo, and Hervé understand: equality is everyone's problem. Every person can contribute every day simply by starting to get rid of sexist stereotypes.
*First names changed
Translated from Rassemblement pour l'égalité