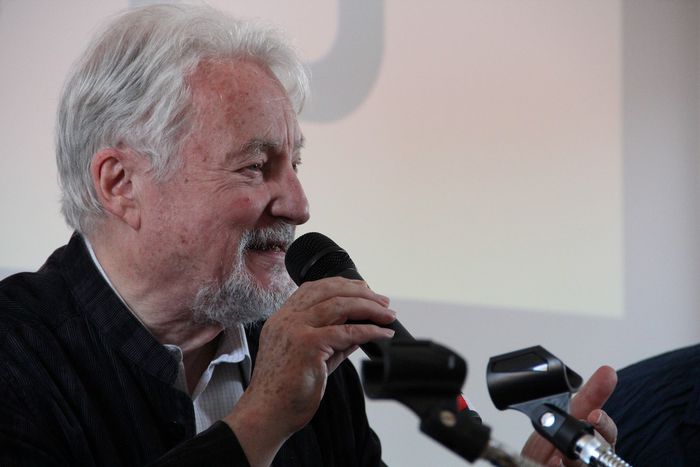 Marc Augé: 'You're just a dot on Google Maps'
Published on
The French anthropologist, 76, is most famous for coining the term 'non-place' in the mid-nineties. We meet at the ninth edition of the Sarzana 'festival of minds'
The ninth edition of the Sarzana festival della mente - 'festival of minds' – winds up on 2 September 2012. It is the first festival of its kind in Europe to promote creativity. The streets of this tiny Italian town in the province of Spezia were alive this weekend with debates and visitors, meetings and thinkers. 
More of us
It is not so easy to meet Marc Augé in the flesh; nor would I be able to tell you if the Locanda dell'Angelo hotel we are meeting in is a 'non-place', as is Marc's specialty; but this is where we eventually spend the next hour speaking on a Saturday morning in autumn. Augé is preparing for his intervention later on that day at the festival. He is dressed in a relaxed fashion, and his eyes only focus on me when he pauses in between sentences – then he continues the meditation, letting his spirit guide his thoughts.
'Of course we hide other non-places,' he says. 'Man's opportunities are multiplying. The population is continuing to increase. That doesn't only begin in a verbal fashion, but also through the intermediary of the communication technologies. That's where the urbanisation of our day intervenes. We can't really talk of cities, but of aggregations of juxtaposed peoples. They give us the newer concept of our core.' Whilst city centres are on the decline, the real ganglions of human life move elsewhere through being multiplied. They escape the control and understanding of sociologists.
Aliens
'It's a phenomenon which is in a state of permanent expansion,' continues Marc Augé. 'That's not only because of the new economic centres and powers are emerging in the Far East and in Africa. Non-places continue to appear everywhere, although they are defined by local characteristics. For example the slums of Lahore, Mumbai and Johannesburg don't look like the Roma camps in the suburbs of the favelas of Rio de Janeiro.' The Norman Fosters and Calatravas of the world keep on exporting their brand of Europe across the world; the Louvre museum in Paris will open its doors in Abu Dhabi whilst the sheikhs of Qatar are buying anything that is moving on the Old Continent, whether it is luxury fashion names or entire football teams.
'The trend could be seen on a larger scale,' says Augé.'We're at a historic transition in the history of humanity; we're passing through the human dimension of spatial overabundance,' adds the French philosopher, who refers to the proliferation of unesco sites of patrimony as part of this trend. 'Our anxiety to preserve and conserve pushes away these nerve centres of our history as potential living spaces.' That's how the sense of social dynamics run from the upmarket Conditti avenue of Milan with the chic EUR or Marais neighbourhoodd of Rome and Paris, to Jaffa in Tel Aviv. 'It's as if we were preparing for the arrival of aliens on earth, who we'd provide a snapshot of human life for.' In the end, said alien would head back to his galaxy with a completely deformed idea of terrestrial existence.
'The fact that we can scale our maps according to google maps shows how the possibilities of having perspectives has been standardised'
The experience of life – whether its human or about spatial overabundance – is like a game, 'a key in our hands,' as Augé puts it, which is affected by the representation of our territory. The fact that we can scale our maps according to google maps on our iphones shows how the possibilities of having perspectives has been standardised, via graphics and different contents. There's no longer one single way of perceiving the reality around us. 'Everything is around you,' and you are recognisable as a flashing dot on an scaleable map which you can access by the simple touch of a finger. 'When the transition from human to terrestrial is made once and for all, we'll lose those possibilities of exploring unknown territories, as well as the chances to hide away. That will be transparency in its most absolute form.' Marc is not talking of Gorbachev and co's Glasnost, but of a life which will be reduced to a succession of downloads in the end. In a certain way that will have consisted of us living the utopia we have been looking for.
Images: © veDro l'Italia al futuro/ flickr
Translated from Umano, troppo umano. Quasi terrestre. Brunch con Marc Augé