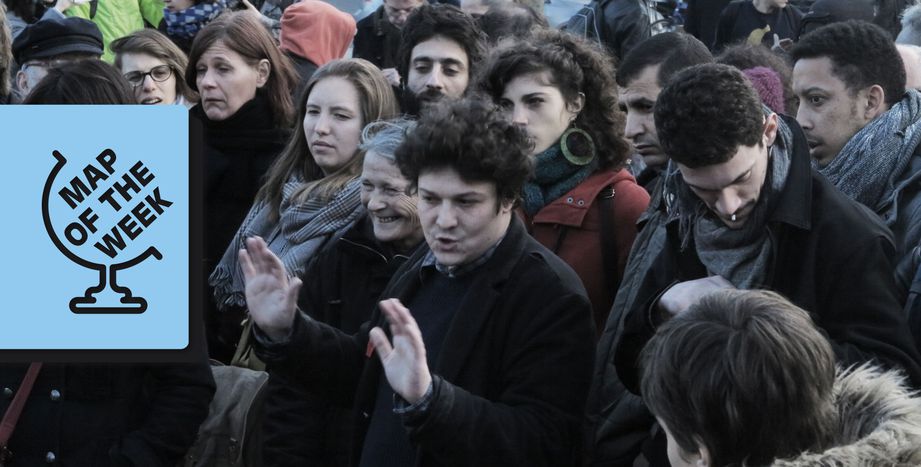 Map of the Week: Up all night with #NuitDebout
Published on
Nuit Debout, a citizen's movement beginning in France, has quickly spread beyond borders to other European countries. Use this interactive map to keep track of where protests are being planned or are already taking place.
It seems that Europeans are getting seriously angry at the state of democracy in their countries. After the Spanish Indignados movement in 2011, Occupy in 2012, protests in Turkey and Ukraine's Euromaidan movement in 2013, the time has come for the French to follow suit with Nuit Debout (roughly translated as "up all night").
Over the last week in Place de la République in Paris, as well as other French cities, thousands have participated in the protests. The group announced that it is calling for direct democracy, and have rapidly been given the title "French Indignados" by certain media outlets.
Nuit Debout protests have sprung up, or are being planned, in Germany, Belgium and Spain. On Saturday the 9th of April, an event organised in Berlin saw over 300 attendees, while an event in Liège reached 1,500. Online, the activism continues through, among others, the hashtags #NuitDebout, #32mars and #LoiTravail (Labour Law).
Demonstrations against the reform of French labour laws began in March. Put forward by the current Minister for Labour, Myriam El Khomri, the proposals offer several highly contested amendments to French labout laws that would impact the lives of the average employee.
These include changes to regulations surrounding severance pay, and other amendments aimed at making it easier for businesses to hire and fire employees. It also includes proposed reforms to France's 35-hour workweek, after which overtime pay must currently be applied.
You can keep track of the #NuitDebout developments thanks to an interactive map from the website Convergences des luttes.
---
Source: Convergence des Luttes
---
This article is part of our Map of the Week series: charting the stats that matter to Europe, one map at a time.
Translated from Mapa tygodnia: #NuitDebout - powtórka z Oburzonych?