Map of the week: The Nobel Prize in Europe
Published on
The Nobel Prize for Economics, the last to be announced this year, has today been awarded to the work of Professor Angus Deaton of the university of Princeton. Since 1901, Nobel honours have been given to people who have brought "the greatest benefit to mankind". By this definition, which country in Europe has most benefited humanity?
The official website of the Nobel Prize is incredibly detailed. In no time at all, and with barely a wiggle of the mouse, you can find a tonne of useful information. In this way, we learn that the average age of Nobel laureates is 49, that the oldest (Leonid Hurwicz) was awarded the prize at the age of 90, and that the youngest (Malala Yousafzai) was just 17 when she took home the Peace Price. We can also see that between 1901 and 2014, 889 laureates have recieved the prestigious title, although only 49 of these have been women. With the inclusion of the Tunisian National Dialogue Quarter, who took home this year's Peace Prize on 9 October, 22 organisations have been bestowed with an award.
By digging a little deeper, we can see that the site also contains information regarding the number of prizes won by each individual country. Throughout the world, it is the Americans that have the biggest trophy cabinet, with 339 commendations. That being said, Europe doesn't come off too badly either. If you add up the achievements of all the member states, the EU can proudly boast that as a collective, it has brought the biggest total benefit to mankind.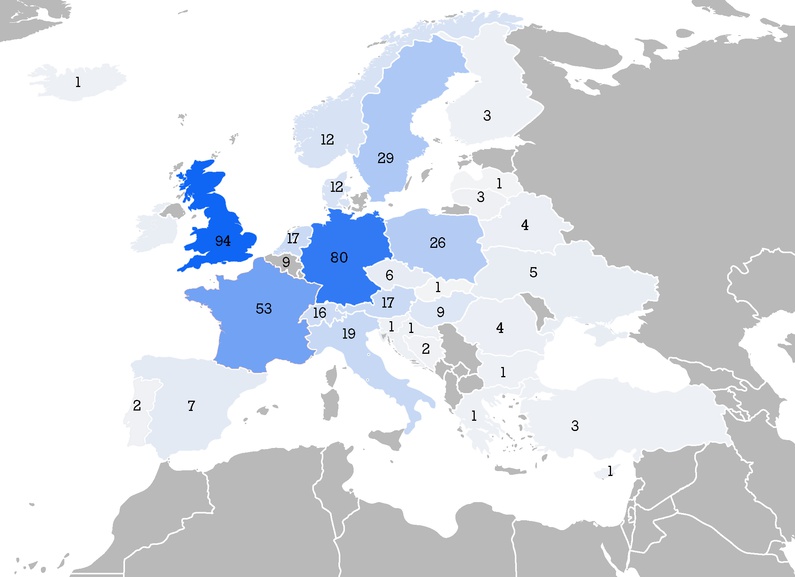 ---
This article is part of our Map of the Week series: charting the stats that matter to Europe, one map at a time.
Translated from Carte de la semaine : l'Europe et les Nobel