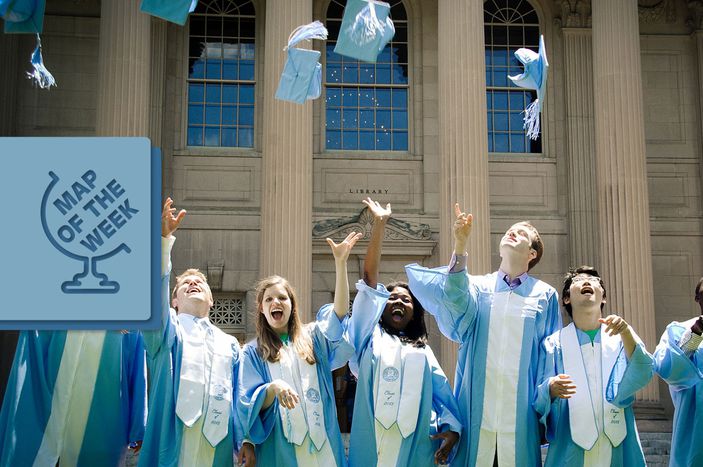 Map of the week: the best universities in Europe
Published on
Each year, the company Quacquarelli Symonds publishes an international ranking of the best universities. Sorting through multiple factors, statisticians compare 800 colleges and classify them according to their criteria. As usual, American universities are at the top of the rankings. However, among the top 100, 39 are European.
In 2003, Britain wanted to compare international universities with each other. The company Quacquerelli Symonds (QS), active in the field of education and studying abroad, decided to take this into their stride. For, QS publishes an annual ranking of the best universities in the world, comparing the level and quality of 800 universities.
However, their methods of classification aren't without controversy. For example, QS relies on the opinion of academics worldwide who elect the best universities in their field of expertise.. In addition, the number of publications produced and Nobel Prizes won play a role. 
The United States and the United Kingdom can be found at the top of the rankings. On the top of the podium, just like last year, is the Massechusetts Institute of Technology, better known as MIT. In 2nd place lies Harvard university, ahead of the University of Cambridge in England.
39 universities from 10 European countries are among the top 100 institutions. According to QS, the faculties of Cambridge and Oxford (respectively 3rd and 6th) are the best in Europe. In 9th place, we find the first school outside the UK: the Institute of Technology in Zurich.
After Britain, the Netherlands  is the best-represented country in the top 100. Next come Switzerland and Germany with 4 institutions respectively. The best German college is the  Technische Universität in München (60th place).  Sweden and France each have two universities ranked among the top 100, such as the Ecole Normale Superieure in Paris. Ireland, Belgium, Denmark and Finland  each have one institution in the top 100.      
In the rest of Europe, we find no other school in the top 100. According to QS, the best universities are concentrated in Western Europe and Central Europe, and in Scandinavia. These are regions which are already known for their quality training as well as economic growth. Economically weaker countries like Spain, Italy, Greece and the whole of Eastern Europe are the big losers. In poorer countries, the budget for education is sometimes not the first priority.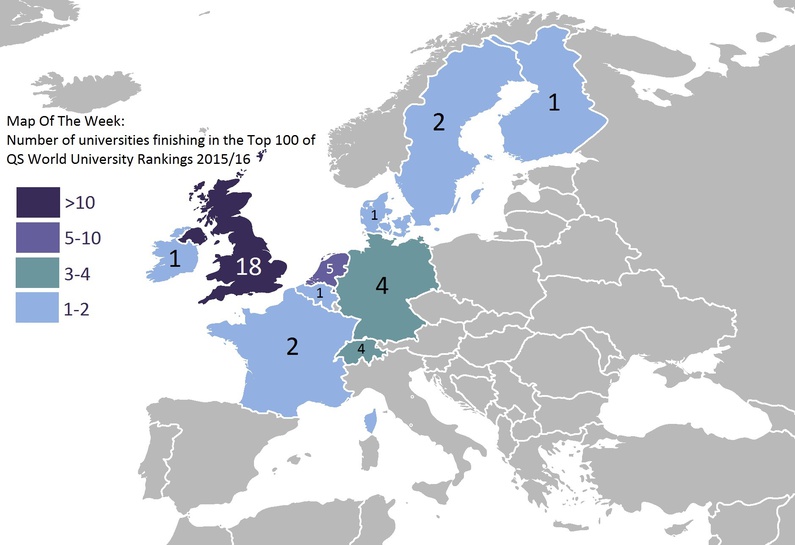 You can find the list of best universities on the QS homepage.
---
This article is part of our Map of the Week series: charting the stats that matter to Europe, one map at a time.
Translated from Map of the week: Die besten Universitäten in Europa