Map of the Week: How safe are Europe's trans people?
Published on
Istanbul's LGBT community mourned the murder of a transgender woman this month, but it's far from an isolated incident. Now, new research has shown the places in Europe where transgender people face the most serious threats on their lives. 
Earlier this month 22-year-old Hande Kader, a prominent Turkish transgender activist, was found murdered in Istanbul; her body had been burned and badly mutilated. Two weeks earlier Muhammed Wisam Sankari, a gay Syrian refugee, was found beheaded a short distance from where Kader would eventually be discovered. The incident led to a massive protest in Istanbul on the evening of 21 August.
Sadly, Kader's death is far from an isolated incident. According to research conducted by Transgender Europe (TGEU), 2,115 transgender people worldwide were murdered between 2008 and 2016; 117 of whom were European citizens. Around 56% of those killed were under the age of 30, while around a quarter (including Hande Kader) were sex workers. TGEU found that the majority were either shot (778) or stabbed (249).
By far the most incidents in Europe took place in Turkey (43) - where a recent poll found that 80% of people describe homosexuality as "morally unacceptable" - followed by Italy (34). It's a sad reminder of the dangers that many transgender people face every day, simply for being themselves.
Numbers of transgender people killed in Europe between 2008 and 2016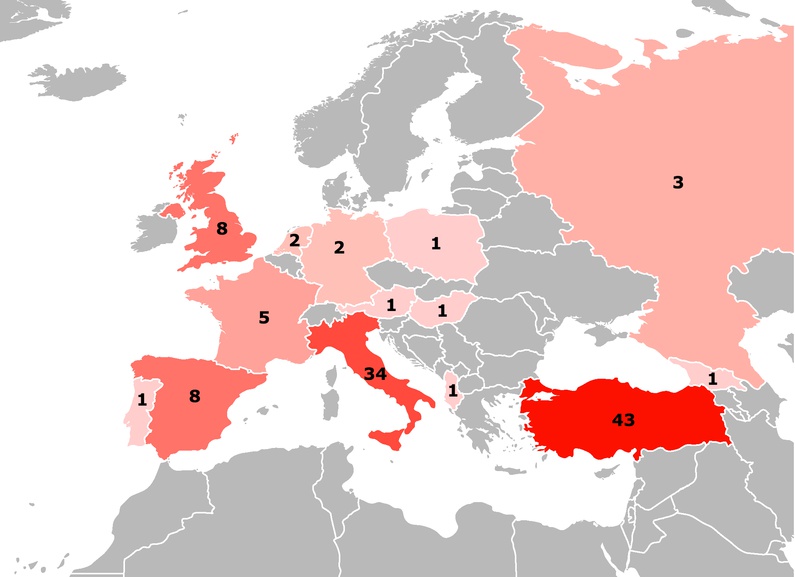 ---
This article is part of our Map of the Week series: charting the stats that matter to Europe, one map at a time.