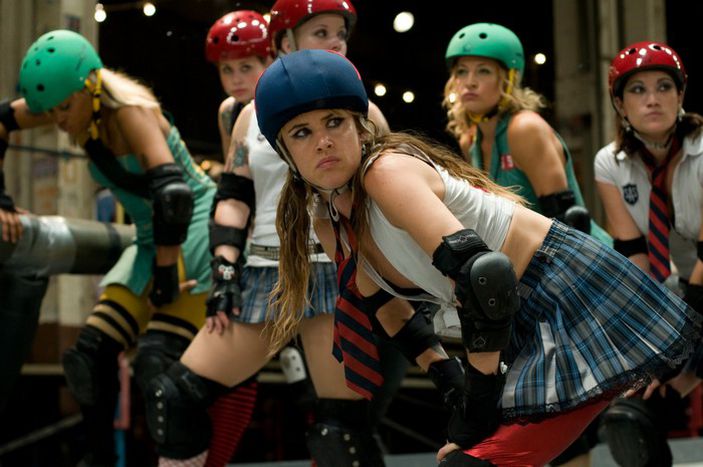 Malmo, London, Berlin, Glasgow: roller girls derby in Europe
Published on
Cat fights on wheels? Or a sport to be taken seriously? In the run up to the first ever 'roller derby' world championships in Toronto in early December, the women's team sport on wheels brought to the big screen in Drew Barrymore's directorial debut 'Whip It' (2009) has been steadily sweeping through Europe. To mark the film's release in Germany, a German roller girl gets on the case
Bliss (Ellen Page) is 17, lives in a small Texan town and can no longer be bothered with the beauty competitions which her mother has dragged her to for as long as she can remember. She's had enough of cute bows and shiny patent shoes and she scrapes together her bitterly earned waitressing money to buy herself a pair of sturdy boots. However, that's just the first part of the small town teenager's rebellion. Bliss's transformation begins when she sees a roller derby game for the first time.
The women on skates are quite different to the uniform small town girls who normally surround her. In short, wild outfits they are self-confident, skate quickly and aggressively and with names like 'Iron Maven' and 'Bloody Holly' seem really quite dangerous. Bliss doesn't hesitate for long before she packs her Barbie roller skates into her rucksack. Secretly, she makes her way to the big town to take part in the trials for the roller derby team. Nevertheless, there are a whole load of obstacles, sporty and otherwise, to be overcome before the one-time teen beauty queen-'wannabe' can become a proper tough roller girl.
Sweden to London: feminist manifesto or incarnation of male fantasy?
Whip it, Drew Barrymore's cinematic debut as a director, brought the team sport roller derby to a broader public for the first time. The full contact sport played almost exclusively by women is already huge in the USA – but more and more teams are also forming in Europe. Roller girls have a lot of stereotypes to fight though. Salli from the Swedish Crime City Rollers derby in Malmo has had to put up with a lot of nonsense when she tells people that her passion is rollerblading: 'That's not a proper sport, it's just a few fat girls who beat each other up on roller skates,' she exclaims. 'Of course that's a load of rubbish – we're all completely different.'

The fact that the sport is mainly played by women often leads to more false assumptions. Some see it as a political feminist manifesto. Others belittle the roller girls as an incarnation of male fantasies because of their really very sexy outfits. 'Neither one nor the other is true,' says 'Shaolynn Scarlott' of the London Rollergirls. She wants to get rid of these misconceptions one and for all. 'Roller derby is a sport, nothing more and nothing less. You have to be quick, athletic and skillful and to put in a lot of work in order to be good.'
Berlin Bombshells
It becomes clear at the first training session for beginners that roller derby is not about looking pretty while skating through town. 'Push yourself as hard as you can' is a sentence heard frequently at the Bear City Roller derby in Berlin – and almost certainly at other clubs too. The hard training, push-ups, fast circuits and jumping exercises have paid off: the Berlin Bombshells were awarded the title of the German vice-champions in the battle for the German roller derby crown. They were only beaten by the Stuttgart Valley Rollergirlz, whose member Polly Purgatory is pretty much the mother of the sport in Germany.
When Polly founded the first German team with six friends five years ago it wasn't always easy. They had to train in car parks and at first found the stupid comments that they had to put up with upsetting. 'I really don't care about that anymore. I've won a lot of self confidence through the sport and I'm very ambitious – that's quite new for me,' she says. Josefin from Malmo has also discovered a new side to herself through the sport. The Swede with the friendly voice seems nice and almost somewhat shy. Her transformation starts as soon as she's put on her skates and is standing on the track. Her eyes sharpen and she does everything to win: Josefin become 'Jo Evil Eye'.
Cat fights: anti-roller derby mentality
Cara of the Glasgow Roller Girls calls herself Poison Delight and fell for the roller blade sport in 2009. 'I love the speed,' she says. 'Everything happens so quickly and sometimes you have to make decisions within a few seconds – it's really exciting!' As an adrenaline junkie she normally plays in the position of the jammer, the player who has to lap the opposing team and so score points. Her teammates, the blockers, are in charge of making sure that she can sweep past the other team undisturbed. They try to block the opposing jammer using various techniques and to keep the path open for their own. Obviously this isn't a game for wimps but the wild pushes and pulling of hair that some might well imagine is not to be seen. The world federation WFTDA has given out a long list of rules. A whole crowd of referees, also supported by non-skating officials, make sure that these are kept during the game.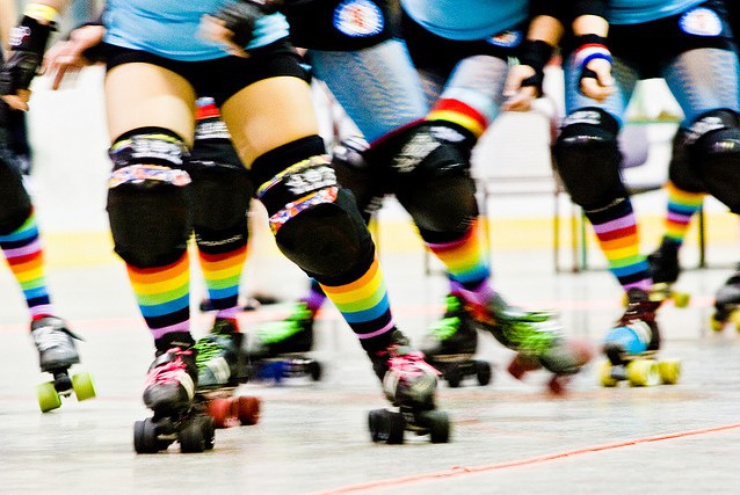 The solidarity which is important during the game doesn't end with the finishing whistle. Cat fighting is a foreign concept here. 'I love the roller derby mentality,' concludes Cara. 'We've become good friends off the tracks too.' A team spirit, which will soon be particularly important. In early December the first roller derby world championships will take place in Toronto, the same place where Barrymore's original roller derby film premiered at the Toronto international film festival, which is taking place this year between 8 and 18 September. Back in Europe, girls teams are all determined to prove that the sport has finally arrived on the old continent.
Images: main Roller Girl © Senator Films; in-text: Crime City Rollers from Malmö © crimecityrollers.com; (cc)François Hogue/ Flickr
Translated from Block'n'Roller Girl(s) für Europa