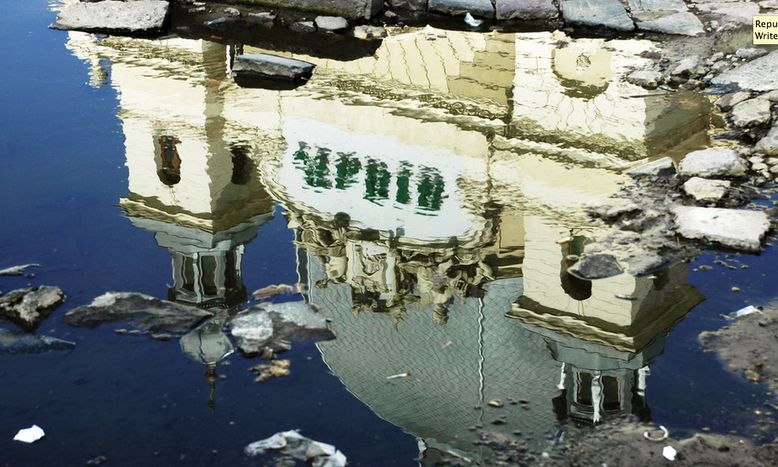 Lviv: the city with two souls 
Published on
A short, lonely bus journey inside a city with an ambivalent personality. It's Lviv, Ukraine - a city split between patriotism, war, pro-Europe feelings and a desire to party.
Krakow bus station is crowded. There's no one to ask for information nor a screen with the timetables and my bus to Lviv, Ukraine, is yet an hour late. Worried, I try to obtain information from whoever around me. People smile and try to help me, but nobody knows anything. Out of the blue, a well-built guy with a kind attitude approaches me. "Are you going to Lviv? So am I. Don't worry, the bus is due."
Relieved, I follow him. I carefully watch him: he has a gentle and sincere gaze, he inspires trust. He wears a Ferrari jacket and, beneath, a t-shirt with the stamp of Kurt Cobain. He's a student from Kiev, who has spent a year in Poland. Now he's coming home. Thanks to him I discover that the calm and gloomy queue of people, who have been sitting behind me for an hour, neither moving nor chatting among themselves, is waiting for the same bus as I do. Except for me, they are all Ukrainian. Almost nobody speaks English. When I try to communicate through my uncertain Polish, people look at me gently, answering me in a slow Russian. Finally, after two hours of standing, comes the bus. A beautiful blue-eyed man, helps me show the bus ticket to the driver and, with a charmin ease, shows me the way. "I want to sit beside you," I say to the student from Kiev. "Please help me, I don't understand." The young man smiles, and with a hand on my shoulder, answers me in English: "Everything is gonna be alright."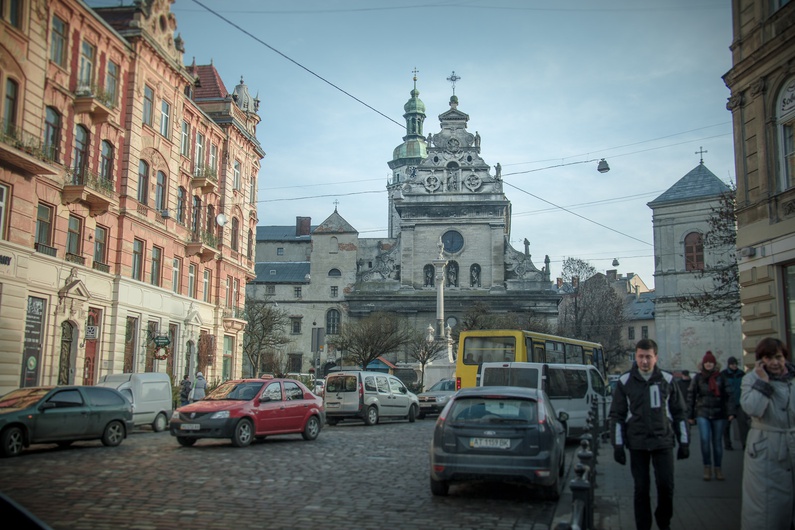 It's an overnight journey. I try to sleep a little bit on the packed bus. When we reach the border, hours later, I try to talk with the student from Kiev. "In my country there is the war, we have so many problems there," he sadly says, "That damn Putin!" I ask a lot of questions, to which he eloquently answers, although he could hardly find the right English words. "We are European citizens like you are, and Putin is fighting against Europe. But we are European and proud to be." We spend four hours between the Polish and Ukrainian border. I start to get impatient, but everybody is calm, with a quietly serious expression, as if they were ready to face anything that might happen.
A thought crosses my mind: the "the silent and resigned crowd" referred to Russian people inside the beautiful Kapuściński's book's pages. "They have to inspect thoroughly, it's fair," the student says. "Due to what is going on in Europe they don't want people bringing weapons. There are so many problems in Ukraine, it's fair that we are deeply inspected."
When we start moving after the long stop, the bus screens broadcast a comedy. Suddenly the white-marble faces of the Ukrainian passengers forget their serious attitude and start laughing. I don't understand Russian but I hear several times the names of "Putin" and "Merkel". "They're making quips about politics, it's all about politics," the student says, laughing. "If you're not Ukrainian you can't understand, even though if you know Russian. Actually Putin did one thing well: he has shaken our young consciences from laziness and apathy. Before being attacked by him we were all focused on silly things. Just for this reason I'm thankful to him. He made us aware of our citizenship, of our European belonging, he made us aware about the love for our country and about the fact that we are ready to die for Ukraine and for the whole Europe." "Would you fight on the front line, risking your life?" I ask him. The young man stares at me as if I have made a rhetorical question, and with zero doubt he answers: "Of course. It's my country."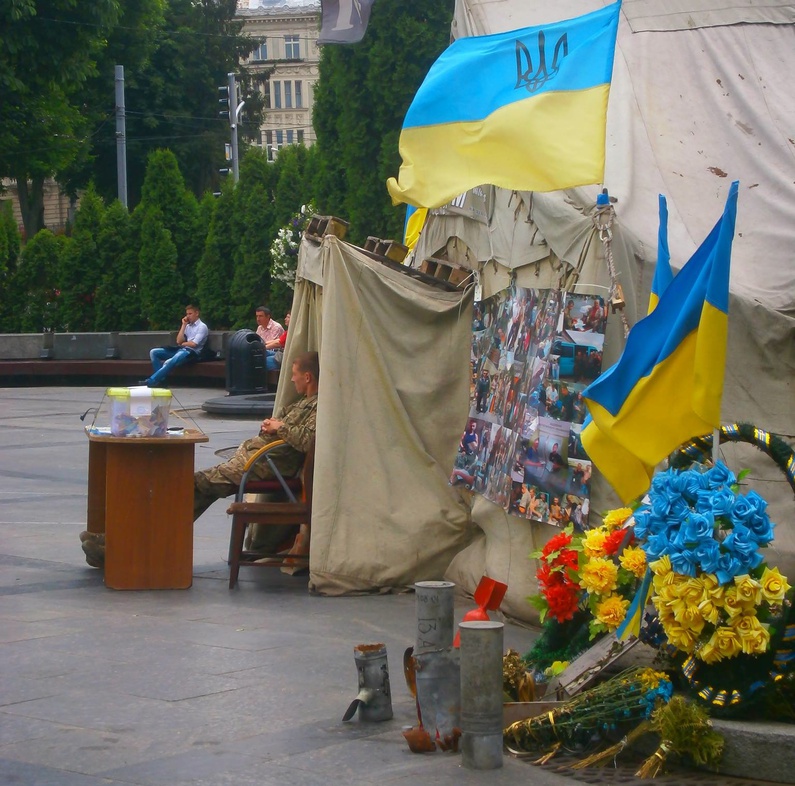 Having arrived in Lviv we hug and go our separate ways. The bus to Kiev takes off in a moment. After an hour's walk I reach the city centre. It's a wonderful central European city, it might be an Austrian or Polish city, all in one. The architecture is definitely European. Coffee shops and squares are full of people drinking beer, playing guitar and acting as mimes. Happy families are shopping. Children eat ice-cream, and old people in the squares enjoy the sun. There are shops selling postcards, doormats and toilet paper with Putin's face on it. 
In the centre of the square, exhibited as a monument, there is a military jeep full of bullets' holes, with flowers and the Ukrainian flag. Inside I can see the backpacks owned by the soldiers during their last journey. In the early morning the offering box for the Ukrainian army, right beside the jeep, is already full, and nearby, in the same square, there's a stained military tent with a 30 year-old soldier, quiet and composed, watching over another offering box filled with money like the first one. Flowers, pictures, candles and Ukrainian flags waving under the sun, with a light breeze. Old couples stand quietly in front of the boxes as if they were worshipping, stuffing in some banknotes. Inside the city, soldiers of different ages are mixed with crowd, chatting with each other, but mostly standing quietly.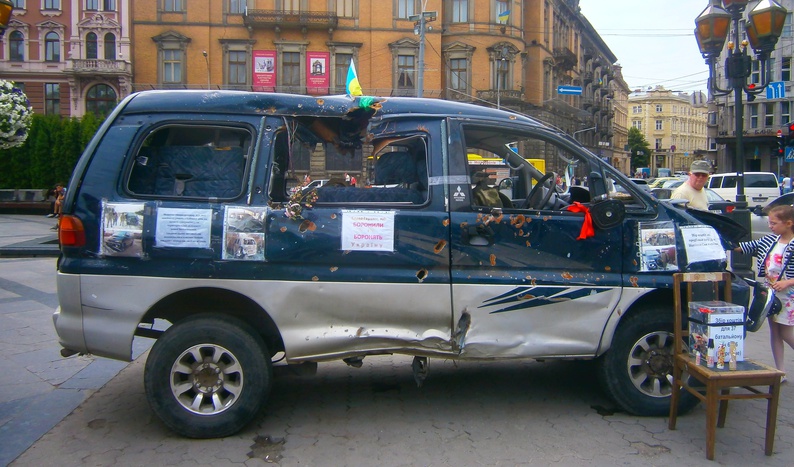 I dine inside the very well-known Ukrainian partisans' tavern. Beside me, an old, inebriated Polish man is screaming profanities at Stalin and Putin. The Ukrainian waiters are laughing. In the past Ukrainian partisans fought against Polish people, but nowadays they join together revealing their shared bitterness towards Russian politicians. Out of the  songs played in the restaurant I recognise the Italian one, Bella Ciao. Quitting the restaurant, I thank them in my mother tongue and the austere (and armed!) host, representing the tavern's traditions and revolutionary fascination, answers me, in Italian, "Arrivederci!"
The last night, out of curiosity, I go visiting another very well-known pub, dedicated to Leopold von Sacher-Masoch, full of chains, red bras, and attractive waitresses walking around with leather crops ready to whip costumers' backs. Here there is a party atmosphere: groups of friends drink beer or vodka, joking and laughing. Suddenly I get involved in drinking pure vodka with some Polish and Ukrainian guys, an American and a Russian guy. We introduce each other, we hug and laugh with no rest. After the second drink, the imperturbable faces of Ukrainian people start becoming vivid and joyful. In this hidden place in Lviv, war is something unknown, forgotten maybe. People talk about politics, of course, but with levity, until another bottle of vodka arrives. When the party is ready to start, flags and monuments inside Lviv get ready to sleep under a pillow of clouds, hot and cold.
Translated from Leopoli: una città dall'anima sdoppiata