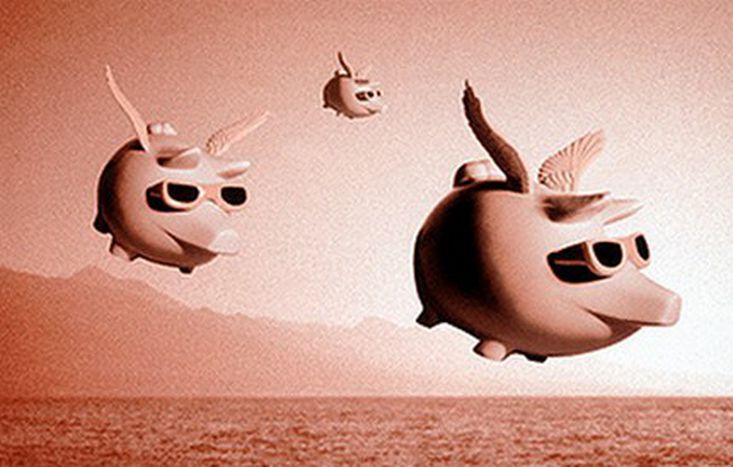 Low cost airlines lend citizens a 'European' identity
Published on
Budget travel is a reality for modern Europeans, a part of everyday life. Accounting for its environmental impact may affect the as yet fragile common European identity it lends to flying citizens
The 700 customers of low cost Irish airline Ryanair who were left behind at London Stansted airport probably don't see the era of no frills carriers as an unmitigated good. A lack of staff on 2 August meant that travellers were unable to check in bags before their planes took off. Armed police were on hand to defend airport employees from angry passengers. Would they want to risk flying cheaply again? Yet with 62 low cost airlines in the EU, budget travel is an essential part of Europe's infrastructure.
Access to low fares, access to identity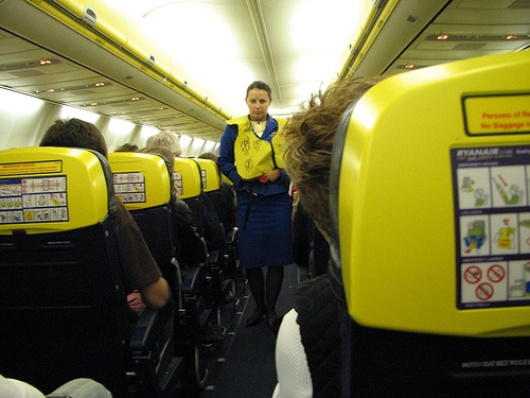 For Nick Winterton, who has lived in Camden Town, London for many years, cheap flights have been a boon. He recently found a second home with his partner in the Catalan town of Tossa de Mar on the Costa Brava. 'When we first travelled to Europe on our own rather than on package holidays we thought £200 (235 euros) return was a cheap flight. I hate to think how much money that is in present day terms.' These days cheap flights mean being able to maintain a life in more than one country. 'We always travel to Spain by air and almost invariably take Ryanair to Girona,' he says. Currently, a Ryanair flight from Luton to Girona between 31 August and 8 September costs £21.23 (25 euros); it's ridiculously cheap if you are taking hand luggage only. No other scheduled airline flies from London to Girona.
Access to low fares for people like Nick has driven growth in European air travel. The volume of paying passengers on intra-European flights has increased by 50% over the last decade, according to the association of European airlines. Combined with the borderless Schengen zone and airline deregulation, both of which came about in Europe in the nineties, this has changed how we travel and what travel does to how we see ourselves. Getting around Europe cheaply and easily has become central to a popular European identity.
Take the case of Kai Andrea Sauthoff, who lives and works in Hannover in northwest Germany, but for years now has maintained strong links with Portugal. 'I studied and worked in Lisbon,' she says. 'I fell in love with this beautiful country and I spend one month's holiday there at least one time a year.' Despite not actually living there, Kai identifies strongly with Portugal. 'I don't feel like a foreigner because over time I've learned to speak good Portuguese and to love Portuguese culture. I like being German. But as I love Portugal so much it's more the European thing that is important for me.' 
Environment impacts identity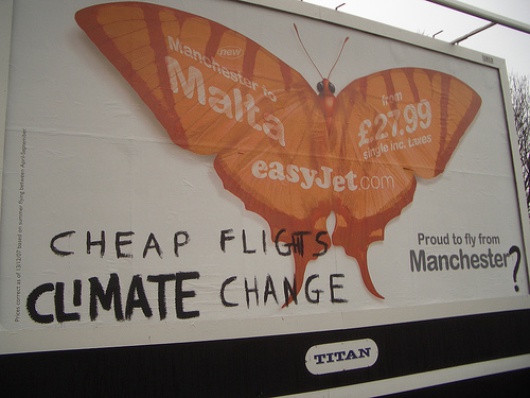 However, the options for maintaining this important transnational connection for Kai are limited. 'I have been to Portugal using all kinds of transport. I like using the train; it's an easier way to travel, but it takes a long time to get to Portugal. I prefer to have more days in Portugal and less time travelling there. Cheap flights are bad for the environment, but for reaching places fast, meeting friends, getting to know new places, working in another country, and so on, they are good.'
Concern about the effect of flying on the environment looms large over the debate on the future of air travel. For example, the likely entry of aviation into the EU emissions trading scheme (EU ETS) in the next couple of years will mean that the industry will have incentives to reduce carbon emissions from aircraft. More efficient engines will help, but fare rises are inevitable. Answers lie in positive change, like building high-speed rail to more destinations so that the impact of travel is spread over more places and its environmental cost is reduced. Though the economic and political costs of traditional methods of transport have to be accounted for, free movement means little without the means to move.
'I would describe myself as European except when I'm with other Europeans and I become very British'
Along with other measures like curbing airport expansion, there is a risk that the vital, but as yet fragile common European identity that people like Kai have, will be threatened. Back in Tossa de Mar, the ability to move freely between two countries has meant that far from leading an ex-pat lifestyle, Nick has integrated the town into his life. 'It does not feel foreign anymore. Once we had bought the flat we immediately felt differently - the town had become part of us at least as much as Camden. We talk about going home - meaning the flat, not the UK - when we are in Tossa.' This makes for a complex identity - 'I would sometimes describe myself as European except when I'm with other Europeans when we all revert to stereotype and I become very British. The era of cheap flights has certainly made a lot of difference to our lives and it has been entirely positive,' says Nick. Without being able to travel reasonably and easily, an experience of European identity like Nick's is obviously less viable.