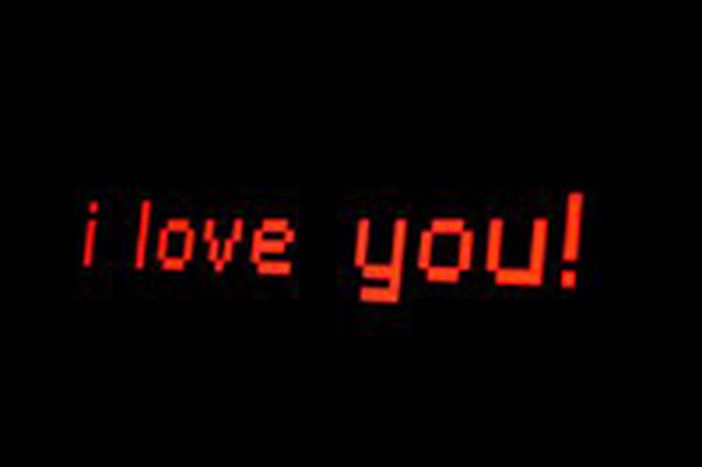 Love at first byte
Published on
More and more Europeans are looking for true love through the keyboard. Could finding a soul mate be just a mouse-click away? Through the internet, borders and inhibitions can be overcome in the flash of an eye.
Seifenblase72 (Soapsuds72) smiles mysteriously, patient and confident. "Anyone looking for a megabombasse75 (hotstuff75) has come to the wrong place," she declares. She is already turned the heads of Panther72, allnightlong43, and 987345. Almost half of her 3000 visitors have immediately flagged her site, probably costing them a few Krediz, or internet site credits. One of them is Michael, alias tippmirwas2 (tipsplease2) from Berlin. "By flagging someone you can show, without many words, that a woman appeals to you; you could say it is love at first click." He has been using the dating site Meetic in order to meet women from Paris. "Paris is crazy! Super-gorgeous women; I mean, in Berlin only about 25 girls match my criteria, but in Paris there are over 500."
12 million visitors a month
Soon computer screens across Europe could be full of flagging and chatting. In Germany, France, and the UK alone, according to Nielsen/Net Ratings, over 12 million internet users a month visit online dating sites. So tippmirwas2 is hardly the exception in his departure from Berlin to Paris. "The opportunity to get to know partners from another country, such as with Meetic, is primarily used by singles living in border regions," says Henning Wiechers from Singleboersen-vergleich.de, a site which compares online-dating websites. The internet caters well to this kind of search, and dating sites like Meetic, Match, or Parship do a lot of advertising with this in mind. "Meetic's homepage allows you to click on the desired country and focus your partner search there. Love knows no borders," says Christian Köhler, Meetic's director for Germany, which according to its own data has 13.9 million registered profiles from thirteen European countries, making it a contender for Europe's number one online dating site.
The boom in online flirting has not gone unnoticed in the media. The American online version of Businessweek has even found a name for the new generation for whom "being online has become a way of life": 'Generation @'. The BBC has designated 2006 as the year of the digital citizen. Online newspapers such as 'Die Gegenwart' , a current affairs magazine, discuss the implications of 'social software' on the future of the web. Aside from online flirting sites, other interactive sites which capitalise on information sharing are making their mark, such as weblogs, online journals, and 'wikis', i.e. online encyclopedias, such as wikipedia.com.
The Panther gets his prey
The report from singleboersen-vergleich.de states that above all, the major reason for the boom in online dating is the change in living circumstances. For 'Generation @', the internet plays a big role in people's lives. Using it to look for true love as well is thus not such a big step. Today's generation moves around frequently and often lives in large cities; isolation is at the core of this development. These quick, efficient, and (thanks to WAP, SMS, and I-Mode) portable searching methods facilitate the modern search for a soul mate.
London's urban jungle offers another example: Panther72 cannot seem to find the right person anywhere. "I feel professionally over-loaded. I think I have a better chance of finding my dream woman online, as I can come into contact with many more women that way." Panther was able to find what he was looking for. After two months of daily searching, he got to know Lilli in a chat room. "I gave her my number and she called right away that evening; as soon as I heard her voice, I knew instantly that she was the right one." Lilli was not so certain at first. "It took two weeks of talking on the phone every day before I felt confident about meeting him." She appreciates online dating sites, in particular, because you can clarify a lot of things before hand. "You get to know people first through writing, not through what they look like. So you gain an impression of the other person step by step."
Careful not to be too optimistic
As with many online dating sites, Lilli did not have to pay for her little adventure. This is because women are still in the minority of users, compared to men. Searching online is usually free for men as well, but if you are determined to find the right person, you are encouraged to buy more services: making contact with someone often costs up to 200 credits. The cost of these credits varies from site to site; on Meetic, one credit costs one cent. "In 2005, European singles looking for relationships spent around 160 million euros net. Based on that, we expect the market to quadruple by 2010," says Dr. Arndt Roller, director of Parship. Nonetheless, market research institutes such as Jupiter Research warn against too much optimism in the online dating market. This bubble could burst, just like the exaggerated expectations of the hyped-up net economy. So too could the fantasies inspired by Seifenblase72.
Translated from Liebe auf den ersten Klick