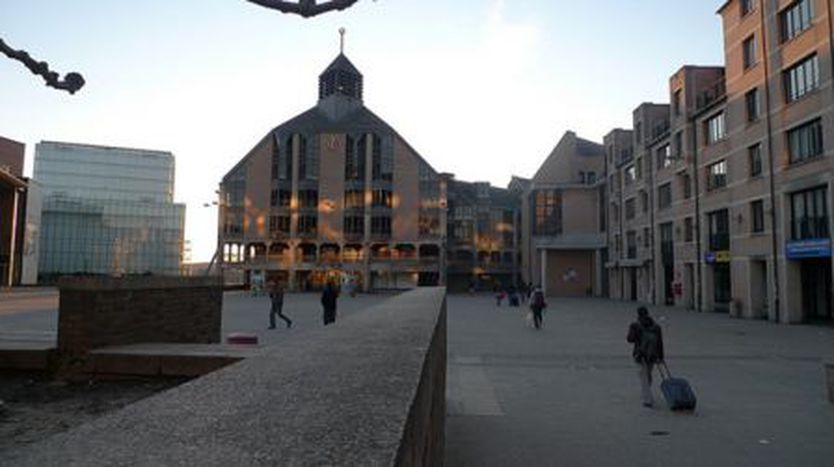 Louvain-la-Neuve: 40 years of an environmental coincidence
Published on
By Bertrand Habay translated by Chiara Colucci. A pedestrian-friendly city constantly on the move. It is the most striking feature of Louvain-la-Neuve streets. Yet the university city, which celebrates this year its 40th anniversary, has more than an ace in its hole when it comes to ecology.
A city founded in a hurry
(LLN) was established in a "state of emergency", following upon the linguistic clashes which deeply affected the Catholic University of Louvain (, UCL) between November 1967 and March 1968.

Louvain-la-NeuveUniversité catholique de Louvain

The city was founded by the University for the University. Its first students arrived in 1972. Although in 1973 there were only 676 inhabitants, nowadays there are about 20 000 Néo-Louvanistes (new inhabitants of Louvain-la-Neuve), not to mention weekdays lodgers, who account for 10 to 15 000. Eventually, population will account for 30 000 people.
Economics or environment?
The first stone of what was to become Louvain-la-Neuve was laid in 1971. The idea was conceived in the late 60s. A number of decisions – including air and soil quality evaluation, use of natural gas as the only source of energy, waste management, the lake being the storm water basin, separated drainage for runoff and waste water – have rendered the university city an ecological model.

However, , former director of Public Lands Administration of UCL and Promotion and Urban management services, recalls that once city plans were carried out, environmental intentions were superseded by economic needs, the latter becoming imperative. Therefore, LLN's switch to pedestrian-friendly was due to the fact that public roads maintenance is expensive. The same can be said of the lake, being both a relaxing spot in the city for many students and the storm water basin; actually, it prevented the installation of a larger sewer, as the Association of local authorities of the Brabant Walloon region (responsible for sewerage facilities) was hoping for.
Jean-Marie Lechat
Not an architecture lab
Louvain-la-Neuve has also a particular architecture: good examples are the bricks, its nonlinear streets, etc. It was included in the setting up of the city master plan; yet, as Jean-Marie Lechat says, LLN is not an architecture lab. On the other hand, it has become – by coincidence – an urban ecology lab. Moreover, UCL foresees the creation of an ecodistrict within two years.