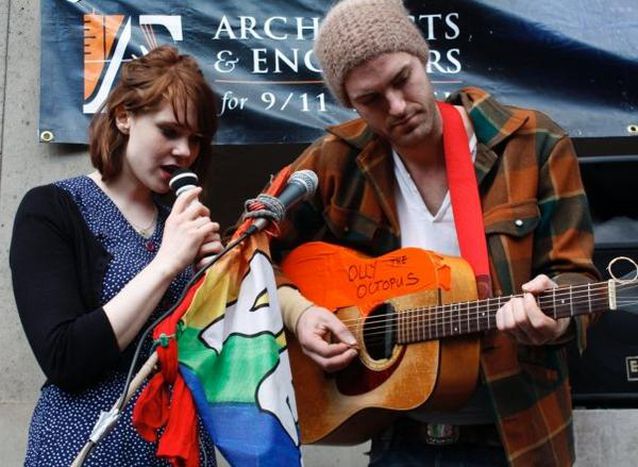 London: protest singing for the UK elections
Published on
Anarchy in the UK? More like apathy; 60 and 61% of voter apathy was respectively registered in the 2001 and 2005 elections. What will happen on 6 May? A London-based protest singer on the role of music in 'raging against the machine'
You might have heard my name before. It's cropped up on the national news at 10 in November 2008 when I hijacked Boris Johnson's first mayoral assembly in Bromley. Boris fans booed my song 'London's New Mare' before I was bundled out by the police. In March 2009 I popped up on Channel 4 news and CNN singing Fred Goodwin's Pension* outside the RBS building in Bishopsgate. And again during the April 2009 G20 riots. My first stunt was in the UK headquarters of the church of scientology which I had infiltrated to sing my song The Scientologist. Again, I was bundled out, by irate scientologist zealots. That one was for John Sweeney (the BBC Panorama journalist who was famously filmed screaming at a member of the religion – ed).
Trying to connect to politics
Does that make me a protest singer? Well, I've sung at a few protests. I'm not still waiting for the day that pop music saves the world, if that's what you mean. It all seems a bit quaint for those of us born after Beatle-mania. Since David Hasselhof was Looking For Freedom in Berlin and saved us all from the ideological stand-off of the cold war in 1989, European politics have become dominated by centrist parties that squabble over minor details and who charges the most pornographic films to the taxpayer.
The gap between the haves and have not's are no longer marked with picket lines so much as continental borders
What a bore. No wonder we don't vote. How can we feel connected to politics when we are not listened to? Look at the Iraq war protests of 2003, ten million people in sixty countries; the biggest anti-war rallies in history. And still we went to war. But that doesn't mean we shouldn't care. The Iraq war highlighted that the real injustices of the world are on a global scale nowadays. Things may seem pretty comfortable for us but is this just because we've out-sourced all our sweatshops, mines and poverty to south-east Asia and Africa? The gap between the haves and have not's are no longer marked with picket lines so much as continental borders, and national politics can't hope to solve global problems. Can the humble protest song?
Europe's polito-musical liabilities
Well, I hope it's a start for musicians, who haven't done too well by sticking with the politicians in Europe. In France Doc Gyneko lost fans by the tonload after coming out of the left-wing suburbs to being a pro-Sarkozy rapper (he's just gone to jail for tax fraud). The Italian singer Mariano Apicella takes it a step further by duetting with the prime minister on CDs penned by the man himself (remember that Silvio used to croon on cruises before becoming a prime ministerial tycoon; Apicella was part of the abuse-of-power scandal that the PM was investigated for in June 2009).
Other characters deal with the 'protest song' disconnect in different ways. He may not be a musician, but during the September 2009 elections in Germany, comic persona Horst Schlemmer rapped about his fake political party for the release of his film Horst Schlemmer: 'Isch Kandidere', with Tunisian-German musician Bushido as a guest. 
Here in the UK we're a bit slow off the mark, but Rage Against the Machine's christmas number one success in 2009, which was mobilised by fans outraged at the abundance of reality show winners, shows at the very least that there is a latent appetite for change. Meanwhile, the artistic community is also mobilising this week. London art collective Pollocks' viral art campaign, Billbored, addresses voter apathy by projecting slogans and political art on walls across the capital. They're also running a radio station on the Diesel Network. Listen and look out for work from British artists MIA, Cassette Playa, Neville Brody and yours truly. After all, the current crop of political parties isn't inspiring us. It's really up to us to inspire ourselves.
Listen out for Olly the Octopus who hosts an alternative election special on 104.4 Resonance FM at 8pm on election night (6 May)