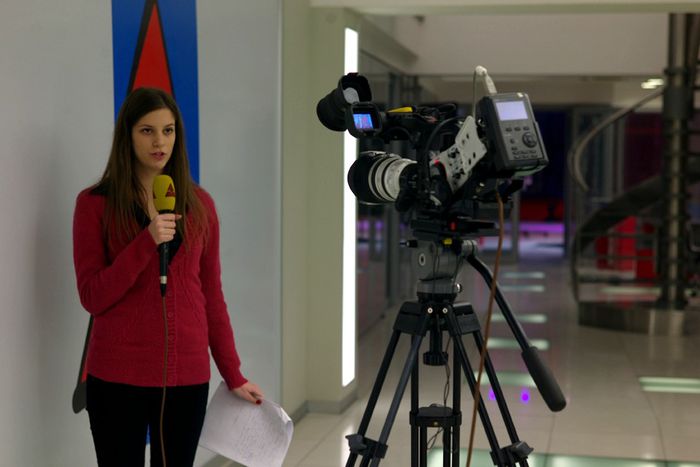 Life as a journalist in Montenegro: punchbags and missionaries itching to do their job
Published on
Physical threats or threats of court action, unstable salaries and a lack of recognition. In a country which only ranked 104th on the 2010 world press freedom index compiled by reporters without borders (RWB), the journalist's profession entails quite a number of downsides.
This is one of the many paradoxes in Montenegro, for given the lack of political opposition the journalist is also the sole representative of the public interest. So they tell us
'I am leaving office with a completely clear conscience and without the slightest fear of legal proceedings.' The historical resignation of prime minister Milo Djukanovic marked the end of an era in Montenegro; nineteen years dating from 15 February 1991 to 21 December 2010. Nineteen years. 'Everything I have done can now be judged by the public and by history,' said the enfant terrible upon leaving office.
Marko Vesovic, for his part, has become suspicious as never before. He is a young journalist from the Serbian daily newspaper Dan, which is one of the three most influential (and by far the most critical) newspapers in Montenegro. The 24-year-old from Podgorica can rattle off the dates from memory and in chronological order of the trials against the prime minister which could have led to his conviction. The trials concerned cigarette smuggling which Djukanovic is alleged to have carried out with the aid of the Italian mafia. In the eyes of his opponent, Nebojša Medojević, Djukanovic is a symbolic figure representing political corruption and cigarette smuggling. Whether it is Germany, Switzerland or Italy in particular, there is no shortage of judicial authorities in neighbouring countries with an interest in Djukanovic's case. However, talking about this can mean paying a very high price here in Montenegro. Very high indeed!
Montenegrin journalist type one: punchbag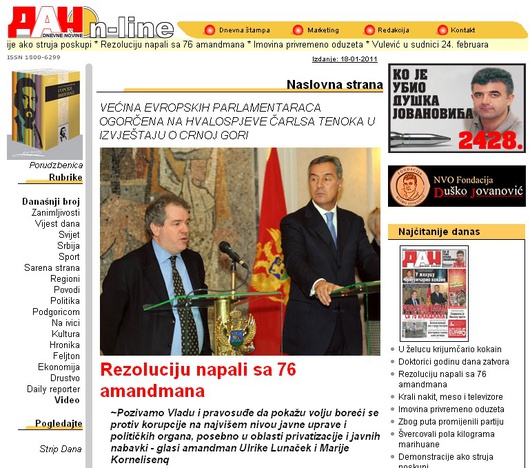 We are waiting in a bar where the beer is flowing freely, opposite Dan's editorial office. It is late when Marko Vesovic turns up. 'Sorry for keeping you waiting. Here in Montenegro there are not many journalists, but there is a lot to say.' Apology accepted! I listen to him relating, with impressive speed and razor-sharp precision, the history of his little country with its 620, 000 inhabitants, and reporting on the roots of corruption and organised crime, his specialist subject (which earned him the European young journalist award of 2008 for his country). As I do so, I realise that no French journalist has yet told me about his job with such great enthusiasm.
This guy is enthusiastic about what he does. 'Journalists have to take a critical stance towards decision-makers and have to defend the public interest. And my life has always been ruled by public interest,' he tells me when I ask him why he became a journalist. So it is not the income of 400 to 500 euros (£320- £420) per month that entices a journalist to do this job here. Nor is it the trials for libel that ensue when articles criticising Montenegro's politicians are published. 'As soon as we started criticising the government in reports, Milo Djukanovic gave an official declaration in front of all the ministers stating that the best course of action would be to prosecute Vijesti,' explains Nedjeljko Rudovic, head of the political affairs department at Montenegro's leading daily newspaper.
Read more of Vesovic's opinion in 'Vox-pop: Being a young journalist in Montenegro' on cafebabel.com
'But now the courts are under political control and we've got a hefty fine of 33, 000 euros (£27, 804) for publishing the opinion of a member of the opposition on the government's privatisation scheme.' Nevertheless, during Djukanovic's early days in 1997 Vijesti backed his policies. He had decided to distance himself from Slobodan Milosevic, the Serbian leader charged with genocide before the war crimes tribunal, and to campaign for his country's independence. When the state of Montenegro was finally founded in 2006, the journal turned its attention to the government's responses regarding EU demands. 'We've become a risk to the government, which has tried everything conceivable to bring us into line.'
Marko likewise has a libel case to contend with, since in Montenegro the author of an article can be personally convicted – not only the head of the newspaper for which he works. Welcome to the country which was ranked 104th (out of 178) in 2010 on the international press freedom index of reporters without borders. It is a country with no shortage of paradoxes: since 17 December 2010 Montenegro has been an official candidate for accession to the EU. This is despite the fact that in August 2009,Miomir Mugoša, mayor of the capital Podgorica, aimed a gun at a journalist from the Vijesti and his photographer on a public street after he had given them a beating, aided by his son and his chauffeur. The Vijesti employees had the great misfortune to be investigating the illegally-built car park of the café Art which belongs to his son…
Montenegrin journalist type two: missionary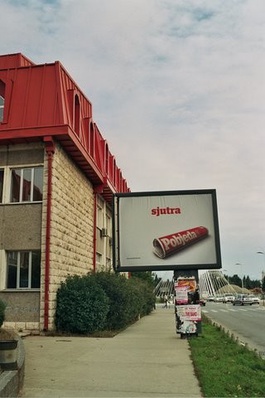 Journalism is certainly a badly-paid and dangerous profession. Yet success has endured for Vijesti, which was set up by journalists from the independent weekly newspaper Monitor in 1997, and which appealed to the vocational aspirations of all journalists. 'Every student journalist dreams of working there,' Rados admits while in a café of his choice with a living room atmosphere. 'In the 1990s there was only one newspaper, Pobjeda. The Vijesti and Dan have brought more variety to the media scene because if people just go by what they read in the Pobjeda, then Montenegro is a wonderful country in which everyone is happy!,' adds Jovana, a fellow student from Podgorica's college of journalism. Nedjeljko Rudovic confirms that in the days before Vijesti, '80% of our information came from Serbia. Nowadays 80% comes from Vijesti and Dan. These media sources have given the people of Montenegro the chance to educate themselves politically, after going by Belgrade's information for a century.'
For a young person from Montenegro being a journalist means swimming against the tide of those in power, and building national, public opinion. However, getting to that stage in the first place is another matter. On the top floor of the political science faculty building, the mood among the student journalists is doubtful. Training has been in place for four years for them, but the findings are unanimous among the thirty students at the seminar on the history of the press: there is too much theory and not enough practice. In order to meet their own needs locally, Rados and two of his fellow students run across the town centre towards Atlas TV where they have been preparing and presenting a weekly programme, Produced by and for young people ('von und für die Jugend') for three months.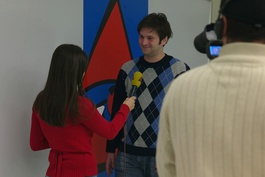 This week they are interviewing young people who are involved in politics, and their practice pays off. 'He'll just try to pull the wool over our eyes again with his spiel about the quality of youth policies,' murmurs Rados at Atlas TV, visibly annoyed by the politician's demand to be allowed to see the questions before the interview. 'He is annoyed because I'm not asking him the questions that were planned!' A future journalist – he'll be easy to intimidate, the social democratic party politician may have been thinking. No chance! Rados spoke about Ferhat Dinosha, the human rights and minorities minister, who ordered an announcement to be made stating that he would be 'unhappy if there was a single gay person in Montenegro.' Having heard Rados speak, it can be said that with a new generation of young journalists like this one, journalists will be able to gradually extend their criticism of political corruption to the relationship between power and civil society.
This article is part of cafebabel.com's 2010-2011 feature focus on the Balkans - read more about the project Orient Express Reporter
Images: main and last images ©Simon Chang/ Pobjeda ©Emmanuel Haddad
Translated from Etre journaliste au Monténégro : punching-ball, missionnaire et poil-à-gratter