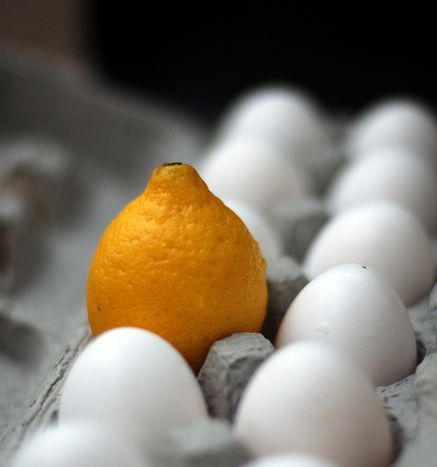 Lemon half moon cake for Danish far right party
Published on
In Denmark, the people's 2010 revolution is lemon. The popular 'citronhalvmåne' cake is being sent in the tens to the offices of the far right Danish party, in protest of their immigration policies. Ironically, the crescent shape of the 'lemon half-moon' is also a muslim symbol – a perfect gift on the eve of Ramadan?
Has the right-wing Danish people's party (Dansk Folkeparti, DF) gone too far? Whilst politicians have just agreed on a new finance act for 2011, critics say that the government and DF have launched more immigration restrictions to divert the focus from economic problems. Along with the law, DF wrote in their monthly magazine that there will no longer be free cake, fruit and cordial at hospitals, because immigrants always bring a lot of family members when they go to the hospital.
More on cafebabel.com: why croissants are Turkish, not French...
The proposal comes from a group who of late have proposed baring breasts in introduction videos to foreigners as the best antidote to immigration, or banning 'anti-western' channels like Al-Jazeera. But immigrants - they just eat everything! The Danes have responded by sending cake to DF headquarters, who have received around 200 citronhalvmåne – that's 200 lemon half-moon cakes. Over 8, 000 people are participating in the Facebook event 'Send en citronmåne til Dansk Folkeparti!'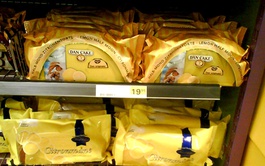 In the UK, the supermarket favourite has been unofficially nicknamed caravan cake thanks to its presence on camping holidays. Back in Denmark, people almost never make citronhalvmåne themselves, often buying it instead. However we managed to scour the web for a friendly recipe we found from Danish blogger Zaphira. 
Recipe: 'Zaph's Lemon Cake'
Ingredients:
2 eggs, 225 gram white sugar, 150 ml low fat milk, 25 gram oil, 1 lemon (for its juice and peel), 180g wheat flour, 2 teaspoon baking powder
Preparation:
Whip the eggs with the sugar till fluffy and almost white. Grate the lemon peel and squeeze juice out of it. Add both peel and juice to egg mix. Stir. Add milk and oil, whip again. Mix flour and baking powder and add into dough. Mix with a spoon.Pour into a baking paper foiled baking tin. Bake for 40 minutes at 175 degrees celcius. Allow to cool once done. Make the icing by mixing sugar and lemon juice before pouring over the cake.
Enjoy! Or send it to your local far right politician...
Images: main (cc) bitzcelt; cakes in the shops (cc) Christian Steen; slice of citronmåne (cc) emme-dk Flickr/ recipe credits from Zaphira blog