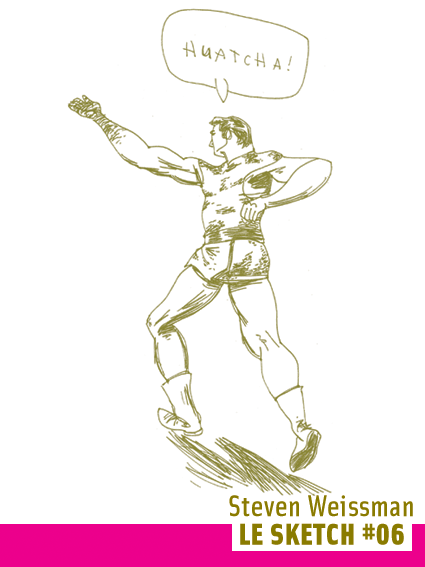 Le Sketch 5: book your free copy!
Published on
Ready for a graphic treat?!
In this sixth issue of Le Sketch, cartoonist Steven Weissman gives us plenty of sketches, among them: a couple of mutant lizards, a spanish conquistador, his kid sleeping, several portraits and even an superhero screaming "Huatcha!". All printed in a exquisite mix of rhodamine red and olive green! Yummy!
About Steven: his the author of several comic books, including Chewing Gum in Church and Mean. He lives in Hollywood, where he's working in a new book called Chocolate Cheeks. More of his work can be seen at www.sweetchubby.blogspot.com!
The good news: we're giving away 10 free copies signed by Steven to the 10 first e-mails to arrive at lesketch@gmail.com - don't forget to remove the brackets! And please, include your name and address in the e-mail.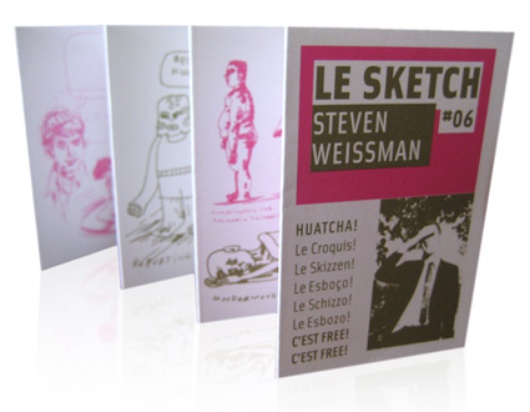 Le Sketch is a free mini-comic from Portugal done by Paulo Patrício. You can find it only at the following selected places:
Bedeteca de Lisboa - http://www.bedeteca.com/ Continuarà - http://www.continuara.org/continuara.html Dr. Kartoon - http://www.drkartoon.com/ Forbidden Planet - http://www.forbiddenplanet.co.uk/ Galleria d'Arte Mirada - http://www.galleriamirada.com/ Kong - http://www.kong.com.mx/ Lambiek - http://lambiek.net/ Madrid Comics - http://www.madridcomics.com/ Meltdown Comics - http://www.meltcomics.com/ Mundo Fantasma - http://www.mundofantasma.com/ The Beguiling - http://www.beguiling.com/
And soon at: Fantagraphics Bookstore & Gallery - http://www.fantagraphics.com/ La Cucaracha! Bazar e Galeria - http://www.cucaracha.com.br/
You can read all about this issue and the previous ones here: http://www.paulopatricio.com/?cat=24