LA MENAGERIE Final Day at ACUD
Published on
by Sandro Marques
On its last day, Cafébabel went back to ACUD to take some final impressions about the festival. During four days, more than twenty events were programmed at this nonprofit Arts Association in the Veteranenstrasse 21, in Berlin. From Thursday to Sunday, 26 to 29 May, all the courtyards, corridors and balconies, rooms and lobbies shared one language, the language of theatre.
For those in Berlin, who have opted to use the French language to express themselves on theatre this was The Event. La Ménagerie took, once more, the risk of producing it. After seven months of hard work, the team made by dedicated volunteers was preparing to celebrate their achievement. We had the chance to talk with one of the main producers and President of La Ménagerie, Hélène Lebonnois, and make her some questions regarding also the future.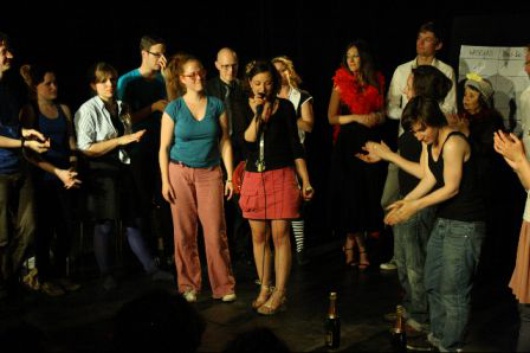 Cafébabel Berlin: This edition is almost at the end. Can you make a balance now about how was it? Hélène Lebonnois: I am really glad with this year's edition. We had a great feedback from everybody who attended the performances and all the events in the program. There was always a nice atmosphere around.
Cafébabel Berlin: Are you happy with your choice for ACUD as the place for the Festival? H.L.: Indeed, they have here a great team and their space allowed us to experiment several solutions like the one on the opening day, where we had a very creative evening of interaction between most of the artists who performed during the rest of the weekend and the spectators who came by. Also all the people who worked as technicians and all those who helped were really great.
Cafébabel Berlin: What about the process of organizing such an event? Are you willing to continue with it? H.L.: La Menágerie, is made by volunteers and we are doing this because of our love about theater. We are very grateful to all of our sponsors and partners that supported us, in particular, with the communication of the Festival. We wouldn't have made it without their help. I am convinced that it was, once more, a positive experience but we have to think about how we will continue. Our main goal is to function as a network of people who live in Berlin, speak French but doesn't know about the other's work. We focus our work on Theater and other scenic arts. We will have to think about next year because this is becoming very demanding and we all have other things to take care for. We need to find a balance between doing it with more support and in a more professional way but without losing the flame that we bring to it as volunteers.
Cafébabel Berlin: Thank you Hélène.
It was time for the last show and Hélene had to go. From our side we thank La Ménagerie for the invitation and will be waiting for the 3ème édition du festival des arts de la scène francophone à Berlin.
Photo: Johanna Perret