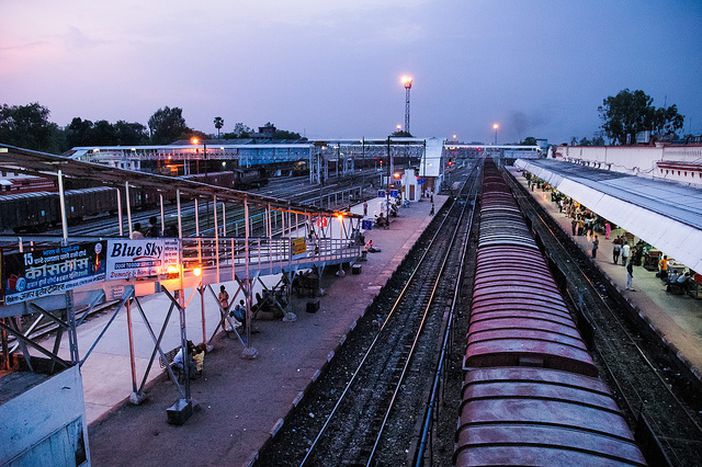 kripya panditjee! of train food, tea and toilet breaks (part 2)
Published on
An hour later, my evil premonition manifests itself in reality as the thali goes directly down the toilet. In spite of the high number of passengers, the bathroom is impressively clean and even has running water. The more conservative tourist will choose the European style toilet and sit down on a sticky toilet seat.
But if you'd rather do it the native way, you will have to squat over the Indian style toilet. Apart from that, train bathrooms have only one advantage which is that they provide good shelter while you smoke a cigarette and recover from the noise in the carriage.
Around 1 am, the train finally starts moving, my stomach is in less turmoil and Karim has luckily fallen asleep. Walking around the carriages, I come across the restaurant car where a couple of busy chefs prepare rice, lentils and vegetables in monstrously big steel pots. The floor is covered in carrots, potatoes, fresh coriander and tomatoes and everything smells a lot better than when served in little plastic bowls. Both doors are flung wide open and a dusty warm breeze blows through the carriage as I sit down with one of the cooks who is peeling a gigantic pile of potatoes. Against a dark blue sky, dim lights, dead trees and electricity poles flicker by as we make our way across the east of the Northern Provinces towards the magical red plains of Madhya Pradesh. At every stop, an army of rats scurries across the tracks, happily squealing when I throw them a handful of potato peels.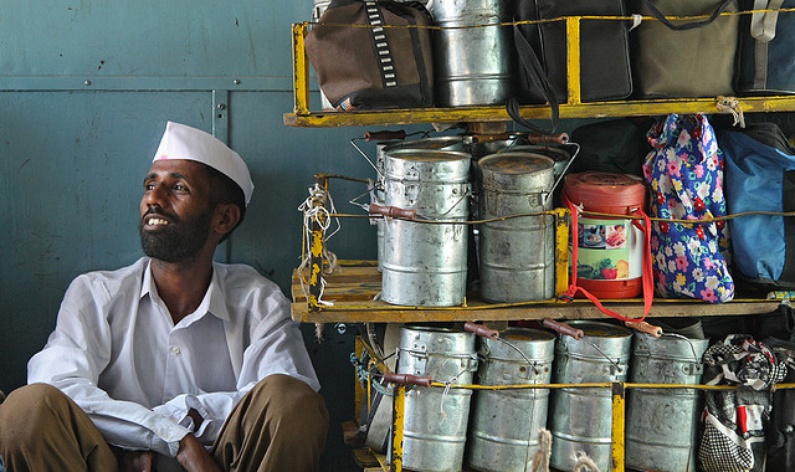 At 3 am, two prostitutes in colourful saris jump on board and start to flirt quite loudly with a few of the male passengers. Just as two policemen with rifles show up to put an end to the racket, I crawl onto my bed. After a longish discussion, I finally accept to switch berths with an older Muslim man who is adamant that a girl can't sleep by herself on the lowest berth. "It's too dangerous. Men will touch you!" Eve teasing is one side of the coin, fatherly protection from older Indian men the other.
On this train ride though, sleep eludes me and at sunrise the first chai wallah is back, dragging his steel container with hot water and milk through the carriage. The Indian mothers and grandmothers around me have already started to unpack vegetables, chapatti and dhal, but as I am still no big fan of curry for breakfast, I buy a watery Nescafé instead that tastes more like milk than coffee. Thank God for sugar! A few minutes later, I am wide awake and watch the beautiful red and grey plains race by. A few more hours and we will be in Jhansi, in South Eastern Uttar Pradesh, where I will catch a local bus into the middle provinces of Madhya Pradesh.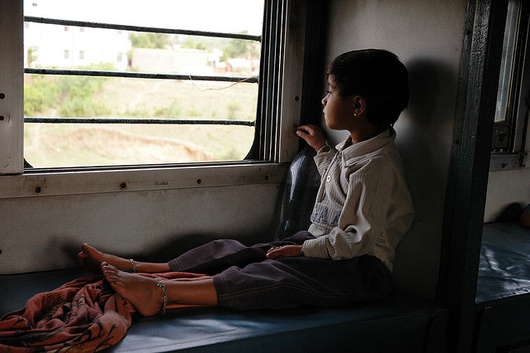 In the end, the Malwa Express is only three hours delayed which is not that bad for a journey time of 8 hours. As I get off the train at Jhansi station, my fifty new friends wave to me from the carriage windows and frantically remind me to add them on Facebook. As we say goodbye, Karim smilingly whispers, "I see great things in your future. It's all written in your right palm, but you have to find it out yourself." Laughing, I promise to do that, but in my thoughts I am already investigating temples in the jungle. Although I am looking forward to the the three day break before my next train ride, I am what you could call an Indian train addict. In about twelve months, I have probably been on more than a hundred trains – and counting.
Translated from Von Zügen, Chai und Toilettenpausen (Teil 2)