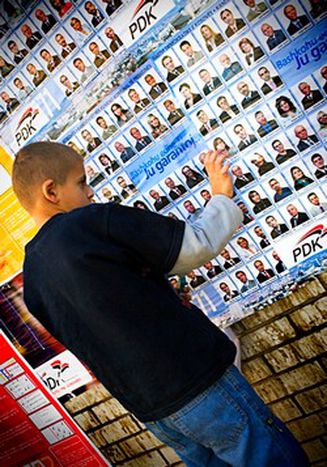 Kosovo elections: waiting for a prime minister
Published on
'With our victory today begins the new century.' Pro-independence opposition leader Hashim Thaçi won 17 November elections, but you won't find details in Kosovar newspapers yet - the people await a final result on 3 December
Rain-drenched streets, the hooting of cars. 'I'm convinced that the new government will work to found the state of Kosovo,' says pensioner Adam Veseli, as he casts his vote in the Hasan Prishtina school. 'The dream of all Kosovars will become reality.'
People not parties: all up for grabs
In a double first however, candidates did not use political status during the 21-day campaign for the southern Serbian province's third elections, respecting a gentleman's agreement signed in October 2007. The 110 candidates were voted for by their number - not party, of which there are six.
The 34% that Hashim Thaçi and his pro-independence Democratic Party of Kosovo (PDK, 28% in 2004) won helped the former guerilla army member, who fought the Serbs with the Kosovo Liberator Army (KLA)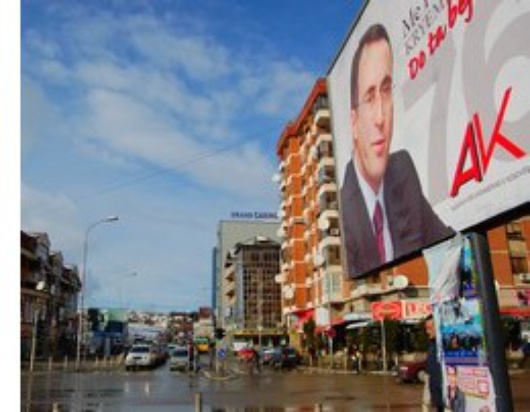 in 1998-9, leave the ruling coalition trailing (21% and 12%). The absence of the coalition's two powerful leaders has dramatically changed the political landscape. Icon Ibrahim Rugova, who headed pro-independence Democratic League of Kosovo (LDK) for fifteen years, died of cancer in January 2005, opening up Kosovo's biggest party to internal split. Ramush Haradinaj, leader of the Alliance for the Future of Kosovo (AAK) and fellow KLA fighter, has languished in the Hague since March 2005.
Lowest of turnouts with Serb boycott
But only 45% of 1.5 million citizens voted, falling from 51% in 2004 and 64% in 2001. In a press conference Doris Pack, the German MEP who headed the 150-member European parliament team observing the poll, underlined the Kosovars show of 'political maturity' in a protest against a lack of efficient institutions, 60% unemployment and corruption 'the size of six digits'. Albanian TOP television correspondent Idriz Seferi, who monitored elections in the Serb enclave of Gracinica, fifteen minutes outside of Prishtina, agrees. 'The low turnout was a response to what has not and should have happened in Kosovo. The new parties bring change via the percentage of the sharing of the votes - but they bring no big optimism for change. We can be proud of Kosovo, but it might not be proud of us. Plus dangerous people are working within the Kosovar-Serb community here,' he reflects. A few hundred Serbs out of a potential 120, 000 voted on 17 November. 'I hope this will be the last time that Serbs vote under threat.' 'But despite the low turnout, the elections should serve as a model to the other Balkan states,' says Arian Zeka, a businessman who works for private multimedia enterprise Globex. 'Change is healthy for countries in transition.'
No confidence for journalist politicians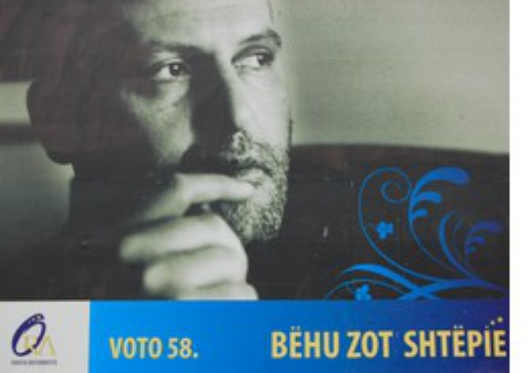 'I personally hated the thought of journalists becoming politicans,' confides Dardan Islami, 34, one of under a dozen journalists who recently joined the Ora ('It's Time') reformist party, which polled lowest (3.7%, half the votes of 2004). His voice represents youth, with 65% of the population aged 18-33, and it's 'urban' generation – Islami co-founded Kosovo's only alternative radio station 'Urban FM' seven years ago.
'We're creating a state, becoming a country. You get so disgusted by the politicians that we have. The only way you can challenge and change that is to run, otherwise you are going to end up always being unhappy, complaining, bitching. And these idiots - I call them arrogants, most of them - will win, as they always do – it's very depressing. It's better to run and lose rather than sit and say I could've run.' Whilst Ora looks set to reach the 5% threshold needed to get into parliament, journalist Idriz Seferi looks to the future: 'We will have new elections immediately after status. Then there may be an awakening of our citizens.'
Translator Albanian - English: Burbuque Brahimi
In-text photos: Ramush Haradinaj, Thaci's fellow KLA fighter and AAK leader is currently in the Hague, Veton Surroi, Ora reformist party founder who is also on the five-member senior team deciding Kosovar status (Nabeelah Shabbir)