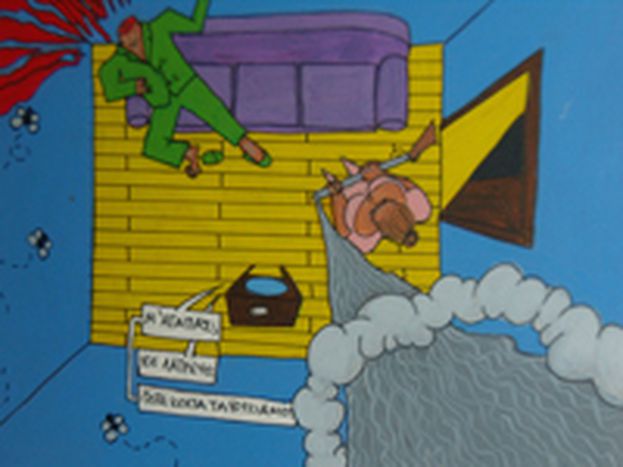 Komikazen: European comics go independent
Published on
Translation by:
eleanor forshaw
The third international festival of reality comics is underway. It's a new kind of neo-realism with innovative trends, small budgets and international celebrities
12 and 13 October 2007, the third edition of Komikazen, the international festival of reality comics, in Ravenna. Two days of meetings between authors and editors and exhibitions, which will run until 2 December 2007. This is a short north-south trip across the old continent to discover internationally renowned comics
Slides from the Komikazen Festival
The Balkans: where art is born of beehives
In Bucharest, the Romanian Hardcomics festival struggles to bring comics to a country that ignores up to their very existence. In our travels, we cross two countries born of ex-Yugoslavia: Slovenia and Bosnia Herzegovina. Although Stripburger has been active in Ljubljana since 1992, Sarajevo is slowly becoming aware of Stripopeka, launched on the internet. The latter was brought into being in 2007 to give Bosnian authors some visibility, whereas the former is well established and capable of noteworthy initiatives. The latest to-date is the Honey Talks production, a collection of stories that draw inspiration from Slovenian folk tradition of painting beehive panels.
Further south in Athens, the Babel magazine has been active since 1981 not only in comics but also in graphics and yellow journalism. In 1996, the magazine organised a festival of the same name.
The Mediterranean: limited edition serigraphies
While taking a look at the Mediterranean countries on our way to Italy, we will come across author's cartoons in Inguine MAH!gazine and in the Canicola and Monipodio magazines. In France, we will encounter the boundless imagination of 'Le dernier cri', a collective established in Marseilles, with its crowds, impressive and limited edition expensive serigraphies. In Portugal, the comic scene is mainly the remit of the Chili com carne association.
Glömp in northern Europe
Whomever decides to travel to Finland out of sheer curiosity will no doubt come across Glömp, a quarterly explosion of colours given over entirely to comics. In actual fact, the northern land boasts a noteworthy tradition in the form of an international, prestigious festival in Helsinki and the Finnish Comic Society association, active since 1971, whose sole purpose is to promote comics. Holland also stakes a claim to comic fame with Zone5300.
Live at the Komikazen Festival
Which Europe represents the independent and avant-garde comic scene? If you are expecting a clear-cut answer, you will be disappointed. 'Authors almost always depict personal experiences, a sort of autobiographic mini-story,' explains Elettra Stamboulis, curator of the festival alongside Gianluca Costantini.
These personal experiences usually revolve around the same problems: lack of space, lack of money and the difficulty in being accepted as an artist. For these reasons, the young artists from Sarajevo behind Stripopeka, but also seasoned underground artists like those published in 'Le dernier cri', moved from crowded Paris to the more tranquil Marseilles – much to the disappointment of Paul Gravett, journalist and comic critic, who would like to see more young artists attend his Comica Festival in London.
There are also braver offers, like Hardcomics, which, according to Tommi Musturi of Glömp, 'is an incredible experience, filling a big void.' Ideas to breathe fresh air into the underground comic scene are rife. 'A European network, a blog to keep in touch, circulating exhibitions and European funding would be great,' suggests Elettra.
But there is more. Gravett is thinking about a comic with detachable and replaceable stories according to the reader's favoured language. 'Look at the works exhibited,' he says while drinking in Honey Talks, 'They are very interesting and should be read in their own language.'
Pakito Bolino of 'Le dernier cri' has another idea of an interactive European map which could be updated with the latest innovations from the independent scene of each country. When asked whether there are good prospects, the taciturn Kostas Maniatopoulos of Babel answers, 'I have listened more than I have spoken, but I am afraid that, once they have all gone home, they will return once again to their everyday lives.' Bolino is last up with a nocturnal performance based on wild drums, unbelievable videos and a complimentary shot of absinth to all visitors to the 'Le dernier cri' exhibition. The finale is enjoyed by the public and even by Canadian superstar Ho Che Anderson, author of the comics biography of Martin Luther King, and published for the first time in Italy.
Translated from Komikazen: quando in Europa il fumetto è indipendente