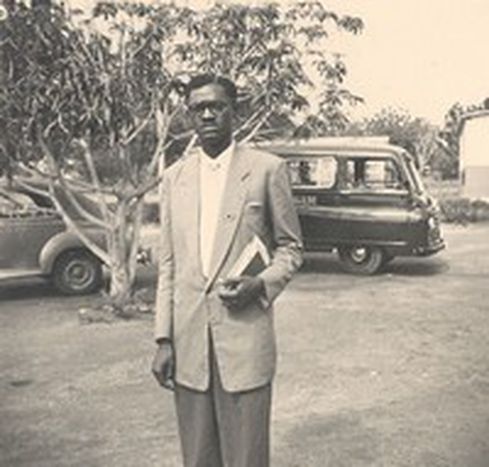 Kinshasa-Paris: life at the margins of the state
Published on
8000km from home, the Congolese community in Paris remain as concerned as ever by the politics in their country – and unconvinced the elections that took place on the 30 July will change anything
Few tourists venture into the area opposite Château Rouge tube station, in the north of Paris. It is Friday, 6pm – and everyone is on the street. A Malian man sells kola nuts at the entrance of rue des poissonières, as crowds bustle past into shops selling wax prints. Groups of men stand talking excitedly in Lingala, the Congolese linga franca, next to shops overflowing with manioc, saka saka - cassava leaves - and plantain.
Everything is for sale. Car bonnets become temporary jewellery displays and women transform into mannequins, a dress hung from each arm. The smell of dried fish and fumbwah, the national dish of Congo-Brazzaville, emerges from a Congolese restaurant. The crowd spills out from the restaurant onto the street, laughing and talking about bizness and politics. It seems like Kinshasa.
Almost.
The stolen elections
"How can we be happy here? This is not my home. Even if I have French papers I remain Congolese – a people can never forget their origin" said Antoine. He had been here for over thirty years, first sans papiers, then legally, after the Socialist government legalised 150,000 immigrants in 1982. He feels strongly attached to his homeland, and as the Democratic Republic of Congo (DRC) votes in its first democratic elections for 45 years, he is not feeling positive: "These elections are fixed by those in power – they will not change anything."
Jean, who fled to France fifteen years ago to seek political asylum, intervened: "These are not democratic elections – the government is preventing the opposition campaigning in the countryside, and they are handing out fake voting papers to Burundians in the East of the country." All of the Congolese I spoke to shared this hostility. Victoriana was born in the DRC, but left when she was one year old to come to France. She claims the EU presence is hypocritical: "They invest all this money, but it is pretence. We all know Kabila will be elected."
Amid allegations of vote rigging and fake cards, it is the influence of outside forces that rankles the most. For the Congolese making a living in Chateau Rouge, the elections are part of a larger narrative of foreign involvement in Congolese affairs. In 1961, Patrice Lumumba, the great pan-Africanist hope of the independence movement, was killed. There is now solid evidence to suggest Belgian involvement. "We are completely against these elections – they are being dictated by outside forces, and they will be the only ones who profit," Inkabala told me. An eloquent young man, Inkabala was angry about the exploitation of his country: "We have everything - cobalt, diamonds, gold. We should be the richest country in Africa, and instead, we are the poorest. Worse, it is these very riches that are making our people suffer."
Fending for themselves
Since the end of colonialism thousands of Congolese have come to Paris. During the 1960's France encouraged African immigration, as the Algerian war disrupted the North African migration that would normally stock their factories with workers. But from 1974 the process became more difficult, with the government making residency papers and work permits compulsory. Since the 1990s French immigration law has been gradually getting more and more draconian.
But still people come.
In 2004, 4,317 Congolese made asylum applications in France – an indication of the continuing instability in the country. It is difficult to count how many Congolese there are without papers, living life at the margins of society.
In part, why people come is the story of the collapse of the Congolese state. In 1955, 34% of the population was employed in the formal sector. By the early 1990's it had fell to just 5%. People without hope of work in the DRC came to Paris to seek their fortune, se débrouiller, they say, to fend for themselves. And not just for themselves. The shipping services and money wires that dot Chateau Rouge stand testament a population constantly sending back goods and money. In Paris the fortune seekers mix with those who came to get an education and those who have sought political asylum.
The photograph of a loved one
Inkabala arrived in Paris with his wife and two children a year ago, and claimed asylum. "Of course I want to go back – but when I can't express my beliefs freely how can I return?" he exclaims as we walk together. He speaks darkly of the journalists killed in Kinshasa in recent weeks.
Living off the small allowance he receives as a political refugee, Inkabala is searching for a political party to join. "All I can think about is politics – even when I sleep." He watches the television for news of the DRC "sometimes for ten hours a day". As we walk, he takes a photograph from his wallet – it is a faded photograph of Lumumba – "We still believe in his ideas, but history is very clear, every time someone wants to develop the Congo, they are killed by outside influences."
Living in the Present
As we talk, a group of women run past laughing, hiding bags under cars before scurrying into back alleys. Seconds later, three policemen turn the corner, looking for black market goods and sans papiers. However, after ten minutes the traders are back on the street, bags of safu, a sour Congolese fruit, open to the passer-by. It is a precarious existence. While there are thousands of Congolese working within the French system, thousands more working in bizness, at the margins of the law. This is in part a continuation of life in DRC. In a country with a predatory state which leaves people at the margins, the informal economy is king. In France, many Congolese again find themselves at the margins of society – and the informal economy is one of the few ways to kobeta libaga, to break the stones one needs to live.
Inkabala does not seem too concerned. "Life is hard, but we have enough to eat – the problem is not the present, it is the future. For what future can we have if we cannot return home? Here, we can only live in the present." For some of the Congolese in Paris, the elections are unlikely to change that anytime soon.
With additional reporting by Sophie Feyder