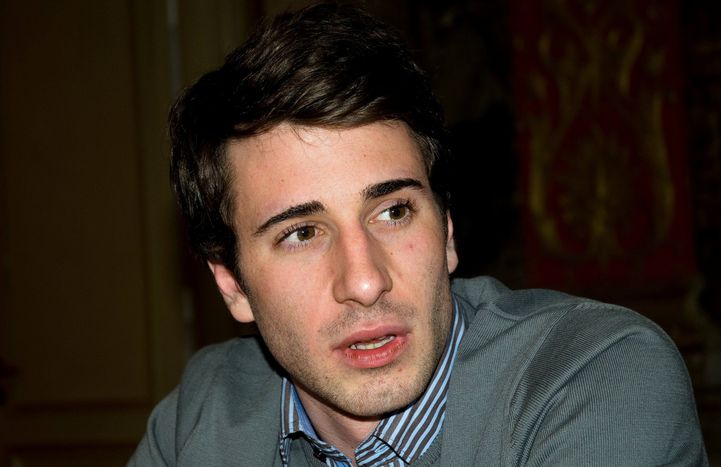 Julien Rochedy, young face of French far-right
Published on
Translation by:
Nicola Baxter
'I love women - therefore I am anti-feminist,' says the native of Tournon-sur-Rhone in southern France, who was born in 1988. As the first round of elections in France loom on 22 April, the president of the national front's electoral support committee 'Youngsters With Marine' and communication officer of the far-right party's youth section speaks
At the time of the interview, the French national front (FN) had not yet collected the 500 signatures necessary for Marine Le Pen's candidacy at the elysee. 'I'm going to spend the weekend on the phone,' ensures Julien Rochedy, the president of Jeunes avec Marine and communication officer of Front National de la Jeunesse. We meet at the Gaite Lyrique venue in Paris for a coffee.
cafebabel.com: Julien, why should young French citizens choose the national front?
Julien Rochedy: If they think about it they will realise that there have been three ruling parties over the past thirty years during which we have witnessed a continuous decline in France as we know it. Economic power, quality of life and social security have all been reduced to next to nothing.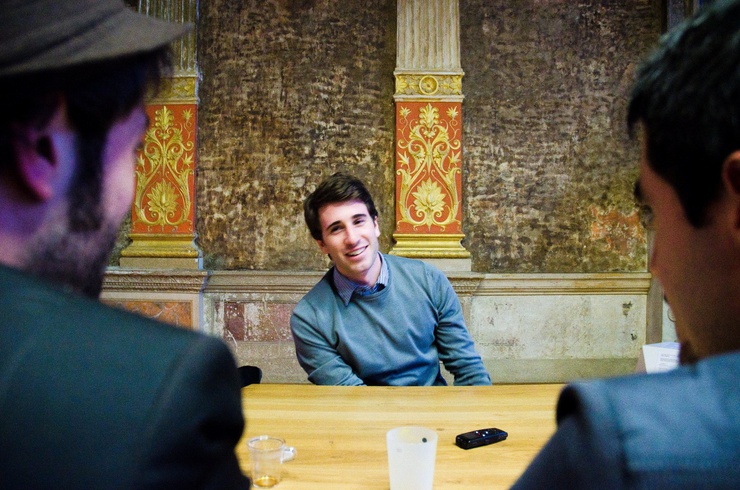 A youth vote is a vote against their parents and grandparents, against the current French president Nicolas Sarkozy, globalisation, the European union and multiculturalism, values that the national front was the first to question. We are neither extremists nor revolutionary, unless by revolutionary you mean the politics of those who came before us, in which case yes, we are revolutionaries.
cafebabel.com: You joined the FN in 2006, and then did not come back to politics until 2010. Why the uncertainty?
Julien Rochedy:  In 2007, I was very disappointed by the electoral success of Nicolas Sarkozy. It was people close to Marine Le Pen who convinced me to come back. I am in charge of all members under 30 as well as press and web communication.
cafebabel.com: Is the national front gradually becoming a 'family affair' with Marine being the daughter of the former leader Jean-Marie Le Pen?
Julien Rochedy:  Marine was chosen by the electors. Bruno Gollnisch, the other candidate, also had a serious chance of winning, but she embodied modernity and success. She deserved to win.
cafebabel.com: Would you like a France as it is represented on the right hand side of the poster 'Choose Your France' (Choisis ta France)?
Julien Rochedy: The poster has a symbolic and metaphorical meaning. On the one hand, France created by Sarkozy and (former socialist president) Francois Mitterrand, with poverty for one million people and 54, 000 cars burned each year. On the right hand side of the poster, you can see the eternal France that we all have in mind and that everyone likes, even foreigners.
cafebabel.com: What does the training of the new activists consist of?
Julien Rochedy:  Summer schools, political training, working groups of forty to fifty people. We welcome a growing number of young women, who are often the first victims of insecurity in France. There is no doubt that they are attracted by Marine's charisma, but uncontrolled immigration and poverty also play a role.
cafebabel.com: Nicolas Sarkozy has pledged to 'halve' the number of immigrants in the future. Will you divide it by a quarter, or maybe even by eight?
Julien Rochedy:  Sarkozy is the biggest liar in the world. He has no right to speak. Under his power, there are 200, 000 new immigrants a year. They come to France because we have the greatest number of social benefits. With us, legal immigration will be set at 10, 000 people a year. That number will be limited to students and workers.
cafebabel.com: Where does this fear of the islamic culture come from?
Julien Rochedy: I'm not afraid of islamic culture - what worries me is the mix of cultures. Islamism is a dominant culture, focused on the subjugation of others. According to many islamic leaders, one day, Europe will be united under the banner of islam. When the economy will no longer be able to spread wealth, all these communities will eventually end up tearing each other apart. If we don't come into power, a civil war might break out.
cafebabel.com: What is your position on feminism?
Julien Rochedy: I love women. I was raised by women. Therefore I am anti-feminist: the far left is fighting for feminism, but we must maintain the balance and oppose the feminisation of man. Women have the right to abortion, but it is not right to say that abortion is not a crime, as argued by feminists.
cafebabel.com: So is gay marriage a crime?
Julien Rochedy: I'm against gay marriage and adoption by homosexuals. The symbolic value of marriage is very strong, they can not do what they want, even the gay pride events are indecent, not nice to see. In terms of privacy, homosexuals are free to be who they want.
cafebabel.com: What relationship do you maintain with other right-wing parties in Europe?
Julien Rochedy: I've had some contact with some members of the Italian right and Austrian FPÖ (freedom party), but on a European level, there is not yet much of a relationship. The NPD (German national democratic party) is too extreme for us. I don't know very much about the northern league, we could have values in common even if our views differ on the question of secession.
cafebabel.com: Sarkozy sees a model in Germany. Do you?
Julien Rochedy: Argentina is the model. It's a country that has managed to get out of a terrible economical crisis by devaluing its currency, by launching a govermental investment program and applying protectionist policies – which is what we want to do in the FN. They have managed to get by and to revive the economy.
cafebabel.com: Will you manage to collect the 500 signatures?
Julien Rochedy: We are still missing forty odd signatures (the target was reached on 13 March - ed) and I will be spending my weekend on the phone. Nicolas Sarkozy's party, the UMP, is trying to do everything to get in our way, they are afraid of our proposals. What do I say to get a signature? I ask whether they still believe in democracy. How can France give lessons in democracy, if a party that collects 20% of the vote can not participate in the presidential election?
All images: © Alessandra Vitullo for cafebabel.com
Translated from Intervista a un giovane del Front National: "Se non vinciamo, sarà la guerra civile"