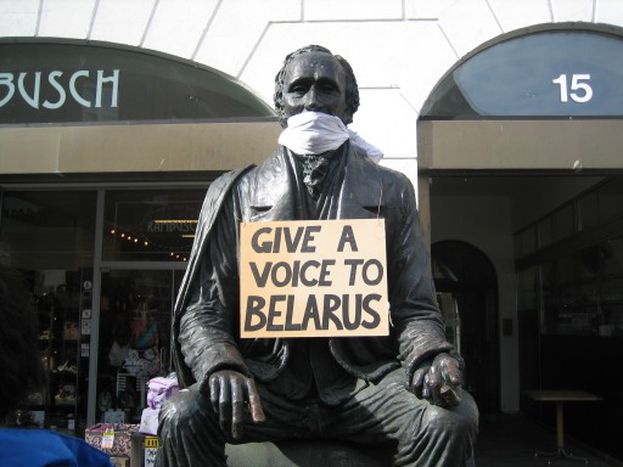 Join the Free Belarus Street Action 2010
Published on
For the fifth year running, the Young European Federalists are organising a pan-European street action on the 18th of March 2010, to protest against and raise awareness on the last remaining dictatorship on the European continent. Lukashenko, undemocratically re-elected president of Belarus in 2006, has oppressed human freedoms ever since coming to power.
As an organisation that promotes freedom, democracy and federalism, JEF cannot leave the Belarusian citizens behind! JEF is calling for young people, their friends, families and networks throughout Europe and the wider world to act NOW!
The street action is very simple: take to the streets on the evening of March 18th or early March 19th, put cloth around the mouths of famous statues to symbolically gag them, take pictures of your action and send them as soon as possible to Belarus@jef.eu! By collecting pictures from young people from all over the world, we make an important statement that will be heard loud and clear by the EU Institutions and officials, the dictatorial regime and the population in Belarus. Mark democracy in your agenda for the 18th of March 2010!
For more information on how to organise your event, more in depth explanations of the action and for a number of useful tools to help you gain support and media attention please download the 'Free Belarus 2010 Action Pack' here.
Don't forget to also register your action before the 14th of March 2010 by emailing Tomas Spragg on Belarus@jef.eu stating your name, country and, organisation (if applicable)!