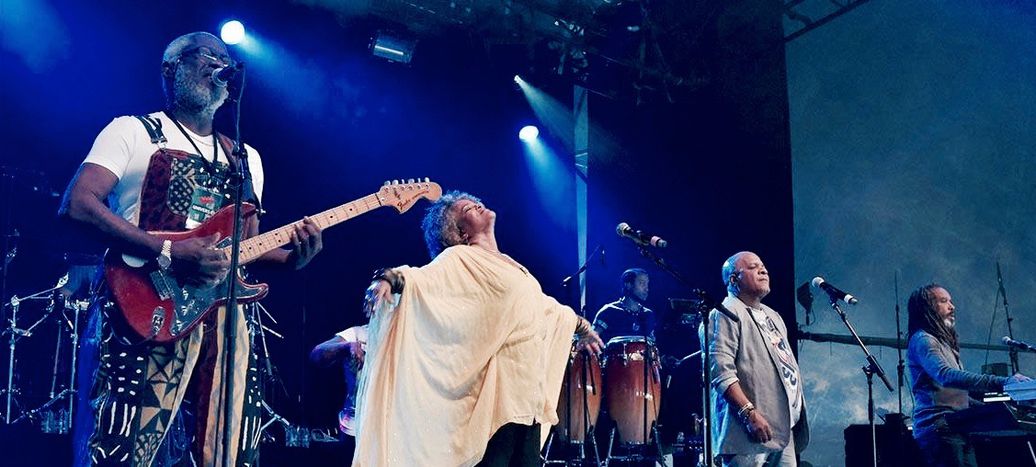 Jocelyne Béroard: From Couleur Café to the Antilles
Published on
 Jocelyne Béroard is a singer from Martinique and member of the zouk group Kassav', formed in 1979. She speaks as easily about her passion for music as she does her worldview. She spoke with cafébabel after Kassav's performance at the Couleur Café Festival in Brussels on the 3rd of July 2016.
cafébabel: Which musicians do you listen to? 
Jacqueline Béroard: In the Antilles we listen to all kinds of music. I don't just listen to Caribbean music. Lately, for example, I've been listening to Victor O or Emeline Michel.
Personally I've dabbled in many different styles of music: jazz, bossa nova, calypso... The only kind of music I haven't had time to work with is classical music, opera. Not counting Kassav', there are some beautiful voices in Zouk right now, but in terms of actual songs nothing really floors me. But there are some artists that I like. But sometimes I'm disappointed by the quality of the songs.
CB: What do you think about Zouk that's sung in French instead of Creole?
JB: I stand behind the Creole language, but I don't force anyone to use it. It doesn't bother me if a song is in French as long as the lyrics are beautiful, it's well written, and it talks about something that moves me.
You have to be able to feel that there's poetry in the lyrics, that they aren't just words lined up one after another because it sounds good. A turn of phrase can add a whole new dimension to the lyrics.
CB: So what do you think of dancehall?
JB: If the lyrics are well written and the singer doesn't yowl, I like dancehall. I also really like reggae, for example. Third World and Steel Pulse are friends of mine. I lived in Jamaica for six months and sang reggae with Lee Perry.
CB: Besides your many albums, what heritage would you like to pass on?
JB: I'd like to give people back the love of who they are, so that they can be at peace with the past and so that they can move on.
It is absolutely necessary for the people of the Antilles to accept their past. In Martinique we have a rich, powerful heritage. I'm sharing it with you. Just because my country is small doesn't mean I have nothing to offer, far from it.
I have learned that. Learning that is what has allowed me to stand strong, to introduce myself to anyone, to be able to discuss things, to defend my opinions and especially to be at peace and happy in this world without feeling inferior to others.
CB: Ever since he recorded a few songs with the rapper Booba, the singer Kalash has been getting more recognition in France. These days, is that the only way for an Antillean artist to break into the market outside the Antilles?
JB: The problem right now is really an economic problem. What I mean is that before, young people recorded albums and managed to sell them and get royalties. They could live on that money, pay their rent, buy clothes, a car, things like that.
These days we don't sell albums anymore. Very few albums get sold. People buy individual songs on MP3 and they pass them around and make copies. So today, people who want to make a living with their music try to find other solutions. Lots of them get tempting offers and tell themselves that they have no other options. Anyway, that kind of music goes well with that kind of producer. So it doesn't bother me that they're working with French rappers.
CB: Martinique joined the OECS (Organisation of Eastern Caribbean States) in February of 2015. Do you think it's important for us to foster closer relationships with our Caribbean neighbours?
JB: It's absolutely necessary. We have connections and a common history; it's ridiculous for us not to be a little more united.
When Mount Pelée erupted [in 1902] many Martinicans fled to Guyana and Trinidad. So there are people who have family connections with people who live in Martinique and who are now completely English-speaking. You find the same family names, and these names aren't made-up or assigned [by the Békés or colonizers], they are names that come from before [the slavery period].
Even if the United States of the Caribbean will never be as powerful as the United States of America or Europe, if we're at least able to work together and share our music, it will be really wonderful.
CB: What role do the French Outermost Regions (RUP) play in the European Union?
JB: It's fairly complicated because France is still defining its role, and we are technically departments of France, even though we're overseas. But I don't really spend much time thinking about it.
I've also stopped wondering what I should do to please the French or to be famous in France. I think that being known around the world, and having people come to my concerts everywhere in the world, is more than enough for me.
___
This article was written as part of a media partnership with the Couleur Café Festival.
Translated from Jocelyne Béroard : de Couleur Café aux Antilles